E2E NEXT
Détecteur de proximité E2E NEXT à 3 fils
La détection longue distance empêche les pannes d'installation
Distance de détection la plus élevée au monde
Grâce à sa LED à haute luminosité, l'indicateur est visible n'importe où à 360°.
10 secondes suffisent pour remplacer un détecteur de proximité grâce au « e-jig » (support de montage).
Câbles équipés d'une résistance à l'huile améliorée pour 2 ans de résistance à l'huile
Conformité IP69K pour l'étanchéité et la résistance au lavage
Grande variation pour faciliter la sélection du détecteur
Certification UL et CSA
Caractéristiques et références
| Produit | Size | Mounting type | Sensing distance | Output type | Operation mode | Connection method | Material housing | Cable specifications | Cable length | IO-Link baud rate | Overall length | Thread length | Features | Description |
| --- | --- | --- | --- | --- | --- | --- | --- | --- | --- | --- | --- | --- | --- | --- |
| | M12 | Non-flush | 10 mm | IO-Link, PNP | NO | Connector M12 | Brass, nickel plated | - | | COM2 (38.4 kbps) | | | | Proximity sensor, inductive, nickel-brass, long body, M12, unshielded, 10 mm, DC, 3-wire, PNP NO, IO-Link COM2, M12 connector |
| | M12 | Non-flush | 10 mm | IO-Link, PNP | NO | Cable | Brass, nickel plated | PVC (oil-resistant) | 2 m | COM3 (230.4 kbps) | 47 mm | 26 mm | | Proximity sensor, inductive, nickel-brass short body, M12, unshielded, 10 mm, DC, 3-wire, PNP NO, IO-Link COM3, 2 m prewired |
| | M12 | Non-flush | 10 mm | IO-Link, PNP | NO | Connector M12 | Brass, nickel plated | - | | COM3 (230.4 kbps) | 48 mm | 26 mm | | Proximity sensor, inductive, nickel-brass, short body, M12, unshielded, 10 mm, DC, 3-wire, PNP NO, IO-Link COM3, M12 connector |
| | M12 | Non-flush | 10 mm | IO-Link, PNP | NO | M12 Pre-wired Smartclick connector | Brass, nickel plated | PVC (oil-resistant) | 0.3 m | COM3 (230.4 kbps) | 47 mm | 26 mm | | Proximity sensor, inductive, nickel-brass short body, M12, unshielded, 10 mm, DC, 3-wire, PNP NO, IO-Link COM3, M12 Smartclick Pig-tail 0.3 m |
| | M12 | Non-flush | 10 mm | IO-Link, PNP | NO | Cable | Brass, nickel plated | PVC (oil-resistant) | 2 m | COM3 (230.4 kbps) | 47 mm | 26 mm | Flexible cable | Proximity sensor, inductive, nickel-brass short body, M12, unshielded, 10 mm, DC, 3-wire, PNP NO, IO-Link COM3, 2 m prewired robotic cable |
| | M12 | Non-flush | 10 mm | IO-Link, PNP | NO | Cable | Brass, nickel plated | PVC (oil-resistant) | 2 m | COM3 (230.4 kbps) | 69 mm | 48 mm | | Proximity sensor, inductive, nickel-brass long body, M12, unshielded, 10 mm, DC, 3-wire, PNP NO, IO-Link COM3, 2 m prewired |
| | M12 | Non-flush | 10 mm | IO-Link, PNP | NO | Connector M12 | Brass, nickel plated | - | | COM3 (230.4 kbps) | 70 mm | 48 mm | | Proximity sensor, inductive, nickel-brass, long body, M12, unshielded, 10 mm, DC, 3-wire, PNP NO, IO-Link COM3, M12 connector |
| | M12 | Non-flush | 10 mm | IO-Link, PNP | NO | M12 Pre-wired Smartclick connector | Brass, nickel plated | PVC (oil-resistant) | 0.3 m | COM3 (230.4 kbps) | 69 mm | 48 mm | | Proximity sensor, inductive, nickel-brass long body, M12, unshielded, 10 mm, DC, 3-wire, PNP NO, IO-Link COM3, M12 Smartclick Pig-tail 0.3 m |
| | M12 | Non-flush | 10 mm | IO-Link, PNP | NO + NC | Connector M12 | Brass, nickel plated | - | | COM2 (38.4 kbps) | 48 mm | 26 mm | | Proximity sensor, inductive, nickel-brass, short body, M12, unshielded, 10 mm, DC, 3-wire, PNP NO+NC, IO-Link COM2, M12 connector |
| | M12 | Non-flush | 10 mm | NPN | NO | Connector M12 | Brass, nickel plated | - | | | 48 mm | 26 mm | | Proximity sensor, inductive, nickel-brass, short body, M12, unshielded, 10 mm, DC, 3-wire, NPN NO, M12 connector |
| | M12 | Non-flush | 10 mm | 2-wire | NO | Cable | Brass, nickel plated | PVC (oil-resistant reinforced) | 2 m | | 47 mm | 26 mm | | Proximity sensor, inductive, brass-nickel, M12, non-shielded, 10 mm, NO, 2 m cable, DC 2-wire |
| | M12 | Non-flush | 10 mm | 2-wire | NO | Cable | Brass, nickel plated | PVC (oil-resistant reinforced) | 5 m | | 47 mm | 26 mm | | Proximity sensor, inductive, brass-nickel, M12, non-shielded, 10 mm, NO, 5 m cable, DC 2-wire |
| | M12 | Non-flush | 10 mm | 2-wire | NO | M12 Pre-wired Smartclick connector | Brass, nickel plated | PVC (oil-resistant reinforced) | 0.3 m | | 47 mm | 26 mm | | Proximity sensor, inductive, brass-nickel, M12, non-shielded, 10 mm, NO, 0.3 m pig-tail, DC 2-wire |
| | M12 | Non-flush | 10 mm | 2-wire | NO | M12 Pre-wired Smartclick connector | Brass, nickel plated | PVC (oil-resistant reinforced) | 0.3 m | | 47 mm | 26 mm | | Proximity sensor, inductive, brass-nickel, M12, non-shielded, 10 mm, NO, 0.3 m pig-tail, DC 2-wire, no polarity |
| | M12 | Non-flush | 10 mm | 2-wire | NO | Cable | Brass, nickel plated | PVC (oil-resistant reinforced) | 2 m | | 47 mm | 26 mm | Flexible cable | Proximity sensor, inductive, brass-nickel, M12, non-shielded, 10 mm, NO, 2 m cable robotic, DC 2-wire |
| | M12 | Non-flush | 10 mm | 2-wire | NO | Cable | Brass, nickel plated | PVC (oil-resistant reinforced) | 2 m | | 47 mm | 26 mm | | Proximity sensor, inductive, brass-nickel, M12, non-shielded, 10 mm, NO, 2 m cable, DC 2-wire, no polarity |
| | M12 | Non-flush | 10 mm | 2-wire | NO | Cable | Brass, nickel plated | PVC (oil-resistant reinforced) | 2 m | | 47 mm | 26 mm | Flexible cable | Proximity sensor, inductive, brass-nickel, M12, non-shielded, 10 mm, NO, 2 m cable robotic, DC 2-wire, no polarity |
| | M12 | Non-flush | 10 mm | 2-wire | NC | Cable | Brass, nickel plated | PVC (oil-resistant reinforced) | 2 m | | 47 mm | 26 mm | | Proximity sensor, inductive, brass-nickel, M12, non-shielded, 10 mm, NC, 2 m cable, DC 2-wire |
| | M12 | Non-flush | 10 mm | 2-wire | NC | M12 Pre-wired Smartclick connector | Brass, nickel plated | PVC (oil-resistant reinforced) | 0.3 m | | 47 mm | 26 mm | | Proximity sensor, inductive, brass-nickel, M12, non-shielded, 10 mm, NC, 0.3 m pig-tail, DC 2-wire |
| | M12 | Non-flush | 10 mm | 2-wire | NC | M12 Pre-wired Smartclick connector | Brass, nickel plated | PVC (oil-resistant reinforced) | 0.3 m | | 47 mm | 26 mm | | Proximity sensor, inductive, brass-nickel, M12, non-shielded, 10 mm, NC, 0.3 m pig-tail, DC 2-wire, no polarity |
| | M12 | Non-flush | 10 mm | 2-wire | NC | Cable | Brass, nickel plated | PVC (oil-resistant reinforced) | 2 m | | 47 mm | 26 mm | Flexible cable | Proximity sensor, inductive, brass-nickel, M12, non-shielded, 10 mm, NC, 2 m cable robotic, DC 2-wire |
| | M12 | Non-flush | 10 mm | 2-wire | NC | Cable | Brass, nickel plated | PVC (oil-resistant reinforced) | 2 m | | 47 mm | 26 mm | | Proximity sensor, inductive, brass-nickel, M12, non-shielded, 10 mm, NC, 2 m cable, DC 2-wire, no polarity |
| | M12 | Non-flush | 10 mm | 2-wire | NC | Cable | Brass, nickel plated | PVC (oil-resistant reinforced) | 2 m | | 47 mm | 26 mm | Flexible cable | Proximity sensor, inductive, brass-nickel, M12, non-shielded, 10 mm, NC, 2 m cable robotic, DC 2-wire, no polarity |
| | M18 | Flush | 11 mm | 2-wire | NO | Cable | Brass, nickel plated | PVC (oil-resistant reinforced) | 2 m | | 55 mm | 33 mm | | Proximity sensor, inductive, brass-nickel, M18, shielded, 11 mm, NO, 2 m cable, DC 2-wire |
| | M18 | Flush | 11 mm | 2-wire | NO | M12 Pre-wired Smartclick connector | Brass, nickel plated | PVC (oil-resistant reinforced) | 0.3 m | | 55 mm | 33 mm | | Proximity sensor, inductive, brass-nickel, M18, shielded, 11 mm, NO, 0.3 m pig-tail, DC 2-wire |
| | M18 | Flush | 11 mm | 2-wire | NO | M12 Pre-wired Smartclick connector | Brass, nickel plated | PVC (oil-resistant reinforced) | 0.3 m | | 55 mm | 33 mm | | Proximity sensor, inductive, brass-nickel, M18, shielded, 11 mm, NO, 0.3 m pig-tail, DC 2-wire, no polarity |
| | M18 | Flush | 11 mm | 2-wire | NO | Cable | Brass, nickel plated | PVC (oil-resistant reinforced) | 2 m | | 55 mm | 33 mm | Flexible cable | Proximity sensor, inductive, brass-nickel, M18, shielded, 11 mm, NO, 2 m cable robotic, DC 2-wire |
| | M18 | Flush | 11 mm | 2-wire | NO | Cable | Brass, nickel plated | PVC (oil-resistant reinforced) | 2 m | | 55 mm | 33 mm | | Proximity sensor, inductive, brass-nickel, M18, shielded, 11 mm, NO, 2 m cable, DC 2-wire, no polarity |
| | M18 | Flush | 11 mm | 2-wire | NO | Cable | Brass, nickel plated | PVC (oil-resistant reinforced) | 5 m | | 55 mm | 33 mm | | Proximity sensor, inductive, brass-nickel, M18, shielded, 11 mm, NO, 5 m cable, DC 2-wire, no polarity |
| | M18 | Flush | 11 mm | 2-wire | NO | Cable | Brass, nickel plated | PVC (oil-resistant reinforced) | 2 m | | 55 mm | 33 mm | Flexible cable | Proximity sensor, inductive, brass-nickel, M18, shielded, 11 mm, NO, 2 m cable robotic, DC 2-wire, no polarity |
| | M18 | Flush | 11 mm | 2-wire | NC | Cable | Brass, nickel plated | PVC (oil-resistant reinforced) | 2 m | | 55 mm | 33 mm | | Proximity sensor, inductive, brass-nickel, M18, shielded, 11 mm, NC, 2 m cable, DC 2-wire |
| | M18 | Flush | 11 mm | 2-wire | NC | Cable | Brass, nickel plated | PVC (oil-resistant reinforced) | 5 m | | 55 mm | 33 mm | | Proximity sensor, inductive, brass-nickel, M18, shielded, 11 mm, NC, 5 m cable, DC 2-wire |
| | M18 | Flush | 11 mm | 2-wire | NC | M12 Pre-wired Smartclick connector | Brass, nickel plated | PVC (oil-resistant reinforced) | 0.3 m | | 55 mm | 33 mm | | Proximity sensor, inductive, brass-nickel, M18, shielded, 11 mm, NC, 0.3 m pig-tail, DC 2-wire |
| | M18 | Flush | 11 mm | 2-wire | NC | M12 Pre-wired Smartclick connector | Brass, nickel plated | PVC (oil-resistant reinforced) | 0.3 m | | 55 mm | 33 mm | | Proximity sensor, inductive, brass-nickel, M18, shielded, 11 mm, NC, 0.3 m pig-tail, DC 2-wire, no polarity |
| | M18 | Flush | 11 mm | 2-wire | NC | Cable | Brass, nickel plated | PVC (oil-resistant reinforced) | 2 m | | 55 mm | 33 mm | Flexible cable | Proximity sensor, inductive, brass-nickel, M18, shielded, 11 mm, NC, 2 m cable robotic, DC 2-wire |
| | M18 | Flush | 11 mm | 2-wire | NC | Cable | Brass, nickel plated | PVC (oil-resistant reinforced) | 2 m | | 55 mm | 33 mm | | Proximity sensor, inductive, brass-nickel, M18, shielded, 11 mm, NC, 2 m cable, DC 2-wire, no polarity |
| | M18 | Flush | 11 mm | 2-wire | NC | Cable | Brass, nickel plated | PVC (oil-resistant reinforced) | 5 m | | 55 mm | 33 mm | | Proximity sensor, inductive, brass-nickel, M18, shielded, 11 mm, NC, 5 m cable, DC 2-wire, no polarity |
| | M18 | Flush | 11 mm | 2-wire | NC | Cable | Brass, nickel plated | PVC (oil-resistant reinforced) | 2 m | | 55 mm | 33 mm | Flexible cable | Proximity sensor, inductive, brass-nickel, M18, shielded, 11 mm, NC, 2 m cable robotic, DC 2-wire, no polarity |
| | M18 | Quasi-flush | 12 mm | IO-Link, PNP | NO | Cable | Brass, nickel plated | PVC (oil-resistant) | 2 m | COM3 (230.4 kbps) | 55 mm | 34 mm | | Proximity sensor, inductive, nickel-brass, short body, M18, shielded, 12 mm, DC, 3-wire, PNP NO, IO-Link COM3, 2 m prewired |
| | M18 | Quasi-flush | 12 mm | IO-Link, PNP | NO | Cable | Brass, nickel plated | PVC (oil-resistant) | 5 m | COM3 (230.4 kbps) | 55 mm | 33 mm | | Proximity sensor, inductive, nickel-brass, short body, M18, shielded, 12 mm, DC, 3-wire, PNP NO, IO-Link COM3, 5 m prewired |
| | M18 | Quasi-flush | 12 mm | IO-Link, PNP | NO | Connector M12 | Brass, nickel plated | - | | COM3 (230.4 kbps) | 53 mm | 34 mm | | Proximity sensor, inductive, nickel-brass, short body, M18, shielded, 12 mm, DC, 3-wire, PNP NO, IO-Link COM3, M12 connector |
| | M18 | Quasi-flush | 12 mm | IO-Link, PNP | NO | M12 Pre-wired Smartclick connector | Brass, nickel plated | PVC (oil-resistant) | 0.3 m | COM3 (230.4 kbps) | 55 mm | 34 mm | | Proximity sensor, inductive, nickel-brass, short body, M18, shielded, 12 mm, DC, 3-wire, PNP NO, IO-Link COM3, M12 Smartclick Pig-tail 0.3 m |
| | M18 | Quasi-flush | 12 mm | IO-Link, PNP | NO | Cable | Brass, nickel plated | PVC (oil-resistant) | 2 m | COM3 (230.4 kbps) | 55 mm | 34 mm | Flexible cable | Proximity sensor, inductive, nickel-brass short body, M18, shielded, 12 mm, DC, 3-wire, PNP NO, IO-Link COM3, 2 m prewired robotic cable |
| | M18 | Quasi-flush | 12 mm | IO-Link, PNP | NO | Cable | Brass, nickel plated | PVC (oil-resistant) | 2 m | COM3 (230.4 kbps) | 77 mm | 60 mm | | Proximity sensor, inductive, nickel-brass, long body, M18, shielded, 12 mm, DC, 3-wire, PNP NO, IO-Link COM3, 2 m prewired |
| | M18 | Quasi-flush | 12 mm | IO-Link, PNP | NO | Connector M12 | Brass, nickel plated | - | | COM3 (230.4 kbps) | 75 mm | 48 mm | | Proximity sensor, inductive, nickel-brass, long body, M18, shielded, 12 mm, DC, 3-wire, PNP NO, IO-Link COM3, M12 connector |
| | M18 | Quasi-flush | 12 mm | IO-Link, PNP | NO | M12 Pre-wired Smartclick connector | Brass, nickel plated | PVC (oil-resistant) | 0.3 m | COM3 (230.4 kbps) | 77 mm | 60 mm | | Proximity sensor, inductive, nickel-brass, long body, M18, shielded, 12 mm, DC, 3-wire, PNP NO, IO-Link COM3, M12 Smartclick Pig-tail 0.3 m |
| | M18 | Quasi-flush | 12 mm | PNP | NC | Cable | Brass, nickel plated | PVC (oil-resistant) | 2 m | | | | | Proximity sensor, inductive, nickel-brass, short body, M18, shielded, 12 mm, DC, 3-wire, PNP NC, 2 m prewired |
| | M18 | Quasi-flush | 12 mm | PNP | NC | Cable | Brass, nickel plated | PVC (oil-resistant) | 5 m | | 55 mm | 33 mm | | Proximity sensor, inductive, nickel-brass, short body, M18, shielded, 12 mm, DC, 3-wire, PNP NC, 5 m prewired |
| | M18 | Quasi-flush | 12 mm | PNP | NC | Connector M12 | Brass, nickel plated | | | | | | | Proximity sensor, inductive, nickel-brass, short body, M18, shielded, 12 mm, DC, 3-wire, PNP NC, M12 connector |
| | M18 | Quasi-flush | 12 mm | IO-Link, PNP | NO + NC | Connector M12 | Brass, nickel plated | - | | COM2 (38.4 kbps) | 53 mm | 34 mm | | Proximity sensor, inductive, nickel-brass, short body, M18, shielded, 12 mm, DC, 3-wire, PNP NO+NC, IO-Link COM2, M12 connector |
| | M18 | Quasi-flush | 12 mm | IO-Link, PNP | NO + NC | M12 Pre-wired Smartclick connector | Brass, nickel plated | PVC (oil-resistant) | 0.3 m | COM2 (38.4 kbps) | 55 mm | 34 mm | | Proximity sensor, inductive, nickel-brass, short body, M18, shielded, 12 mm, DC, 3-wire, PNP NO+NC, IO-Link COM2, M12 Smartclick Pig-tail 0.3 m |
| | M18 | Quasi-flush | 12 mm | IO-Link, PNP | NO + NC | Cable | Brass, nickel plated | PVC (oil-resistant) | 2 m | COM2 (38.4 kbps) | 77 mm | 60 mm | | Proximity sensor, inductive, nickel-brass, long body, M18, shielded, 12 mm, DC, 3-wire, PNP NO+NC, IO-Link COM2, 2 m prewired |
| | M18 | Quasi-flush | 12 mm | IO-Link, PNP | NO + NC | Connector M12 | Brass, nickel plated | - | | COM2 (38.4 kbps) | 75 mm | 48 mm | | Proximity sensor, inductive, nickel-brass, long body, M18, shielded, 12 mm, DC, 3-wire, PNP NO+NC, IO-Link COM2, M12 connector |
| | M18 | Quasi-flush | 12 mm | NPN | NO | Cable | Brass, nickel plated | PVC (oil-resistant) | 2 m | | 55 mm | 33 mm | | Proximity sensor, inductive, nickel-brass, short body, M18, shielded, 12 mm, DC, 3-wire, NPN NO, 2 m prewired |
| | M18 | Quasi-flush | 12 mm | NPN | NO | Connector M12 | Brass, nickel plated | - | | | 53 mm | 34 mm | | Proximity sensor, inductive, nickel-brass, short body, M18, shielded, 12 mm, DC, 3-wire, NPN NO, M12 connector |
| | M18 | Quasi-flush | 12 mm | NPN | NC | Cable | Brass, nickel plated | PVC (oil-resistant) | 2 m | | 55 mm | 34 mm | | Proximity sensor, inductive, nickel-brass, short body, M18, shielded, 12 mm, DC, 3-wire, NPN NC, 2 m prewired |
| | M18 | Quasi-flush | 12 mm | NPN | NC | Cable | Brass, nickel plated | PVC (oil-resistant) | 5 m | | 55 mm | 33 mm | | Proximity sensor, inductive, nickel-brass, short body, M18, shielded, 12 mm, DC, 3-wire, NPN NC, 5 m prewired |
| | M18 | Quasi-flush | 12 mm | NPN | NC | Connector M12 | Brass, nickel plated | - | | | 53 mm | 33 mm | | Proximity sensor, inductive, nickel-brass, short body, M18, shielded, 12 mm, DC, 3-wire, NPN NC, M12 connector |
| | M18 | Quasi-flush | 14 mm | IO-Link, PNP | NO | Cable | Brass, nickel plated | PVC (oil-resistant) | 2 m | COM3 (230.4 kbps) | 55 mm | 60 mm | | Proximity sensor, inductive, nickel-brass, short body, M18, shielded, 14 mm, DC, 3-wire, PNP NO, IO-Link COM3, 2 m prewired |
| | M18 | Quasi-flush | 14 mm | IO-Link, PNP | NO | Connector M12 | Brass, nickel plated | - | | COM3 (230.4 kbps) | 53 mm | 34 mm | | Proximity sensor, inductive, nickel-brass, short body, M18, shielded, 14 mm, DC, 3-wire, PNP NO, IO-Link COM3, M12 connector |
| | M18 | Quasi-flush | 14 mm | IO-Link, PNP | NO | M12 Pre-wired Smartclick connector | Brass, nickel plated | PVC (oil-resistant) | 0.3 m | COM3 (230.4 kbps) | 55 mm | 60 mm | | Proximity sensor, inductive, nickel-brass, short body, M18, shielded, 14 mm, DC, 3-wire, PNP NO, IO-Link COM3, M12 Smartclick Pig-tail 0.3 m |
| | M18 | Quasi-flush | 14 mm | IO-Link, PNP | NO | M12 Pre-wired Smartclick connector | Brass, nickel plated | PVC (oil-resistant) | 0.3 m | COM3 (230.4 kbps) | 55 mm | 60 mm | Flexible cable | Proximity sensor, inductive, nickel-brass, short body, M18, shielded, 14 mm, DC, 3-wire, PNP NO, IO-Link COM3, M12 Smartclick Pig-tail 0.3 m robotic cable |
| | M18 | Quasi-flush | 14 mm | IO-Link, PNP | NO | Cable | Brass, nickel plated | PVC (oil-resistant) | 2 m | COM3 (230.4 kbps) | 55 mm | 60 mm | Flexible cable | Proximity sensor, inductive, nickel-brass short body, M18, shielded, 14 mm, DC, 3-wire, PNP NO, IO-Link COM3, 2 m prewired robotic cable |
| | M18 | Quasi-flush | 14 mm | IO-Link, PNP | NO | Cable | Brass, nickel plated | PVC (oil-resistant) | 2 m | COM3 (230.4 kbps) | 77 mm | 47 mm | | Proximity sensor, inductive, nickel-brass, long body, M18, shielded, 14 mm, DC, 3-wire, PNP NO, IO-Link COM3, 2 m prewired |
| | M18 | Quasi-flush | 14 mm | IO-Link, PNP | NO | Connector M12 | Brass, nickel plated | - | | COM3 (230.4 kbps) | 75 mm | 48 mm | | Proximity sensor, inductive, nickel-brass, long body, M18, shielded, 14 mm, DC, 3-wire, PNP NO, IO-Link COM3, M12 connector |
| | M18 | Quasi-flush | 14 mm | IO-Link, PNP | NO | M12 Pre-wired Smartclick connector | Brass, nickel plated | PVC (oil-resistant) | 0.3 m | COM3 (230.4 kbps) | 77 mm | 47 mm | | Proximity sensor, inductive, nickel-brass, long body, M18, shielded, 14 mm, DC, 3-wire, PNP NO, IO-Link COM3, M12 Smartclick Pig-tail 0.3 m |
| | M18 | Quasi-flush | 14 mm | PNP | NC | Connector M12 | Brass, nickel plated | - | | | 53 mm | 34 mm | | Proximity sensor, inductive, nickel-brass, short body, M18, shielded, 14 mm, DC, 3-wire, PNP NC, M12 connector |
| | M18 | Quasi-flush | 14 mm | NPN | NO | Connector M12 | Brass, nickel plated | - | | | 53 mm | 34 mm | | Proximity sensor, inductive, nickel-brass, short body, M18, shielded, 14 mm, DC, 3-wire, NPN NO, M12 connector |
| | M18 | Quasi-flush | 14 mm | NPN | NO | Connector M12 | Brass, nickel plated | - | | | 75 mm | 48 mm | | Proximity sensor, inductive, nickel-brass, long body, M18, shielded, 14 mm, DC, 3-wire, NPN NO, M12 connector |
| | M18 | Quasi-flush | 14 mm | NPN | NC | Cable | Brass, nickel plated | PVC (oil-resistant) | 2 m | | 55 mm | 60 mm | | Proximity sensor, inductive, nickel-brass, short body, M18, shielded, 14 mm, DC, 3-wire, NPN NC, 2 m prewired |
| | M18 | Quasi-flush | 14 mm | NPN | NC | Cable | Brass, nickel plated | PVC (oil-resistant) | 5 m | | 55 mm | 60 mm | | Proximity sensor, inductive, nickel-brass, short body, M18, shielded, 14 mm, DC, 3-wire, NPN NC, 5 m prewired |
| | M18 | Quasi-flush | 14 mm | NPN | NC | Connector M12 | Brass, nickel plated | - | | | 53 mm | 34 mm | | Proximity sensor, inductive, nickel-brass, short body, M18, shielded, 14 mm, DC, 3-wire, NPN NC, M12 connector |
| | M30 | Quasi-flush | 15 mm | IO-Link, PNP | NO/NC switching | Cable | Brass, nickel plated | PVC | 2 m | COM2 (38.4 kbps) | | | | Proximity sensor, inductive, nickel-brass, short body, M30, shielded, 15 mm, DC, 3-wire, PNP NO, IO-Link COM2, 2 m prewired |
| | M30 | Quasi-flush | 15 mm | IO-Link, PNP | NO/NC switching | Connector M12 | Brass, nickel plated | | | COM2 (38.4 kbps) | | | | Proximity sensor, inductive, nickel-brass, short body, M30, shielded, 15 mm, DC, 3-wire, PNP NO, IO-Link COM2, M12 connector |
| | M30 | Flush | 15 mm | IO-Link, PNP | NO | Cable | Brass, nickel plated | PVC (oil-resistant) | 2 m | COM3 (230.4 kbps) | 60 mm | 39 mm | | Proximity sensor, inductive, nickel-brass, short body, M30, shielded, 15 mm, DC, 3-wire, PNP NO, IO-Link COM3, 2 m prewired |
| | M30 | Flush | 15 mm | IO-Link, PNP | NO | Connector M12 | Brass, nickel plated | - | | COM3 (230.4 kbps) | 58 mm | 39 mm | | Proximity sensor, inductive, nickel-brass, short body, M30, shielded, 15 mm, DC, 3-wire, PNP NO, IO-Link COM3, M12 connector |
| | M30 | Flush | 15 mm | IO-Link, PNP | NO | M12 Pre-wired Smartclick connector | Brass, nickel plated | PVC (oil-resistant) | 0.3 m | COM3 (230.4 kbps) | 60 mm | 39 mm | | Proximity sensor, inductive, nickel-brass, short body, M30, shielded, 15 mm, DC, 3-wire, PNP NO, IO-Link COM3, M12 Smartclick Pig-tail 0.3 m |
| | M30 | Quasi-flush | 15 mm | IO-Link, PNP | NO | Cable | Brass, nickel plated | PVC (oil-resistant) | 2 m | COM3 (230.4 kbps) | 60 mm | 39 mm | Flexible cable | Proximity sensor, inductive, nickel-brass short body, M30, shielded, 15 mm, DC, 3-wire, PNP NO, IO-Link COM3, 2 m prewired robotic cable |
| | M30 | Flush | 15 mm | IO-Link, PNP | NO | Cable | Brass, nickel plated | PVC (oil-resistant) | 2 m | COM3 (230.4 kbps) | 82 mm | 55 mm | | Proximity sensor, inductive, nickel-brass long body, M30, shielded, 15 mm, DC, 3-wire, PNP NO, IO-Link COM3, 2 m prewired |
| | M30 | Flush | 15 mm | IO-Link, PNP | NO | Connector M12 | Brass, nickel plated | - | | COM3 (230.4 kbps) | 80 mm | 65 mm | | Proximity sensor, inductive, nickel-brass long body, M30, shielded, 15 mm, DC, 3-wire, PNP NO, IO-Link COM3, M12 connector |
| | M30 | Quasi-flush | 15 mm | IO-Link, PNP | NO | M12 Pre-wired Smartclick connector | Brass, nickel plated | PVC (oil-resistant) | 0.3 m | COM3 (230.4 kbps) | 82 mm | 55 mm | | Proximity sensor, inductive, nickel-brass long body, M30, shielded, 15 mm, DC, 3-wire, PNP NO, IO-Link COM3, M12 Smartclick Pig-tail 0.3 m |
| | M30 | Quasi-flush | | PNP | NC | Cable | Brass, nickel plated | PVC | 2 m | | | | | Proximity sensor, inductive, nickel-brass, short body, M30, shielded, 15 mm, DC, 3-wire, PNP NC, 2 m prewired |
| | M30 | Quasi-flush | | PNP | NC | Connector M12 | Brass, nickel plated | | | | | | | Proximity sensor, inductive, nickel-brass, short body, M30, shielded, 15 mm, DC, 3-wire, PNP NC, M12 connector |
| | M30 | Quasi-flush | | PNP | NC | Connector M12 | Brass, nickel plated | | | | | | | Proximity sensor, inductive, nickel-brass, long body, M30, shielded, 15 mm, DC, 3-wire, PNP NC, M12 connector |
| | M30 | Quasi-flush | 15 mm | IO-Link, PNP | NO + NC | Cable | Brass, nickel plated | PVC (oil-resistant) | 2 m | COM2 (38.4 kbps) | | | | Proximity sensor, inductive, nickel-brass, short body, M30, shielded, 15 mm, DC, 3-wire, PNP NONC, IO-Link COM2, 2 m prewired |
| | M30 | Flush | 15 mm | IO-Link, PNP | NO + NC | Connector M12 | Brass, nickel plated | - | | COM2 (38.4 kbps) | 58 mm | 39 mm | | Proximity sensor, inductive, nickel-brass, short body, M30, shielded, 15 mm, DC, 3-wire, PNP NO+NC, IO-Link COM2, M12 connector |
| | M30 | Quasi-flush | 15 mm | IO-Link, PNP | NO + NC | Cable | Brass, nickel plated | PVC (oil-resistant) | 2 m | COM2 (38.4 kbps) | | | | Proximity sensor, inductive, nickel-brass, long body, M30, shielded, 15 mm, DC, 3-wire, PNP NONC, IO-Link COM2, 2 m prewired |
| | M30 | Quasi-flush | 15 mm | IO-Link, PNP | NO + NC | Connector M12 | Brass, nickel plated | | | COM2 (38.4 kbps) | | | | Proximity sensor, inductive, nickel-brass, long body, M30, shielded, 15 mm, DC, 3-wire, PNP NONC, IO-Link COM2, M12 connector |
| | M30 | Quasi-flush | 15 mm | NPN | NO | Cable | Brass, nickel plated | PVC | 2 m | | | | | Proximity sensor, inductive, nickel-brass, short body, M30, shielded, 15 mm, DC, 3-wire, NPN NO, 2 m prewired |
| | M30 | Quasi-flush | 15 mm | NPN | NO | Connector M12 | Brass, nickel plated | | | | | | | Proximity sensor, inductive, nickel-brass, short body, M30, shielded, 15 mm, DC, 3-wire, NPN NO, M12 connector |
| | M30 | Quasi-flush | 15 mm | NPN | NO + NC | Cable | Brass, nickel plated | PVC (oil-resistant) | 2 m | | | | | Proximity sensor, inductive, nickel-brass, short body, M30, shielded, 15 mm, DC, 3-wire, NPN NO+NC, 2 m prewired |
| | M30 | Quasi-flush | 15 mm | NPN | NO + NC | Connector M12 | Brass, nickel plated | | | | | | | Proximity sensor, inductive, nickel-brass, short body, M30, shielded, 15 mm, DC, 3-wire, NPN NO+NC, M12 connector |
| | M18 | Non-flush | 16 mm | IO-Link, PNP | NO/NC switching | Cable | Brass, nickel plated | PVC (oil-resistant) | 2 m | COM2 (38.4 kbps) | | | | Proximity sensor, inductive, nickel-brass, short body, M18, unshielded, 16 mm, DC, 3-wire, PNP NO, IO-Link COM2, 2 m prewired |
| | M18 | Non-flush | 16 mm | IO-Link, PNP | NO/NC switching | Connector M12 | Brass, nickel plated | | | COM2 (38.4 kbps) | | | | Proximity sensor, inductive, nickel-brass, short body, M18, unshielded, 16 mm, DC, 3-wire, PNP NO, IO-Link COM2, M12 connector |
| | M12 | Non-flush | 16 mm | IO-Link, PNP | NO | Cable | Brass, nickel plated | PVC (oil-resistant) | 2 m | COM3 (230.4 kbps) | 47 mm | 26 mm | | Proximity sensor, inductive, nickel-brass short body, M12, unshielded, 16 mm, DC, 3-wire, PNP NO, IO-Link COM3, 2 m prewired |
| | M12 | Non-flush | 16 mm | IO-Link, PNP | NO | Connector M12 | Brass, nickel plated | - | | COM3 (230.4 kbps) | 48 mm | 26 mm | | Proximity sensor, inductive, nickel-brass, short body, M12, unshielded, 16 mm, DC, 3-wire, PNP NO, IO-Link COM3, M12 connector |
| | M12 | Non-flush | 16 mm | IO-Link, PNP | NO | M12 Pre-wired Smartclick connector | Brass, nickel plated | PVC (oil-resistant) | 0.3 m | COM3 (230.4 kbps) | 47 mm | 26 mm | | Proximity sensor, inductive, nickel-brass, short body, M12, unshielded, 16 mm, DC, 3-wire, PNP NO, IO-Link COM3, M12 Smartclick Pig-tail 0.3 m |
| | M12 | Non-flush | 16 mm | IO-Link, PNP | NO | Cable | Brass, nickel plated | PVC (oil-resistant) | 2 m | COM3 (230.4 kbps) | 47 mm | 26 mm | Flexible cable | Proximity sensor, inductive, nickel-brass short body, M12, unshielded, 16 mm, DC, 3-wire, PNP NO, IO-Link COM3, 2 m prewired robotic cable |
| | M18 | Non-flush | 16 mm | IO-Link, PNP | NO | Cable | Brass, nickel plated | PVC (oil-resistant) | 2 m | COM3 (230.4 kbps) | 55 mm | 28 mm | | Proximity sensor, inductive, nickel-brass, short body, M18, unshielded, 16 mm, DC, 3-wire, PNP NO, IO-Link COM3, 2 m prewired |
| | M18 | Non-flush | 16 mm | IO-Link, PNP | NO | Connector M12 | Brass, nickel plated | - | | COM3 (230.4 kbps) | 53 mm | 28 mm | | Proximity sensor, inductive, nickel-brass, short body, M18, unshielded, 16 mm, DC, 3-wire, PNP NO, IO-Link COM3, M12 connector |
| | M18 | Non-flush | 16 mm | IO-Link, PNP | NO | M12 Pre-wired Smartclick connector | Brass, nickel plated | PVC (oil-resistant) | 0.3 m | COM3 (230.4 kbps) | 55 mm | 28 mm | | Proximity sensor, inductive, nickel-brass, short body, M18, unshielded, 16 mm, DC, 3-wire, PNP NO, IO-Link COM3, M12 Smartclick Pig-tail 0.3 m |
| | M18 | Non-flush | 16 mm | IO-Link, PNP | NO | Cable | Brass, nickel plated | PVC (oil-resistant) | 2 m | COM3 (230.4 kbps) | 55 mm | 28 mm | Flexible cable | Proximity sensor, inductive, nickel-brass short body, M18, unshielded, 16 mm, DC, 3-wire, PNP NO, IO-Link COM3, 2 m prewired robotic cable |
| | M12 | Non-flush | 16 mm | IO-Link, PNP | NO | Cable | Brass, nickel plated | PVC (oil-resistant) | 2 m | COM3 (230.4 kbps) | 69 mm | 48 mm | | Proximity sensor, inductive, nickel-brass long body, M12, unshielded, 16 mm, DC, 3-wire, PNP NO, IO-Link COM3, 2 m prewired |
| | M12 | Non-flush | 16 mm | IO-Link, PNP | NO | Connector M12 | Brass, nickel plated | - | | COM3 (230.4 kbps) | 70 mm | 48 mm | | Proximity sensor, inductive, nickel-brass, long body, M12, unshielded, 16 mm, DC, 3-wire, PNP NO, IO-Link COM3, M12 connector |
| | M12 | Non-flush | 16 mm | IO-Link, PNP | NO | M12 Pre-wired Smartclick connector | Brass, nickel plated | PVC (oil-resistant) | 0.3 m | COM3 (230.4 kbps) | 69 mm | 48 mm | | Proximity sensor, inductive, nickel-brass long body, M12, unshielded, 16 mm, DC, 3-wire, PNP NO, IO-Link COM3, M12 Smartclick Pig-tail 0.3 m |
| | M18 | Non-flush | 16 mm | IO-Link, PNP | NO | Cable | Brass, nickel plated | PVC (oil-resistant) | 2 m | COM3 (230.4 kbps) | 77 mm | 50 mm | | Proximity sensor, inductive, nickel-brass long body, M18, unshielded, 16 mm, DC, 3-wire, PNP NO, IO-Link COM3, 2 m prewired |
| | M18 | Non-flush | 16 mm | IO-Link, PNP | NO | Connector M12 | Brass, nickel plated | - | | COM3 (230.4 kbps) | 75 mm | 50 mm | | Proximity sensor, inductive, nickel-brass long body, M18, unshielded, 16 mm, DC, 3-wire, PNP NO, IO-Link COM3, M12 connector |
| | M18 | Non-flush | 16 mm | IO-Link, PNP | NO | M12 Pre-wired Smartclick connector | Brass, nickel plated | PVC (oil-resistant) | 0.3 m | COM3 (230.4 kbps) | 77 mm | 50 mm | | Proximity sensor, inductive, nickel-brass long body, M18, unshielded, 16 mm, DC, 3-wire, PNP NO, IO-Link COM3, M12 Smartclick Pig-tail 0.3 m |
| | M12 | Non-flush | 16 mm | PNP | NC | Connector M12 | Brass, nickel plated | - | | | 48 mm | 33 mm | | Proximity sensor, inductive, nickel-brass, short body, M12, unshielded, 16 mm, DC, 3-wire, PNP NC, M12 connector |
| | M18 | Non-flush | | PNP | NC | Cable | Brass, nickel plated | PVC (oil-resistant) | 2 m | | | | | Proximity sensor, inductive, nickel-brass, short body, M18, unshielded, 16 mm, DC, 3-wire, PNP NC, 2 m prewired |
| | M18 | Non-flush | | PNP | NC | Connector M12 | Brass, nickel plated | | | | | | | Proximity sensor, inductive, nickel-brass, short body, M18, unshielded, 16 mm, DC, 3-wire, PNP NC, M12 connector |
| | M18 | Non-flush | | PNP | NC | Cable | Brass, nickel plated | PVC (oil-resistant) | 2 m | | | | | Proximity sensor, inductive, nickel-brass, long body, M18, unshielded, 16 mm, DC, 3-wire, PNP NC, 2 m prewired |
| | M18 | Non-flush | 16 mm | IO-Link, PNP | NO + NC | Cable | Brass, nickel plated | PVC (oil-resistant) | 2 m | COM2 (38.4 kbps) | | | | Proximity sensor, inductive, nickel-brass, short body, M18, unshielded, 16 mm, DC, 3-wire, PNP NONC, IO-Link COM2, 2 m prewired |
| | M18 | Non-flush | 16 mm | IO-Link, PNP | NO + NC | Connector M12 | Brass, nickel plated | - | | COM3 (230.4 kbps) | 53 mm | 28 mm | | Proximity sensor, inductive, nickel-brass, short body, M18, unshielded, 16 mm, DC, 3-wire, PNP NO+NC, IO-Link COM2, M12 connector |
| | M18 | Non-flush | 16 mm | IO-Link, PNP | NO + NC | M12 Pre-wired Smartclick connector | Brass, nickel plated | PVC (oil-resistant) | 0.3 m | COM2 (38.4 kbps) | 55 mm | 28 mm | | Proximity sensor, inductive, nickel-brass, short body, M18, unshielded, 16 mm, DC, 3-wire, PNP NO+NC, IO-Link COM2, M12 Smartclick Pig-tail 0.3 m |
| | M18 | Non-flush | | IO-Link, PNP | NO + NC | Cable | Brass, nickel plated | PVC (oil-resistant) | 2 m | COM2 (38.4 kbps) | | | | Proximity sensor, inductive, nickel-brass, long body, M18, unshielded, 16 mm, DC, 3-wire, PNP NONC, IO-Link COM2, 2 m prewired |
| | M12 | Non-flush | 16 mm | NPN | NO | Connector M12 | Brass, nickel plated | - | | | 48 mm | 26 mm | | Proximity sensor, inductive, nickel-brass, short body, M12, unshielded, 16 mm, DC, 3-wire, NPN NO, M12 connector |
| | M18 | Non-flush | 16 mm | NPN | NO | Cable | Brass, nickel plated | PVC (oil-resistant) | 2 m | | | | | Proximity sensor, inductive, nickel-brass, short body, M18, unshielded, 16 mm, DC, 3-wire, NPN NO, 2 m prewired |
| | M18 | Non-flush | 16 mm | NPN | NO | Connector M12 | Brass, nickel plated | - | | | 53 mm | 28 mm | | Proximity sensor, inductive, nickel-brass, short body, M18, unshielded, 16 mm, DC, 3-wire, NPN NO, M12 connector |
| | M12 | Non-flush | 16 mm | NPN | NC | Cable | Brass, nickel plated | PVC (oil-resistant) | 2 m | | | | | Proximity sensor, inductive, nickel-brass, short body, M12, unshielded, 16 mm, DC, 3-wire, NPN NC, 2 m prewired |
| | M18 | Non-flush | 16 mm | NPN | NC | Connector M12 | Brass, nickel plated | | | | | | | Proximity sensor, inductive, nickel-brass, short body, M18, unshielded, 16 mm, DC, 3-wire, NPN NC, M12 connector |
| | M18 | Non-flush | 16 mm | NPN | NO + NC | Connector M12 | Brass, nickel plated | | | | | | | Proximity sensor, inductive, nickel-brass, short body, M18, unshielded, 16 mm, DC, 3-wire, NPN NO+NC, M12 connector |
| | M8 | Flush | 1.5 mm | IO-Link, PNP | NO | Connector M12 | Stainless steel | - | | COM3 (230.4 kbps) | 43 mm | 22 mm | | Proximity sensor, inductive, SUS short body, M8, shielded, 1.5 mm, DC, 3-wire, PNP NO, IO-Link COM3, M12 connector |
| | M8 | Flush | 1.5 mm | 2-wire | NO | M12 Pre-wired Smartclick connector | Stainless steel | PVC (oil-resistant reinforced) | 0.3 m | | 38 mm | 26 mm | | Proximity sensor, inductive, brass-nickel, M8, shielded, 1.5 mm, NO, 0.3 m pig-tail, DC 2-wire |
| | M8 | Flush | 1.5 mm | 2-wire | NO | M12 Pre-wired Smartclick connector | Stainless steel | PVC (oil-resistant reinforced) | 0.3 m | | 38 mm | 26 mm | | Proximity sensor, inductive, brass-nickel, M8, shielded, 1.5 mm, NO, 0.3 m pig-tail, DC 2-wire, no polarity |
| | M8 | Flush | 1.5 mm | 2-wire | NO | Cable | Stainless steel | PVC (oil-resistant reinforced) | 2 m | | 38 mm | 26 mm | | Proximity sensor, inductive, brass-nickel, M8, shielded, 1.5 mm, NO, 2 m cable, DC 2-wire |
| | M8 | Flush | 1.5 mm | 2-wire | NO | Cable | Stainless steel | PVC (oil-resistant reinforced) | 2 m | | 38 mm | 26 mm | Flexible cable | Proximity sensor, inductive, brass-nickel, M8, shielded, 1.5 mm, NO, 2 m cable robotic, DC 2-wire |
| | M8 | Flush | 1.5 mm | 2-wire | NO | Cable | Stainless steel | PVC (oil-resistant reinforced) | 2 m | | 38 mm | 26 mm | | Proximity sensor, inductive, brass-nickel, M8, shielded, 1.5 mm, NO, 2 m cable, DC 2-wire, no polarity |
| | M8 | Flush | 1.5 mm | 2-wire | NO | Cable | Stainless steel | PVC (oil-resistant reinforced) | 2 m | | 38 mm | 26 mm | Flexible cable | Proximity sensor, inductive, brass-nickel, M8, shielded, 1.5 mm, NO, 2 m cable robotic, DC 2-wire, no polarity |
| | M8 | Flush | 1.5 mm | 2-wire | NC | M12 Pre-wired Smartclick connector | Stainless steel | PVC (oil-resistant reinforced) | 0.3 m | | 38 mm | 26 mm | | Proximity sensor, inductive, brass-nickel, M8, shielded, 1.5 mm, NC, 0.3 m pig-tail, DC 2-wire |
| | M8 | Flush | 1.5 mm | 2-wire | NC | M12 Pre-wired Smartclick connector | Stainless steel | PVC (oil-resistant reinforced) | 0.3 m | | 38 mm | 26 mm | | Proximity sensor, inductive, brass-nickel, M8, shielded, 1.5 mm, NC, 0.3 m pig-tail, DC 2-wire, no polarity |
| | M8 | Flush | 1.5 mm | 2-wire | NC | Cable | Stainless steel | PVC (oil-resistant reinforced) | 2 m | | 38 mm | 26 mm | | Proximity sensor, inductive, brass-nickel, M8, shielded, 1.5 mm, NC, 2 m cable, DC 2-wire |
| | M8 | Flush | 1.5 mm | 2-wire | NC | Cable | Stainless steel | PVC (oil-resistant reinforced) | 2 m | | 38 mm | 26 mm | Flexible cable | Proximity sensor, inductive, brass-nickel, M8, shielded, 1.5 mm, NC, 2 m cable robotic, DC 2-wire |
| | M8 | Flush | 1.5 mm | 2-wire | NC | Cable | Stainless steel | PVC (oil-resistant reinforced) | 2 m | | 38 mm | 26 mm | | Proximity sensor, inductive, brass-nickel, M8, shielded, 1.5 mm, NC, 2 m cable, DC 2-wire, no polarity |
| | M8 | Flush | 1.5 mm | 2-wire | NC | Cable | Stainless steel | PVC (oil-resistant reinforced) | 2 m | | 38 mm | 26 mm | Flexible cable | Proximity sensor, inductive, brass-nickel, M8, shielded, 1.5 mm, NC, 2 m cable robotic, DC 2-wire, no polarity |
| | M30 | Flush | 20 mm | 2-wire | NO | Cable | Brass, nickel plated | PVC (oil-resistant reinforced) | 2 m | | 60 mm | 38 mm | | Proximity sensor, inductive, brass-nickel, M30, shielded, 20 mm, NO, 2 m cable, DC 2-wire |
| | M30 | Flush | 20 mm | 2-wire | NO | M12 Pre-wired Smartclick connector | Brass, nickel plated | PVC (oil-resistant reinforced) | 0.3 m | | 60 mm | 38 mm | | Proximity sensor, inductive, brass-nickel, M30, shielded, 20 mm, NO, 0.3 m pig-tail, DC 2-wire |
| | M30 | Flush | 20 mm | 2-wire | NO | M12 Pre-wired Smartclick connector | Brass, nickel plated | PVC (oil-resistant reinforced) | 0.3 m | | 60 mm | 38 mm | | Proximity sensor, inductive, brass-nickel, M30, shielded, 20 mm, NO, 0.3 m pig-tail, DC 2-wire, no polarity |
| | M30 | Flush | 20 mm | 2-wire | NO | Cable | Brass, nickel plated | PVC (oil-resistant reinforced) | 2 m | | 60 mm | 38 mm | Flexible cable | Proximity sensor, inductive, brass-nickel, M30, shielded, 20 mm, NO, 2 m cable robotic, DC 2-wire |
| | M30 | Flush | 20 mm | 2-wire | NO | Cable | Brass, nickel plated | PVC (oil-resistant reinforced) | 2 m | | 60 mm | 38 mm | | Proximity sensor, inductive, brass-nickel, M30, shielded, 20 mm, NO, 2 m cable, DC 2-wire, no polarity |
| | M30 | Flush | 20 mm | 2-wire | NO | Cable | Brass, nickel plated | PVC (oil-resistant reinforced) | 2 m | | 60 mm | 38 mm | Flexible cable | Proximity sensor, inductive, brass-nickel, M30, shielded, 20 mm, NO, 2 m cable robotic, DC 2-wire, no polarity |
| | M30 | Flush | 20 mm | 2-wire | NC | Cable | Brass, nickel plated | PVC (oil-resistant reinforced) | 2 m | | 60 mm | 38 mm | | Proximity sensor, inductive, brass-nickel, M30, shielded, 20 mm, NC, 2 m cable, DC 2-wire |
| | M30 | Flush | 20 mm | 2-wire | NC | M12 Pre-wired Smartclick connector | Brass, nickel plated | PVC (oil-resistant reinforced) | 0.3 m | | 60 mm | 38 mm | | Proximity sensor, inductive, brass-nickel, M30, shielded, 20 mm, NC, 0.3 m pig-tail, DC 2-wire |
| | M30 | Flush | 20 mm | 2-wire | NC | M12 Pre-wired Smartclick connector | Brass, nickel plated | PVC (oil-resistant reinforced) | 0.3 m | | 60 mm | 38 mm | | Proximity sensor, inductive, brass-nickel, M30, shielded, 20 mm, NC, 0.3 m pig-tail, DC 2-wire, no polarity |
| | M30 | Flush | 20 mm | 2-wire | NC | Cable | Brass, nickel plated | PVC (oil-resistant reinforced) | 2 m | | 60 mm | 38 mm | Flexible cable | Proximity sensor, inductive, brass-nickel, M30, shielded, 20 mm, NC, 2 m cable robotic, DC 2-wire |
| | M30 | Flush | 20 mm | 2-wire | NC | Cable | Brass, nickel plated | PVC (oil-resistant reinforced) | 2 m | | 60 mm | 38 mm | | Proximity sensor, inductive, brass-nickel, M30, shielded, 20 mm, NC, 2 m cable, DC 2-wire, no polarity |
| | M30 | Flush | 20 mm | 2-wire | NC | Cable | Brass, nickel plated | PVC (oil-resistant reinforced) | 2 m | | 60 mm | 38 mm | Flexible cable | Proximity sensor, inductive, brass-nickel, M30, shielded, 20 mm, NC, 2 m cable robotic, DC 2-wire, no polarity |
| | M18 | Non-flush | 20 mm | IO-Link, PNP | NO | Cable | Brass, nickel plated | PVC (oil-resistant) | 2 m | COM3 (230.4 kbps) | 77 mm | 47 mm | | Proximity sensor, inductive, nickel-brass long body, M18, unshielded, 20 mm, DC, 3-wire, PNP NO, IO-Link COM3, 2 m prewired |
| | M18 | Non-flush | 20 mm | IO-Link, PNP | NO | Connector M12 | Brass, nickel plated | - | | COM3 (230.4 kbps) | 75 mm | 47 mm | | Proximity sensor, inductive, nickel-brass long body, M18, unshielded, 20 mm, DC, 3-wire, PNP NO, IO-Link COM3, M12 connector |
| | M18 | Non-flush | 20 mm | IO-Link, PNP | NO | M12 Pre-wired Smartclick connector | Brass, nickel plated | PVC (oil-resistant) | 0.3 m | COM3 (230.4 kbps) | 77 mm | 47 mm | | Proximity sensor, inductive, nickel-brass long body, M18, unshielded, 20 mm, DC, 3-wire, PNP NO, IO-Link COM3, M12 Smartclick Pig-tail 0.3 m |
| | M18 | Non-flush | 20 mm | IO-Link, PNP | NO | Cable | Brass, nickel plated | PVC (oil-resistant) | 2 m | COM3 (230.4 kbps) | 77 mm | 47 mm | Flexible cable | Proximity sensor, inductive, nickel-brass long body, M18, unshielded, 20 mm, DC, 3-wire, PNP NO, IO-Link COM3, 2 m prewired robotic cable |
| | M18 | Non-flush | 20 mm | IO-Link, PNP | NO + NC | Cable | Brass, nickel plated | PVC (oil-resistant) | 2 m | COM2 (38.4 kbps) | 77 mm | 47 mm | | Proximity sensor, inductive, nickel-brass, long body, M18, unshielded, 20 mm, DC, 3-wire, PNP NO+NC, IO-Link COM2, 2 m prewired |
| | M18 | Non-flush | 20 mm | IO-Link, PNP | NO + NC | Connector M12 | Brass, nickel plated | - | | COM2 (38.4 kbps) | 75 mm | 47 mm | | Proximity sensor, inductive, nickel-brass, long body, M18, unshielded, 20 mm, DC, 3-wire, PNP NONC, IO-Link COM2, M12 connector |
| | M18 | Non-flush | 20 mm | 2-wire | NO | Cable | Brass, nickel plated | PVC (oil-resistant reinforced) | 2 m | | 77 mm | 47 mm | | Proximity sensor, inductive, brass-nickel, M18, non-shielded, 20 mm, NO, 2 m cable, DC 2-wire |
| | M18 | Non-flush | 20 mm | 2-wire | NO | M12 Pre-wired Smartclick connector | Brass, nickel plated | PVC (oil-resistant reinforced) | 0.3 m | | 77 mm | 47 mm | | Proximity sensor, inductive, brass-nickel, M18, non-shielded, 20 mm, NO, 0.3 m pig-tail, DC 2-wire |
| | M18 | Non-flush | 20 mm | 2-wire | NO | M12 Pre-wired Smartclick connector | Brass, nickel plated | PVC (oil-resistant reinforced) | 0.3 m | | 77 mm | 47 mm | | Proximity sensor, inductive, brass-nickel, M18, non-shielded, 20 mm, NO, 0.3 m pig-tail, DC 2-wire, no polarity |
| | M18 | Non-flush | 20 mm | 2-wire | NO | Cable | Brass, nickel plated | PVC (oil-resistant reinforced) | 2 m | | 77 mm | 47 mm | Flexible cable | Proximity sensor, inductive, brass-nickel, M18, non-shielded, 20 mm, NO, 2 m cable robotic, DC 2-wire |
| | M18 | Non-flush | 20 mm | 2-wire | NO | Cable | Brass, nickel plated | PVC (oil-resistant reinforced) | 2 m | | 77 mm | 47 mm | | Proximity sensor, inductive, brass-nickel, M18, non-shielded, 20 mm, NO, 2 m cable, DC 2-wire, no polarity |
| | M18 | Non-flush | 20 mm | 2-wire | NO | Cable | Brass, nickel plated | PVC (oil-resistant reinforced) | 2 m | | 77 mm | 47 mm | Flexible cable | Proximity sensor, inductive, brass-nickel, M18, non-shielded, 20 mm, NO, 2 m cable robotic, DC 2-wire, no polarity |
| | M18 | Non-flush | 20 mm | 2-wire | NC | Cable | Brass, nickel plated | PVC (oil-resistant reinforced) | 2 m | | 77 mm | 47 mm | | Proximity sensor, inductive, brass-nickel, M18, non-shielded, 20 mm, NC, 2 m cable, DC 2-wire |
| | M18 | Non-flush | 20 mm | 2-wire | NC | M12 Pre-wired Smartclick connector | Brass, nickel plated | PVC (oil-resistant reinforced) | 0.3 m | | 77 mm | 47 mm | | Proximity sensor, inductive, brass-nickel, M18, non-shielded, 20 mm, NC, 0.3 m pig-tail, DC 2-wire |
| | M18 | Non-flush | 20 mm | 2-wire | NC | M12 Pre-wired Smartclick connector | Brass, nickel plated | PVC (oil-resistant reinforced) | 0.3 m | | 77 mm | 47 mm | | Proximity sensor, inductive, brass-nickel, M18, non-shielded, 20 mm, NC, 0.3 m pig-tail, DC 2-wire, no polarity |
| | M18 | Non-flush | 20 mm | 2-wire | NC | Cable | Brass, nickel plated | PVC (oil-resistant reinforced) | 2 m | | 77 mm | 47 mm | Flexible cable | Proximity sensor, inductive, brass-nickel, M18, non-shielded, 20 mm, NC, 2 m cable robotic, DC 2-wire |
| | M18 | Non-flush | 20 mm | 2-wire | NC | Cable | Brass, nickel plated | PVC (oil-resistant reinforced) | 2 m | | 77 mm | 47 mm | | Proximity sensor, inductive, brass-nickel, M18, non-shielded, 20 mm, NC, 2 m cable, DC 2-wire, no polarity |
| | M18 | Non-flush | 20 mm | 2-wire | NC | Cable | Brass, nickel plated | PVC (oil-resistant reinforced) | 2 m | | 77 mm | 47 mm | Flexible cable | Proximity sensor, inductive, brass-nickel, M18, non-shielded, 20 mm, NC, 2 m cable robotic, DC 2-wire, no polarity |
| | M30 | Quasi-flush | 22 mm | IO-Link, PNP | NO | Cable | Brass, nickel plated | PVC (oil-resistant) | 2 m | COM3 (230.4 kbps) | 60 mm | 39 mm | | Proximity sensor, inductive, nickel-brass, short body, M30, shielded, 22 mm, DC, 3-wire, PNP NO, IO-Link COM3, 2 m prewired |
| | M30 | Quasi-flush | 22 mm | IO-Link, PNP | NO | Connector M12 | Brass, nickel plated | - | | COM3 (230.4 kbps) | 58 mm | 39 mm | | Proximity sensor, inductive, nickel-brass, short body, M30, shielded, 22 mm, DC, 3-wire, PNP NO, IO-Link COM3, M12 connector |
| | M30 | Quasi-flush | 22 mm | IO-Link, PNP | NO | M12 Pre-wired Smartclick connector | Brass, nickel plated | PVC (oil-resistant) | 0.3 m | COM3 (230.4 kbps) | 60 mm | 39 mm | | Proximity sensor, inductive, nickel-brass, short body, M30, shielded, 22 mm, DC, 3-wire, PNP NO, IO-Link COM3, M12 Smartclick Pig-tail 0.3 m |
| | M30 | Quasi-flush | 22 mm | IO-Link, PNP | NO | Cable | Brass, nickel plated | PVC (oil-resistant) | 2 m | COM3 (230.4 kbps) | 60 mm | 39 mm | Flexible cable | Proximity sensor, inductive, nickel-brass short body, M30, shielded, 22 mm, DC, 3-wire, PNP NO, IO-Link COM3, 2 m prewired robotic cable |
| | M30 | Quasi-flush | 22 mm | IO-Link, PNP | NO | Cable | Brass, nickel plated | PVC (oil-resistant) | 2 m | COM3 (230.4 kbps) | 82 mm | 65 mm | | Proximity sensor, inductive, nickel-brass long body, M30, shielded, 22 mm, DC, 3-wire, PNP NO, IO-Link COM3, 2 m prewired |
| | M30 | Quasi-flush | 22 mm | IO-Link, PNP | NO | Connector M12 | Brass, nickel plated | - | | COM3 (230.4 kbps) | 80 mm | 65 mm | | Proximity sensor, inductive, nickel-brass, long body, M30, shielded, 22 mm, DC, 3-wire, PNP NO, IO-Link COM3, M12 connector |
| | M30 | Quasi-flush | 22 mm | IO-Link, PNP | NO | M12 Pre-wired Smartclick connector | Brass, nickel plated | PVC (oil-resistant) | 0.3 m | COM3 (230.4 kbps) | 82 mm | 65 mm | | Proximity sensor, inductive, nickel-brass long body, M30, shielded, 22 mm, DC, 3-wire, PNP NO, IO-Link COM3, M12 Smartclick Pig-tail 0.3 m |
| | M30 | Quasi-flush | 22 mm | PNP | NC | Cable | Brass, nickel plated | PVC | 2 m | | | | | Proximity sensor, inductive, nickel-brass, short body, M30, shielded, 22 mm, DC, 3-wire, PNP NC, 2 m prewired |
| | M30 | Quasi-flush | 22 mm | PNP | NC | Connector M12 | Brass, nickel plated | | | | | | | Proximity sensor, inductive, nickel-brass, short body, M30, shielded, 22 mm, DC, 3-wire, PNP NC, M12 connector |
| | M30 | Quasi-flush | 22 mm | IO-Link, PNP | NO + NC | Connector M12 | Brass, nickel plated | - | | COM2 (38.4 kbps) | 58 mm | 39 mm | | Proximity sensor, inductive, nickel-brass, short body, M30, shielded, 22 mm, DC, 3-wire, PNP NO+NC, IO-Link COM2, M12 connector |
| | M30 | Quasi-flush | 22 mm | IO-Link, PNP | NO + NC | Connector M12 | Brass, nickel plated | - | | COM2 (38.4 kbps) | 80 mm | 65 mm | | Proximity sensor, inductive, nickel-brass, long body, M30, shielded, 22 mm, DC, 3-wire, PNP NO+NC, IO-Link COM2, M12 connector |
| | M30 | Quasi-flush | 22 mm | NPN | NO | Cable | Brass, nickel plated | PVC (oil-resistant) | 2 m | | 60 mm | 39 mm | | Proximity sensor, inductive, nickel-brass, short body, M30, shielded, 22 mm, DC, 3-wire, NPN NO, 2 m prewired |
| | M30 | Quasi-flush | 22 mm | NPN | NO | Connector M12 | Brass, nickel plated | - | | | 58 mm | 39 mm | | Proximity sensor, inductive, nickel-brass, short body, M30, shielded, 22 mm, DC, 3-wire, NPN NO, M12 connector |
| | M30 | Quasi-flush | 22 mm | NPN | NC | Cable | Brass, nickel plated | PVC (oil-resistant) | 2 m | | 60 mm | 38 mm | | Proximity sensor, inductive, nickel-brass, short body, M30, shielded, 22 mm, DC, 3-wire, NPN NC, 2 m prewired |
| | M30 | Quasi-flush | 22 mm | NPN | NC | Connector M12 | Brass, nickel plated | - | | | 60 mm | 38 mm | | Proximity sensor, inductive, nickel-brass, short body, M30, shielded, 22 mm, DC, 3-wire, NPN NC, M12 connector |
| | M30 | Quasi-flush | 23 mm | IO-Link, PNP | NO/NC switching | Connector M12 | Brass, nickel plated | | | COM2 (38.4 kbps) | | | | Proximity sensor, inductive, nickel-brass, short body, M30, shielded, 23 mm, DC, 3-wire, PNP NO, IO-Link COM2, M12 connector |
| | M30 | Quasi-flush | 23 mm | IO-Link, PNP | NO | Cable | Brass, nickel plated | PVC (oil-resistant) | 2 m | COM3 (230.4 kbps) | 60 mm | 39 mm | | Proximity sensor, inductive, nickel-brass, short body, M30, shielded, 23 mm, DC, 3-wire, PNP NO, IO-Link COM3, 2 m prewired |
| | M30 | Quasi-flush | 23 mm | IO-Link, PNP | NO | Connector M12 | Brass, nickel plated | - | | COM3 (230.4 kbps) | 58 mm | 39 mm | | Proximity sensor, inductive, nickel-brass, short body, M30, shielded, 23 mm, DC, 3-wire, PNP NO, IO-Link COM3, M12 connector |
| | M30 | Quasi-flush | 23 mm | IO-Link, PNP | NO | M12 Pre-wired Smartclick connector | Brass, nickel plated | PVC (oil-resistant) | 0.3 m | COM3 (230.4 kbps) | 60 mm | 39 mm | | Proximity sensor, inductive, nickel-brass, short body, M30, shielded, 23 mm, DC, 3-wire, PNP NO, IO-Link COM3, M12 Smartclick Pig-tail 0.3 m |
| | M30 | Quasi-flush | 23 mm | IO-Link, PNP | NO | Cable | Brass, nickel plated | PVC (oil-resistant) | 2 m | COM3 (230.4 kbps) | 60 mm | 39 mm | Flexible cable | Proximity sensor, inductive, nickel-brass short body, M30, shielded, 23 mm, DC, 3-wire, PNP NO, IO-Link COM3, 2 m prewired robotic cable |
| | M30 | Quasi-flush | 23 mm | IO-Link, PNP | NO | Cable | Brass, nickel plated | PVC (oil-resistant) | 2 m | COM3 (230.4 kbps) | 82 mm | 65 mm | | Proximity sensor, inductive, nickel-brass long body, M30, shielded, 23 mm, DC, 3-wire, PNP NO, IO-Link COM3, 2 m prewired |
| | M30 | Quasi-flush | 23 mm | IO-Link, PNP | NO | Connector M12 | Brass, nickel plated | - | | COM3 (230.4 kbps) | 80 mm | 65 mm | | Proximity sensor, inductive, nickel-brass, long body, M30, shielded, 23 mm, DC, 3-wire, PNP NO, IO-Link COM3, M12 connector |
| | M30 | Quasi-flush | 23 mm | IO-Link, PNP | NO | M12 Pre-wired Smartclick connector | Brass, nickel plated | PVC (oil-resistant) | 0.3 m | COM3 (230.4 kbps) | 82 mm | 65 mm | | Proximity sensor, inductive, nickel-brass long body, M30, shielded, 23 mm, DC, 3-wire, PNP NO, IO-Link COM3, M12 Smartclick Pig-tail 0.3 m |
| | M30 | Quasi-flush | 23 mm | NPN | NO | Connector M12 | Brass, nickel plated | - | | | 58 mm | 39 mm | | Proximity sensor, inductive, nickel-brass, short body, M30, shielded, 23 mm, DC, 3-wire, NPN NO, M12 connector |
| | M30 | Quasi-flush | 23 mm | NPN | NC | Cable | Brass, nickel plated | PVC (oil-resistant) | 2 m | | | | | Proximity sensor, inductive, nickel-brass, short body, M30, shielded, 23 mm, DC, 3-wire, NPN NC, 2 m prewired |
| | M30 | Quasi-flush | 23 mm | NPN | NC | Connector M12 | Brass, nickel plated | | | | | | | Proximity sensor, inductive, nickel-brass, short body, M30, shielded, 23 mm, DC, 3-wire, NPN NC, M12 connector |
| | M30 | Quasi-flush | 23 mm | NPN | NC | Connector M12 | Brass, nickel plated | | | | | | | Proximity sensor, inductive, nickel-brass, long body, M30, shielded, 23 mm, DC, 3-wire, NPN NC, M12 connector |
| | M8 | Flush | 2 mm | IO-Link, PNP | NO/NC switching | Cable | Stainless steel | PVC (oil-resistant) | 2 m | COM2 (38.4 kbps) | | | | Proximity sensor, inductive, short SUS body M8, shielded, 2 mm, DC, 3-wire, PNP NO, IO-Link COM2, 2 m prewired |
| | M8 | Flush | 2 mm | IO-Link, PNP | NO/NC switching | Connector M12 | Stainless steel | | | COM2 (38.4 kbps) | | | | Proximity sensor, inductive, short SUS body M8, shielded, 2 mm, DC, 3-wire, PNP NO, IO-Link COM2, M12 connector 4 pins |
| | M8 | Flush | 2 mm | IO-Link, PNP | NO/NC switching | Connector M12 | Stainless steel | | | COM2 (38.4 kbps) | | | | Proximity sensor, inductive, long SUS body M8, shielded, 2 mm, DC, 3-wire, PNP NO, IO-Link COM2, M12 connector 4 pins |
| | M8 | Flush | 2 mm | IO-Link, PNP | NO | Cable | Stainless steel | PVC (oil-resistant) | 2 m | COM3 (230.4 kbps) | 37.8 mm | 22 mm | | Proximity sensor, inductive, SUS short body, M8, shielded, 2 mm, DC, 3-wire, PNP NO, IO-Link COM3, 2 m prewired |
| | M8 | Flush | 2 mm | IO-Link, PNP | NO | Connector M12 | Stainless steel | - | | COM3 (230.4 kbps) | 43 mm | 22 mm | | Proximity sensor, inductive, SUS short body, M8, shielded, 2 mm, DC, 3-wire, PNP NO, IO-Link COM3, M12 connector |
| | M8 | Flush | 2 mm | IO-Link, PNP | NO | M12 Pre-wired Smartclick connector | Stainless steel | PVC (oil-resistant) | 0.3 m | COM3 (230.4 kbps) | 37.8 mm | 22 mm | | Proximity sensor, inductive, SUS short body, M8, shielded, 2 mm, DC, 3-wire, PNP NO, IO-Link COM3, M12 Smartclick Pig-tail 0.3 m |
| | M8 | Flush | 2 mm | IO-Link, PNP | NO | Connector M8 - 4 pin | Stainless steel | - | | COM3 (230.4 kbps) | 39 mm | 22 mm | | Proximity sensor, inductive, SUS short body, M8, shielded, 2 mm, DC, 3-wire, PNP NO, IO-Link COM3, M8 connector 4 pins |
| | M8 | Flush | 2 mm | IO-Link, PNP | NO | Connector M8 - 3 pin | Stainless steel | - | | COM3 (230.4 kbps) | 39 mm | 22 mm | | Proximity sensor, inductive, SUS short body, M8, shielded, 2 mm, DC, 3-wire, PNP NO, IO-Link COM3, M8 connector 3 pin |
| | M8 | Flush | 2 mm | IO-Link, PNP | NO | Cable | Stainless steel | PVC (oil-resistant) | 2 m | COM3 (230.4 kbps) | 37.8 mm | 22 mm | Flexible cable | Proximity sensor, inductive, SUS body, short body, M8, shielded, 2 mm, DC, 3-wire, PNP NO, IO-Link COM3, 2 m prewired robotic cable |
| | M8 | Flush | 2 mm | IO-Link, PNP | NO | Cable | Stainless steel | PVC (oil-resistant) | 2 m | COM3 (230.4 kbps) | 48 mm | 36 mm | | Proximity sensor, inductive, SUS long body, M8, shielded, 2 mm, DC, 3-wire, PNP NO, IO-Link COM3, 2 m prewired |
| | M8 | Flush | 2 mm | IO-Link, PNP | NO | Connector M12 | Stainless steel | - | | COM3 (230.4 kbps) | 53 mm | 36 mm | | Proximity sensor, inductive, SUS body, long body, M8, shielded, 2 mm, DC, 3-wire, PNP NO, IO-Link COM3, M12 connector |
| | M8 | Flush | 2 mm | IO-Link, PNP | NO | M12 Pre-wired Smartclick connector | Stainless steel | PVC (oil-resistant) | 0.3 m | COM3 (230.4 kbps) | 48 mm | 36 mm | | Proximity sensor, inductive, SUS body, long body, M8, shielded, 2 mm, DC, 3-wire, PNP NO, IO-Link COM3, M12 Smartclick Pig-tail 0.3 m |
| | M8 | Flush | 2 mm | IO-Link, PNP | NO | Connector M8 - 4 pin | Stainless steel | - | | COM3 (230.4 kbps) | 49 mm | 36 mm | | Proximity sensor, inductive, SUS long body, M8, shielded, 2 mm, DC, 3-wire, PNP NO, IO-Link COM3, M8 connector 4 pins |
| | M8 | Flush | 2 mm | IO-Link, PNP | NO | Connector M8 - 3 pin | Stainless steel | - | | COM3 (230.4 kbps) | 49 mm | 36 mm | | Proximity sensor, inductive, SUS long body, M8, shielded, 2 mm, DC, 3-wire, PNP NO, IO-Link COM3, M8 connector 3 pins |
| | M8 | Flush | | PNP | NC | Cable | Stainless steel | PVC (oil-resistant) | 2 m | | | | | Proximity sensor, inductive, short SUS body M8, shielded, 2 mm, DC, 3-wire, PNP NC, 2 m prewired |
| | M8 | Flush | | PNP | NC | Connector M12 | Stainless steel | - | | | 43 mm | 22 mm | | Proximity sensor, inductive, short SUS body M8, shielded, 2 mm, DC, 3-wire, PNP NC, M12 connector |
| | M8 | Flush | | PNP | NC | Connector M8 - 3 pin | Stainless steel | | | | | | | Proximity sensor, inductive, short SUS body M8, shielded, 2 mm, DC, 3-wire, PNP NC, M8 connector 3 pins |
| | M8 | Flush | | PNP | NC | Connector M12 | Stainless steel | | | | | | | Proximity sensor, inductive, long SUS body M8, shielded, 2 mm, DC, 3-wire, PNP NO, M12 connector |
| | M8 | Flush | 2 mm | IO-Link, PNP | NO + NC | Connector M12 | Stainless steel | | | COM2 (38.4 kbps) | | | | Proximity sensor, inductive, long SUS body M8, shielded, 2 mm, DC, 3-wire, PNP NONC, IO-Link COM2, M12 connector 4 pins |
| | M8 | Flush | 2 mm | NPN | NO | Cable | Stainless steel | PVC (oil-resistant) | 2 m | | | | | Proximity sensor, inductive, short SUS body M8, shielded, 2 mm, DC, 3-wire, NPN NO, 2 m prewired |
| | M8 | Flush | 2 mm | NPN | NO | Connector M12 | Stainless steel | - | | | 43 mm | 22 mm | | Proximity sensor, inductive, SUS short body, M8, shielded, 2 mm, DC, 3-wire, NPN NO, M12 connector |
| | M8 | | 2 mm | NPN | NO | Cable | Stainless steel | PVC | 2 m | | | | | Proximity sensor, inductive, long SUS body M8, shielded, 2 mm, DC, 3-wire, NPN NO, 2 m prewired |
| | M8 | Flush | 2 mm | NPN | NC | Connector M12 | Stainless steel | | | | | | | Proximity sensor, inductive, short SUS body M8, shielded, 2 mm, DC, 3-wire, NPN NC, M12 connector |
| | M8 | Flush | 2 mm | NPN | NC | Cable | Stainless steel | PVC (oil-resistant) | 2 m | | | | | Proximity sensor, inductive, long SUS body M8, shielded, 2 mm, DC, 3-wire, NPN NC, 2 m prewired |
| | M12 | Flush | 2.5 mm | 2-wire | NO | M12 Pre-wired Smartclick connector | Brass, nickel plated | PVC (oil-resistant reinforced) | 0.3 m | | 47 mm | 33 mm | | Proximity sensor, inductive, brass-nickel, M12, shielded, 2 mm, NO, 0.3 m pig-tail, DC 2-wire |
| | M12 | Flush | 2.5 mm | 2-wire | NO | M12 Pre-wired Smartclick connector | Brass, nickel plated | PVC (oil-resistant reinforced) | 0.3 m | | 47 mm | 33 mm | | Proximity sensor, inductive, brass-nickel, M12, shielded, 2 mm, NO, 0.3 m pig-tail, DC 2-wire, no polarity |
| | M12 | Flush | 2.5 mm | 2-wire | NO | Cable | Brass, nickel plated | PVC (oil-resistant reinforced) | 2 m | | 47 mm | 33 mm | | Proximity sensor, inductive, brass-nickel, M12, shielded, 2 mm, NO, 2 m cable, DC 2-wire |
| | M12 | Flush | 2.5 mm | 2-wire | NO | Cable | Brass, nickel plated | PVC (oil-resistant reinforced) | 2 m | | 47 mm | 33 mm | Flexible cable | Proximity sensor, inductive, brass-nickel, M12, shielded, 2 mm, NO, 2 m cable robotic, DC 2-wire |
| | M12 | Flush | 2.5 mm | 2-wire | NO | Cable | Brass, nickel plated | PVC (oil-resistant reinforced) | 2 m | | 47 mm | 33 mm | | Proximity sensor, inductive, brass-nickel, M12, shielded, 2 mm, NO, 2 m cable, DC 2-wire, no polarity |
| | M12 | Flush | 2.5 mm | 2-wire | NO | Cable | Brass, nickel plated | PVC (oil-resistant reinforced) | 2 m | | 47 mm | 33 mm | Flexible cable | Proximity sensor, inductive, brass-nickel, M12, shielded, 2 mm, NO, 2 m cable robotic, DC 2-wire, no polarity |
| | M12 | Flush | 2.5 mm | 2-wire | NC | M12 Pre-wired Smartclick connector | Brass, nickel plated | PVC (oil-resistant reinforced) | 0.3 m | | 47 mm | 33 mm | | Proximity sensor, inductive, brass-nickel, M12, shielded, 2 mm, NC, 0.3 m pig-tail, DC 2-wire |
| | M12 | Flush | 2.5 mm | 2-wire | NC | M12 Pre-wired Smartclick connector | Brass, nickel plated | PVC (oil-resistant reinforced) | 0.3 m | | 47 mm | 33 mm | | Proximity sensor, inductive, brass-nickel, M12, shielded, 2 mm, NC, 0.3 m pig-tail, DC 2-wire, no polarity |
| | M12 | Flush | 2.5 mm | 2-wire | NC | Cable | Brass, nickel plated | PVC (oil-resistant reinforced) | 2 m | | 47 mm | 33 mm | | Proximity sensor, inductive, brass-nickel, M12, shielded, 2 mm, NC, 2 m cable, DC 2-wire |
| | M12 | Flush | 2.5 mm | 2-wire | NC | Cable | Brass, nickel plated | PVC (oil-resistant reinforced) | 2 m | | 47 mm | 33 mm | Flexible cable | Proximity sensor, inductive, brass-nickel, M12, shielded, 2 mm, NC, 2 m cable robotic, DC 2-wire |
| | M12 | Flush | 2.5 mm | 2-wire | NC | Cable | Brass, nickel plated | PVC (oil-resistant reinforced) | 2 m | | 47 mm | 33 mm | | Proximity sensor, inductive, brass-nickel, M12, shielded, 2 mm, NC, 2 m cable, DC 2-wire, no polarity |
| | M12 | Flush | 2.5 mm | 2-wire | NC | Cable | Brass, nickel plated | PVC (oil-resistant reinforced) | 2 m | | 47 mm | 33 mm | Flexible cable | Proximity sensor, inductive, brass-nickel, M12, shielded, 2 mm, NC, 2 m cable robotic, DC 2-wire, no polarity |
| | M30 | Non-flush | 30 mm | IO-Link, PNP | NO/NC switching | Cable | Brass, nickel plated | PVC | 2 m | COM2 (38.4 kbps) | | | | Proximity sensor, inductive, nickel-brass, long body, M30, unshielded, 30 mm, DC, 3-wire, PNP NO, IO-Link COM2, 2 m prewired |
| | M30 | Non-flush | 30 mm | IO-Link, PNP | NO/NC switching | Connector M12 | Brass, nickel plated | | | COM2 (38.4 kbps) | | | | Proximity sensor, inductive, nickel-brass, long body, M30, unshielded, 30 mm, DC, 3-wire, PNP NO, IO-Link COM2, M12 connector |
| | M18 | Non-flush | 30 mm | IO-Link, PNP | NO | Cable | Brass, nickel plated | PVC (oil-resistant) | 2 m | COM3 (230.4 kbps) | 77 mm | 47 mm | | Proximity sensor, inductive, nickel-brass long body, M18, unshielded, 30 mm, DC, 3-wire, PNP NO, IO-Link COM3, 2 m prewired |
| | M18 | Non-flush | 30 mm | IO-Link, PNP | NO | Connector M12 | Brass, nickel plated | - | | COM3 (230.4 kbps) | 75 mm | 47 mm | | Proximity sensor, inductive, nickel-brass long body, M18, unshielded, 30 mm, DC, 3-wire, PNP NO, IO-Link COM3, M12 connector |
| | M18 | Non-flush | 30 mm | IO-Link, PNP | NO | M12 Pre-wired Smartclick connector | Brass, nickel plated | PVC (oil-resistant) | 0.3 m | COM3 (230.4 kbps) | 77 mm | 47 mm | | Proximity sensor, inductive, nickel-brass long body, M18, unshielded, 30 mm, DC, 3-wire, PNP NO, IO-Link COM3, M12 Smartclick Pig-tail 0.3 m |
| | M18 | Non-flush | 30 mm | IO-Link, PNP | NO | Cable | Brass, nickel plated | PVC (oil-resistant) | 2 m | COM3 (230.4 kbps) | 77 mm | 47 mm | Flexible cable | Proximity sensor, inductive, nickel-brass long body, M18, unshielded, 30 mm, DC, 3-wire, PNP NO, IO-Link COM3, 2 m prewired robotic cable |
| | M30 | Non-flush | 30 mm | IO-Link, PNP | NO | Cable | Brass, nickel plated | PVC (oil-resistant) | 2 m | COM3 (230.4 kbps) | 82 mm | 55 mm | | Proximity sensor, inductive, nickel-brass long body, M30, unshielded, 30 mm, DC, 3-wire, PNP NO, IO-Link COM3, 2 m prewired |
| | M30 | Non-flush | 30 mm | IO-Link, PNP | NO | Connector M12 | Brass, nickel plated | - | | COM3 (230.4 kbps) | 80 mm | 55 mm | | Proximity sensor, inductive, nickel-brass long body, M30, unshielded, 30 mm, DC, 3-wire, PNP NO, IO-Link COM3, M12 connector |
| | M30 | Non-flush | 30 mm | IO-Link, PNP | NO | M12 Pre-wired Smartclick connector | Brass, nickel plated | PVC (oil-resistant) | 0.3 m | COM3 (230.4 kbps) | 82 mm | 55 mm | | Proximity sensor, inductive, nickel-brass long body, M30, unshielded, 30 mm, DC, 3-wire, PNP NO, IO-Link COM3, M12 Smartclick Pig-tail 0.3 m |
| | M30 | Non-flush | 30 mm | IO-Link, PNP | NO | Cable | Brass, nickel plated | PVC (oil-resistant) | 2 m | COM3 (230.4 kbps) | 82 mm | 55 mm | Flexible cable | Proximity sensor, inductive, nickel-brass long body, M30, unshielded, 30 mm, DC, 3-wire, PNP NO, IO-Link COM3, 2 m prewired robotic cable |
| | M18 | Non-flush | 30 mm | NPN | NO | Connector M12 | Brass, nickel plated | - | | | 75 mm | 47 mm | | Proximity sensor, inductive, nickel-brass, long body, M18, unshielded, 30 mm, DC, 3-wire, NPN NO, M12 connector |
| | M30 | Non-flush | 30 mm | NPN | NO | Cable | Brass, nickel plated | PVC | 2 m | | | | | Proximity sensor, inductive, nickel-brass, long body, M30, unshielded, 30 mm, DC, 3-wire, NPN NO, 2 m prewired |
| | M30 | Non-flush | 30 mm | NPN | NO | Connector M12 | Brass, nickel plated | | | | | | | Proximity sensor, inductive, nickel-brass, long body, M30, unshielded, 30 mm, DC, 3-wire, NPN NO, M12 connector |
| | M8 | Quasi-flush | 3 mm | IO-Link, PNP | NO/NC switching | Connector M12 | Brass, nickel plated | | | COM2 (38.4 kbps) | | | | Proximity sensor, inductive, short brass body M8, shielded, 3 mm, DC, 3-wire, PNP NO, IO-Link COM2, M12 connector 4 pins |
| | M8 | Quasi-flush | 3 mm | IO-Link, PNP | NO/NC switching | Connector M8 - 3 pin | Brass, nickel plated | | | COM2 (38.4 kbps) | | | | Proximity sensor, inductive, short brass body M8, shielded, 3 mm, DC, 3-wire, PNP NO, IO-Link COM2, M8 connector 3 pins |
| | M8 | Quasi-flush | 3 mm | IO-Link, PNP | NO/NC switching | Connector M12 | Brass, nickel plated | | | COM2 (38.4 kbps) | | | | Proximity sensor, inductive, long brass body M8, shielded, 3 mm, DC, 3-wire, PNP NO, IO-Link COM2, M12 connector 4 pins |
| | M8 | Quasi-flush | 3 mm | IO-Link, PNP | NO/NC switching | Connector M8 - 3 pin | Brass, nickel plated | | | COM2 (38.4 kbps) | | | | Proximity sensor, inductive, long brass body M8, shielded, 3 mm, DC, 3-wire, PNP NO, IO-Link COM2, M8 connector 3 pins |
| | M8 | Flush | 3 mm | IO-Link, PNP | NO | Cable | Brass, nickel plated | PVC (oil-resistant) | 2 m | COM3 (230.4 kbps) | 38 mm | 22 mm | | Proximity sensor, inductive, short brass body M8, shielded, 3 mm, DC, 3-wire, PNP NO, IO-Link COM3, 2 m prewired |
| | M8 | Quasi-flush | 3 mm | IO-Link, PNP | NO | Cable | Brass, nickel plated | PVC (oil-resistant) | 5 m | COM3 (230.4 kbps) | 38 mm | 21 mm | | Proximity sensor, inductive, short brass body M8, shielded, 3 mm, DC, 3-wire, PNP NO, IO-Link COM3, 5 m prewired |
| | M8 | Quasi-flush | 3 mm | IO-Link, PNP | NO | Connector M12 | Brass, nickel plated | - | | COM3 (230.4 kbps) | 43 mm | 22 mm | | Proximity sensor, inductive, short brass body M8, shielded, 3 mm, DC, 3-wire, PNP NO, IO-Link COM3, M12 connector |
| | M8 | Quasi-flush | 3 mm | IO-Link, PNP | NO | M12 Pre-wired Smartclick connector | Brass, nickel plated | PVC (oil-resistant) | 0.3 m | COM3 (230.4 kbps) | 38 mm | 22 mm | | Proximity sensor, inductive, short brass body M8, shielded, 3 mm, DC, 3-wire, PNP NO, IO-Link COM3, M12 Smartclick Pig-tail 0.3 m |
| | M8 | Flush | 3 mm | IO-Link, PNP | NO | Connector M8 - 4 pin | Brass, nickel plated | - | | COM3 (230.4 kbps) | 39 mm | 22 mm | | Proximity sensor, inductive, short brass body M8, shielded, 3 mm, DC, 3-wire, PNP NO, IO-Link COM3, M8 connector 4 pins |
| | M8 | Quasi-flush | 3 mm | IO-Link, PNP | NO | Connector M8 - 3 pin | Brass, nickel plated | - | | COM3 (230.4 kbps) | 39 mm | 22 mm | | Proximity sensor, inductive, short brass body M8, shielded, 3 mm, DC, 3-wire, PNP NO, IO-Link COM3, M8 connector 3 pin |
| | M8 | Quasi-flush | 3 mm | IO-Link, PNP | NO | Cable | Brass, nickel plated | PVC (oil-resistant) | 2 m | COM3 (230.4 kbps) | 38 mm | 22 mm | Flexible cable | Proximity sensor, inductive, short brass body M8, shielded, 3 mm, DC, 3-wire, PNP NO, IO-Link COM3, 2 m prewired robotic cable |
| | M8 | Quasi-flush | 3 mm | IO-Link, PNP | NO | Cable | Brass, nickel plated | PVC (oil-resistant) | 2 m | COM3 (230.4 kbps) | 48 mm | 36 mm | | Proximity sensor, inductive, long brass body M8, shielded, 3 mm, DC, 3-wire, PNP NO, IO-Link COM3, 2 m prewired |
| | M8 | Quasi-flush | 3 mm | IO-Link, PNP | NO | Connector M12 | Brass, nickel plated | - | | COM3 (230.4 kbps) | 43 mm | 36 mm | | Proximity sensor, inductive, long brass body M8, shielded, 3 mm, DC, 3-wire, PNP NO, IO-Link COM3, M12 connector |
| | M8 | Quasi-flush | 3 mm | IO-Link, PNP | NO | M12 Pre-wired Smartclick connector | Brass, nickel plated | PVC (oil-resistant) | 0.3 m | COM3 (230.4 kbps) | 48 mm | 36 mm | | Proximity sensor, inductive, long brass body M8, shielded, 3 mm, DC, 3-wire, PNP NO, IO-Link COM3, M12 Smartclick Pig-tail 0.3 m |
| | M8 | Quasi-flush | 3 mm | IO-Link, PNP | NO | Connector M8 - 4 pin | Brass, nickel plated | - | | COM3 (230.4 kbps) | 39 mm | 36 mm | | Proximity sensor, inductive, long brass body M8, shielded, 3 mm, DC, 3-wire, PNP NO, IO-Link COM3, M8 connector 4 pins |
| | M8 | Quasi-flush | 3 mm | IO-Link, PNP | NO | Connector M8 - 3 pin | Brass, nickel plated | - | | COM3 (230.4 kbps) | 39 mm | 36 mm | | Proximity sensor, inductive, long brass body M8, shielded, 3 mm, DC, 3-wire, PNP NO, IO-Link COM3, M8 connector 3 pins |
| | M8 | Flush | 3 mm | PNP | NC | Cable | Brass, nickel plated | PVC (oil-resistant) | 2 m | | | | | Proximity sensor, inductive, short brass body M8, shielded, 3 mm, DC, 3-wire, PNP NC, 2 m prewired |
| | M8 | Flush | 3 mm | PNP | NC | Connector M12 | Brass, nickel plated | | | | | | | Proximity sensor, inductive, short brass body M8, shielded, 3 mm, DC, 3-wire, PNP NC, M12 connector |
| | M8 | Flush | 3 mm | PNP | NC | Connector M8 - 3 pin | Brass, nickel plated | | | | | | | Proximity sensor, inductive, short brass body M8, shielded, 3 mm, DC, 3-wire, PNP NC, M8 connector 3 pins |
| | M8 | Quasi-flush | 3 mm | NPN | NO | Cable | Brass, nickel plated | PVC (oil-resistant) | 2 m | | 38 mm | 21 mm | | Proximity sensor, inductive, short brass body M8, shielded, 3 mm, DC, 3-wire, NPN NO, 2 m prewired |
| | M8 | Quasi-flush | 3 mm | NPN | NO | Connector M12 | Brass, nickel plated | - | | | 43 mm | 33 mm | | Proximity sensor, inductive, short brass body M8, shielded, 3 mm, DC, 3-wire, NPN NO, M12 connector |
| | M8 | Quasi-flush | 3 mm | NPN | NO | Connector M8 - 3 pin | Brass, nickel plated | - | | | 39 mm | 33 mm | | Proximity sensor, inductive, short brass body M8, shielded, 3 mm, DC, 3-wire, NPN NO, M8 connector 3 pins |
| | M8 | Quasi-flush | 3 mm | NPN | NC | Connector M12 | Brass, nickel plated | - | | | 43 mm | 21 mm | | Proximity sensor, inductive, short brass body M8, shielded, 3 mm, DC, 3-wire, NPN NC, M12 connector |
| | M8 | Quasi-flush | 3 mm | NPN | NC | Connector M8 - 3 pin | Brass, nickel plated | - | | | 39 mm | 21 mm | | Proximity sensor, inductive, short brass body M8, shielded, 3 mm, DC, 3-wire, NPN NC, M8 connector 3 pins |
| | M8 | Flush | 3 mm | 2-wire | NO | Cable | Brass, nickel plated | PVC (oil-resistant reinforced) | 2 m | | 38 mm | 21 mm | | Proximity sensor, inductive, brass-nickel, M8, shielded, 3 mm, NO, 2 m cable, DC 2-wire |
| | M8 | Flush | 3 mm | 2-wire | NO | M12 Pre-wired Smartclick connector | Brass, nickel plated | PVC (oil-resistant reinforced) | 0.3 m | | 38 mm | 21 mm | | Proximity sensor, inductive, brass-nickel, M8, shielded, 3 mm, NO, 0.3 m pig-tail, DC 2-wire |
| | M8 | Flush | 3 mm | 2-wire | NO | M12 Pre-wired Smartclick connector | Brass, nickel plated | PVC (oil-resistant reinforced) | 0.3 m | | 38 mm | 21 mm | | Proximity sensor, inductive, brass-nickel, M8, shielded, 3 mm, NO, 0.3 m pig-tail, DC 2-wire, no polarity |
| | M8 | Flush | 3 mm | 2-wire | NO | Cable | Brass, nickel plated | PVC (oil-resistant reinforced) | 2 m | | 38 mm | 21 mm | Flexible cable | Proximity sensor, inductive, brass-nickel, M8, shielded, 3 mm, NO, 2 m cable robotic, DC 2-wire |
| | M8 | Flush | 3 mm | 2-wire | NO | Cable | Brass, nickel plated | PVC (oil-resistant reinforced) | 2 m | | 38 mm | 21 mm | | Proximity sensor, inductive, brass-nickel, M8, shielded, 3 mm, NO, 2 m cable, DC 2-wire, no polarity |
| | M8 | Flush | 3 mm | 2-wire | NO | Cable | Brass, nickel plated | PVC (oil-resistant reinforced) | 2 m | | 38 mm | 21 mm | Flexible cable | Proximity sensor, inductive, brass-nickel, M8, shielded, 3 mm, NO, 2 m cable robotic, DC 2-wire, no polarity |
| | M8 | Flush | 3 mm | 2-wire | NC | Cable | Brass, nickel plated | PVC (oil-resistant reinforced) | 2 m | | 38 mm | 21 mm | | Proximity sensor, inductive, brass-nickel, M8, shielded, 3 mm, NC, 2 m cable, DC 2-wire |
| | M8 | Flush | 3 mm | 2-wire | NC | M12 Pre-wired Smartclick connector | Brass, nickel plated | PVC (oil-resistant reinforced) | 0.3 m | | 38 mm | 21 mm | | Proximity sensor, inductive, brass-nickel, M8, shielded, 3 mm, NC, 0.3 m pig-tail, DC 2-wire |
| | M8 | Flush | 3 mm | 2-wire | NC | M12 Pre-wired Smartclick connector | Brass, nickel plated | PVC (oil-resistant reinforced) | 0.3 m | | 38 mm | 21 mm | | Proximity sensor, inductive, brass-nickel, M8, shielded, 3 mm, NC, 0.3 m pig-tail, DC 2-wire, no polarity |
| | M8 | Flush | 3 mm | 2-wire | NC | Cable | Brass, nickel plated | PVC (oil-resistant reinforced) | 2 m | | 38 mm | 21 mm | Flexible cable | Proximity sensor, inductive, brass-nickel, M8, shielded, 3 mm, NC, 2 m cable robotic, DC 2-wire |
| | M8 | Flush | 3 mm | 2-wire | NC | Cable | Brass, nickel plated | PVC (oil-resistant reinforced) | 2 m | | 38 mm | 21 mm | | Proximity sensor, inductive, brass-nickel, M8, shielded, 3 mm, NC, 2 m cable, DC 2-wire, no polarity |
| | M8 | Flush | 3 mm | 2-wire | NC | Cable | Brass, nickel plated | PVC (oil-resistant reinforced) | 2 m | | 38 mm | 21 mm | Flexible cable | Proximity sensor, inductive, brass-nickel, M8, shielded, 3 mm, NC, 2 m cable robotic, DC 2-wire, no polarity |
| | M8 | Flush | 3 mm | 2-wire | NC | Cable | Brass, nickel plated | PVC (oil-resistant reinforced) | 5 m | | 38 mm | 21 mm | Flexible cable | Proximity sensor, inductive, brass-nickel, M8, shielded, 3 mm, NC, 5 m cable robotic, DC 2-wire, no polarity |
| | M30 | Non-flush | 40 mm | IO-Link, PNP | NO | Cable | Brass, nickel plated | PVC (oil-resistant) | 2 m | COM3 (230.4 kbps) | 82 mm | 50 mm | | Proximity sensor, inductive, nickel-brass long body, M30, unshielded, 40 mm, DC, 3-wire, PNP NO, IO-Link COM3, 2 m prewired |
| | M30 | Non-flush | 40 mm | IO-Link, PNP | NO | Connector M12 | Brass, nickel plated | - | | COM3 (230.4 kbps) | 80 mm | 50 mm | | Proximity sensor, inductive, nickel-brass long body, M30, unshielded, 40 mm, DC, 3-wire, PNP NO, IO-Link COM3, M12 connector |
| | M30 | Non-flush | 40 mm | IO-Link, PNP | NO | M12 Pre-wired Smartclick connector | Brass, nickel plated | PVC (oil-resistant) | 0.3 m | COM3 (230.4 kbps) | 82 mm | 50 mm | | Proximity sensor, inductive, nickel-brass long body, M30, unshielded, 40 mm, DC, 3-wire, PNP NO, IO-Link COM3, M12 Smartclick Pig-tail 0.3 m |
| | M30 | Non-flush | 40 mm | IO-Link, PNP | NO | Cable | Brass, nickel plated | PVC (oil-resistant) | 2 m | COM3 (230.4 kbps) | 82 mm | 50 mm | Flexible cable | Proximity sensor, inductive, nickel-brass long body, M30, unshielded, 40 mm, DC, 3-wire, PNP NO, IO-Link COM3, 2 m prewired robotic cable |
| | M30 | Non-flush | 40 mm | 2-wire | NO | Cable | Brass, nickel plated | PVC (oil-resistant reinforced) | 2 m | | 82 mm | 50 mm | | Proximity sensor, inductive, brass-nickel, M30, non-shielded, 40 mm, NO, 2 m cable, DC 2-wire |
| | M30 | Non-flush | 40 mm | 2-wire | NO | M12 Pre-wired Smartclick connector | Brass, nickel plated | PVC (oil-resistant reinforced) | 0.3 m | | 82 mm | 50 mm | | Proximity sensor, inductive, brass-nickel, M30, non-shielded, 40 mm, NO, 0.3 m pig-tail, DC 2-wire |
| | M30 | Non-flush | 40 mm | 2-wire | NO | M12 Pre-wired Smartclick connector | Brass, nickel plated | PVC (oil-resistant reinforced) | 0.3 m | | 82 mm | 50 mm | | Proximity sensor, inductive, brass-nickel, M30, non-shielded, 40 mm, NO, 0.3 m pig-tail, DC 2-wire, no polarity |
| | M30 | Non-flush | 40 mm | 2-wire | NO | Cable | Brass, nickel plated | PVC (oil-resistant reinforced) | 2 m | | 82 mm | 50 mm | Flexible cable | Proximity sensor, inductive, brass-nickel, M30, non-shielded, 40 mm, NO, 2 m cable robotic, DC 2-wire |
| | M30 | Non-flush | 40 mm | 2-wire | NO | Cable | Brass, nickel plated | PVC (oil-resistant reinforced) | 2 m | | 82 mm | 50 mm | | Proximity sensor, inductive, brass-nickel, M30, non-shielded, 40 mm, NO, 2 m cable, DC 2-wire, no polarity |
| | M30 | Non-flush | 40 mm | 2-wire | NO | Cable | Brass, nickel plated | PVC (oil-resistant reinforced) | 2 m | | 82 mm | 50 mm | Flexible cable | Proximity sensor, inductive, brass-nickel, M30, non-shielded, 40 mm, NO, 2 m cable robotic, DC 2-wire, no polarity |
| | M30 | Non-flush | 40 mm | 2-wire | NC | Cable | Brass, nickel plated | PVC (oil-resistant reinforced) | 2 m | | 82 mm | 50 mm | | Proximity sensor, inductive, brass-nickel, M30, non-shielded, 40 mm, NC, 2 m cable, DC 2-wire |
| | M30 | Non-flush | 40 mm | 2-wire | NC | M12 Pre-wired Smartclick connector | Brass, nickel plated | PVC (oil-resistant reinforced) | 0.3 m | | 82 mm | 50 mm | | Proximity sensor, inductive, brass-nickel, M30, non-shielded, 40 mm, NC, 0.3 m pig-tail, DC 2-wire |
| | M30 | Non-flush | 40 mm | 2-wire | NC | M12 Pre-wired Smartclick connector | Brass, nickel plated | PVC (oil-resistant reinforced) | 0.3 m | | 82 mm | 50 mm | | Proximity sensor, inductive, brass-nickel, M30, non-shielded, 40 mm, NC, 0.3 m pig-tail, DC 2-wire, no polarity |
| | M30 | Non-flush | 40 mm | 2-wire | NC | Cable | Brass, nickel plated | PVC (oil-resistant reinforced) | 2 m | | 82 mm | 50 mm | Flexible cable | Proximity sensor, inductive, brass-nickel, M30, non-shielded, 40 mm, NC, 2 m cable robotic, DC 2-wire |
| | M30 | Non-flush | 40 mm | 2-wire | NC | Cable | Brass, nickel plated | PVC (oil-resistant reinforced) | 2 m | | 82 mm | 50 mm | | Proximity sensor, inductive, brass-nickel, M30, non-shielded, 40 mm, NC, 2 m cable, DC 2-wire, no polarity |
| | M30 | Non-flush | 40 mm | 2-wire | NC | Cable | Brass, nickel plated | PVC (oil-resistant reinforced) | 2 m | | 82 mm | 50 mm | Flexible cable | Proximity sensor, inductive, brass-nickel, M30, non-shielded, 40 mm, NC, 2 m cable robotic, DC 2-wire, no polarity |
| | M12 | Quasi-flush | 4 mm | IO-Link, PNP | NO/NC switching | Cable | Brass, nickel plated | PVC (oil-resistant) | 2 m | COM2 (38.4 kbps) | | | | Proximity sensor, inductive, nickel-brass, short body, M12, shielded, 4 mm, DC, 3-wire, PNP NO, IO-Link COM2, 2 m prewired |
| | M8 | Quasi-flush | 4 mm | IO-Link, PNP | NO/NC switching | Connector M12 | Brass, nickel plated | | | COM2 (38.4 kbps) | | | | Proximity sensor, inductive, nickel-brass, short body, M12, shielded, 4 mm, DC, 3-wire, PNP NO, IO-Link COM2, M12 connector |
| | M12 | Flush | 4 mm | IO-Link, PNP | NO | Cable | Brass, nickel plated | PVC (oil-resistant) | 2 m | COM3 (230.4 kbps) | 47 mm | 29 mm | | Proximity sensor, inductive, nickel-brass, short body, M12, shielded, 4 mm, DC, 3-wire, PNP NO, IO-Link COM3, 2 m prewired |
| | M12 | Flush | 4 mm | IO-Link, PNP | NO | Connector M12 | Brass, nickel plated | - | | COM3 (230.4 kbps) | 48 mm | 29 mm | | Proximity sensor, inductive, nickel-brass, short body, M12, shielded, 4 mm, DC, 3-wire, PNP NO, IO-Link COM3, M12 connector |
| | M12 | Flush | 4 mm | IO-Link, PNP | NO | M12 Pre-wired Smartclick connector | Brass, nickel plated | PVC (oil-resistant) | 0.3 m | COM3 (230.4 kbps) | 47 mm | 29 mm | | Proximity sensor, inductive, nickel-brass, short body, M12, shielded, 4 mm, DC, 3-wire, PNP NO, IO-Link COM3, M12 Smartclick Pig-tail 0.3 m |
| | M12 | Quasi-flush | 4 mm | IO-Link, PNP | NO | M12 Pre-wired Smartclick connector | Brass, nickel plated | PVC (oil-resistant) | 0.3 m | COM3 (230.4 kbps) | 47 mm | 29 mm | Flexible cable | Proximity sensor, inductive, nickel-brass, short body, M12, shielded, 4 mm, DC, 3-wire, PNP NO, IO-Link COM3, M12 Smartclick Pig-tail 0.3 m robotic cable |
| | M12 | Quasi-flush | 4 mm | IO-Link, PNP | NO | Cable | Brass, nickel plated | PVC (oil-resistant) | 2 m | COM3 (230.4 kbps) | 47 mm | 29 mm | Flexible cable | Proximity sensor, inductive, nickel-brass short body, M12, shielded, 4 mm, DC, 3-wire, PNP NO, IO-Link COM3, 2 m prewired robotic cable |
| | M8 | Quasi-flush | 4 mm | IO-Link, PNP | NO | Cable | Brass, nickel plated | PVC (oil-resistant) | 2 m | COM3 (230.4 kbps) | 37.8 mm | 22 mm | | Proximity sensor, inductive, short brass body M8, shielded, 4 mm, DC, 3-wire, PNP NO, IO-Link COM3, 2 m prewired |
| | M8 | Quasi-flush | 4 mm | IO-Link, PNP | NO | Connector M12 | Brass, nickel plated | - | | COM3 (230.4 kbps) | 43 mm | 22 mm | | Proximity sensor, inductive, short brass body M8, shielded, 4 mm, DC, 3-wire, PNP NO, IO-Link COM3, M12 connector |
| | M8 | Quasi-flush | 4 mm | IO-Link, PNP | NO | M12 Pre-wired Smartclick connector | Brass, nickel plated | PVC (oil-resistant) | 0.3 m | COM3 (230.4 kbps) | 37.8 mm | 22 mm | | Proximity sensor, inductive, short brass body M8, shielded, 4 mm, DC, 3-wire, PNP NO, IO-Link COM3, M12 Smartclick Pig-tail 0.3 m |
| | M8 | Quasi-flush | 4 mm | IO-Link, PNP | NO | Connector M8 - 4 pin | Brass, nickel plated | - | | COM3 (230.4 kbps) | 39 mm | 22 mm | | Proximity sensor, inductive, short brass body M8, shielded, 4 mm, DC, 3-wire, PNP NO, IO-Link COM3, M8 connector 4 pins |
| | M8 | Quasi-flush | 4 mm | IO-Link, PNP | NO | Connector M8 - 3 pin | Brass, nickel plated | - | | COM3 (230.4 kbps) | 39 mm | 22 mm | | Proximity sensor, inductive, short brass body M8, shielded, 4 mm, DC, 3-wire, PNP NO, IO-Link COM3, M8 connector 3 pin |
| | M8 | Quasi-flush | 4 mm | IO-Link, PNP | NO | Cable | Brass, nickel plated | PVC (oil-resistant) | 2 m | COM3 (230.4 kbps) | 38 mm | 22 mm | Flexible cable | Proximity sensor, inductive, short brass body M8, shielded, 4 mm, DC, 3-wire, PNP NO, IO-Link COM3, 2 m prewired robotic cable |
| | M12 | Flush | 4 mm | IO-Link, PNP | NO | Cable | Brass, nickel plated | PVC (oil-resistant) | 2 m | COM3 (230.4 kbps) | 69 mm | 55 mm | | Proximity sensor, inductive, nickel-brass, long body, M12, shielded, 4 mm, DC, 3-wire, PNP NO, IO-Link COM3, 2 m prewired |
| | M12 | Flush | 4 mm | IO-Link, PNP | NO | Connector M12 | Brass, nickel plated | - | | COM3 (230.4 kbps) | 70 mm | 55 mm | | Proximity sensor, inductive, nickel-brass long body, M12, shielded, 4 mm, DC, 3-wire, PNP NO, IO-Link COM3, M12 connector |
| | M12 | Quasi-flush | 4 mm | IO-Link, PNP | NO | M12 Pre-wired Smartclick connector | Brass, nickel plated | PVC (oil-resistant) | 0.3 m | COM3 (230.4 kbps) | 69 mm | 55 mm | | Proximity sensor, inductive, nickel-brass, long body, M12, shielded, 4 mm, DC, 3-wire, PNP NO, IO-Link COM3, M12 Smartclick Pig-tail 0.3 m |
| | M8 | Quasi-flush | 4 mm | IO-Link, PNP | NO | Cable | Brass, nickel plated | PVC (oil-resistant) | 2 m | COM3 (230.4 kbps) | 38 mm | 36 mm | | Proximity sensor, inductive, long brass body M8, shielded, 4 mm, DC, 3-wire, PNP NO, IO-Link COM3, 2 m prewired |
| | M8 | Quasi-flush | 4 mm | IO-Link, PNP | NO | Connector M12 | Brass, nickel plated | - | | COM3 (230.4 kbps) | 53 mm | 36 mm | | Proximity sensor, inductive, long brass body M8, shielded, 4 mm, DC, 3-wire, PNP NO, IO-Link COM3, M12 connector |
| | M8 | Quasi-flush | 4 mm | IO-Link, PNP | NO | M12 Pre-wired Smartclick connector | Brass, nickel plated | PVC (oil-resistant) | 0.3 m | COM3 (230.4 kbps) | 38 mm | 36 mm | | Proximity sensor, inductive, long brass body M8, shielded, 4 mm, DC, 3-wire, PNP NO, IO-Link COM3, M12 Smartclick Pig-tail 0.3 m |
| | M8 | Quasi-flush | 4 mm | IO-Link, PNP | NO | Connector M8 - 4 pin | Brass, nickel plated | - | | COM3 (230.4 kbps) | 49 mm | 36 mm | | Proximity sensor, inductive, long brass body M8, shielded, 4 mm, DC, 3-wire, PNP NO, IO-Link COM3, M8 connector 4 pins |
| | M8 | Quasi-flush | 4 mm | IO-Link, PNP | NO | Connector M8 - 3 pin | Brass, nickel plated | - | | COM3 (230.4 kbps) | 49 mm | 36 mm | | Proximity sensor, inductive, long brass body M8, shielded, 4 mm, DC, 3-wire, PNP NO, IO-Link COM3, M8 connector 3 pins |
| | M12 | Quasi-flush | 4 mm | PNP | NC | Cable | Brass, nickel plated | PVC (oil-resistant) | 2 m | | | | | Proximity sensor, inductive, nickel-brass, short body, M12, shielded, 4 mm, DC, 3-wire, PNP NC, 2 m prewired |
| | M12 | Quasi-flush | 4 mm | PNP | NC | Connector M12 | Brass, nickel plated | | | | | | | Proximity sensor, inductive, nickel-brass, short body, M12, shielded, 4 mm, DC, 3-wire, PNP NC, M12 connector |
| | M12 | Quasi-flush | 4 mm | PNP | NC | Cable | Brass, nickel plated | PVC (oil-resistant) | 2 m | | | | | Proximity sensor, inductive, nickel-brass, long body, M12, shielded, 4 mm, DC, 3-wire, PNP NC, 2 m prewired |
| | M12 | Quasi-flush | 4 mm | PNP | NC | Connector M12 | Brass, nickel plated | - | | | 70 mm | 55 mm | | Proximity sensor, inductive, nickel-brass, long body, M12, shielded, 4 mm, DC, 3-wire, PNP NC, M12 connector |
| | M12 | Quasi-flush | 4 mm | PNP | NC | M12 Pre-wired Smartclick connector | Brass, nickel plated | PVC (oil-resistant) | 0.3 m | | 69 mm | 55 mm | | Proximity sensor, inductive, nickel-brass, long body, M12, shielded, 4 mm, DC, 3-wire, PNP NC, M12 Smartclick Pig-tail 0.3 m |
| | M12 | Flush | 4 mm | IO-Link, PNP | NO + NC | Cable | Brass, nickel plated | PVC (oil-resistant) | 2 m | COM2 (38.4 kbps) | 47 mm | 29 mm | | Proximity sensor, inductive, nickel-brass, short body, M12, shielded, 4 mm, DC, 3-wire, PNP NO+NC, IO-Link COM2, 2 m prewired |
| | M12 | Quasi-flush | 4 mm | IO-Link, PNP | NO + NC | Connector M12 | Brass, nickel plated | | | COM2 (38.4 kbps) | | | | Proximity sensor, inductive, nickel-brass, short body, M12, shielded, 4 mm, DC, 3-wire, PNP NONC, IO-Link COM2, M12 connector |
| | M12 | Quasi-flush | 4 mm | IO-Link, PNP | NO + NC | Cable | Brass, nickel plated | PVC (oil-resistant) | 2 m | COM2 (38.4 kbps) | | | | Proximity sensor, inductive, nickel-brass, long body, M12, shielded, 4 mm, DC, 3-wire, PNP NONC, IO-Link COM2, 2 m prewired |
| | M12 | Flush | 4 mm | IO-Link, PNP | NO + NC | Connector M12 | Brass, nickel plated | - | | COM2 (38.4 kbps) | 70 mm | 55 mm | | Proximity sensor, inductive, nickel-brass, long body, M12, shielded, 4 mm, DC, 3-wire, PNP NO+NC, IO-Link COM2, M12 connector |
| | M12 | Quasi-flush | 4 mm | NPN | NO | Cable | Brass, nickel plated | PVC (oil-resistant) | 2 m | | | | | Proximity sensor, inductive, nickel-brass, short body, M12, shielded, 4 mm, DC, 3-wire, NPN NO, 2 m prewired |
| | M12 | Flush | 4 mm | NPN | NO | Connector M12 | Brass, nickel plated | - | | | 48 mm | 29 mm | | Proximity sensor, inductive, nickel-brass, short body, M12, shielded, 4 mm, DC, 3-wire, NPN NO, M12 connector |
| | M12 | Quasi-flush | 4 mm | NPN | NO | M12 Pre-wired Smartclick connector | Brass, nickel plated | PVC | 0.3 m | | | | | Proximity sensor, inductive, nickel-brass, short body, M12, shielded, 4 mm, DC, 3-wire, NPN NO, M12 Pre-wired Smartclick connector |
| | M8 | Flush | 4 mm | NPN | NO | Cable | Brass, nickel plated | PVC (oil-resistant) | 2 m | | | | | Proximity sensor, inductive, short brass body M8, shielded, 4 mm, DC, 3-wire, NPN NO, 2 m prewired |
| | M8 | Quasi-flush | 4 mm | NPN | NO | Connector M12 | Brass, nickel plated | - | | | 43 mm | 22 mm | | Proximity sensor, inductive, short brass body M8, shielded, 4 mm, DC, 3-wire, NPN NO, M12 connector |
| | M8 | Quasi-flush | 4 mm | NPN | NO | M12 Pre-wired Smartclick connector | Brass, nickel plated | PVC (oil-resistant) | 0.3 m | | | | | Proximity sensor, inductive, short brass body M8, shielded, 4 mm, DC, 3-wire, NPN NO, M12 Smartclick Pig-tail 0.3 m |
| | M8 | Quasi-flush | 4 mm | NPN | NO | Connector M8 - 3 pin | Brass, nickel plated | | | | | | | Proximity sensor, inductive, short brass body M8, shielded, 4 mm, DC, 3-wire, NPN NO, M8 connector 3 pins |
| | M12 | Quasi-flush | 4 mm | NPN | NC | Connector M12 | Brass, nickel plated | | | | | | | Proximity sensor, inductive, nickel-brass, short body, M12, shielded, 4 mm, DC, 3-wire, NPN NC, M12 connector |
| | M8 | Quasi-flush | 4 mm | NPN | NC | Connector M12 | Brass, nickel plated | - | | | 43 mm | 22 mm | | Proximity sensor, inductive, short brass body M8, shielded, 4 mm, DC, 3-wire, NPN NC, M12 connector |
| | M12 | Quasi-flush | 4 mm | NPN | NO + NC | Cable | Brass, nickel plated | PVC (oil-resistant) | 2 m | | | | | Proximity sensor, inductive, nickel-brass, short body, M12, shielded, 4 mm, DC, 3-wire, NPN NO+NC, 2 m prewired |
| | M12 | Quasi-flush | 4 mm | NPN | NO + NC | Connector M12 | Brass, nickel plated | | | | | | | Proximity sensor, inductive, nickel-brass, short body, M12, shielded, 4 mm, DC, 3-wire, NPN NO+NC, M12 connector |
| | M8 | Non-flush | 4 mm | IO-Link, PNP | NO/NC switching | Cable | Stainless steel | PVC (oil-resistant) | 2 m | COM2 (38.4 kbps) | | | | Proximity sensor, inductive, short SUS body M8, unshielded, 4 mm, DC, 3-wire, PNP NO, IO-Link COM2, 2 m prewired |
| | M8 | Non-flush | 4 mm | IO-Link, PNP | NO/NC switching | Connector M12 | Stainless steel | | | COM2 (38.4 kbps) | | | | Proximity sensor, inductive, short SUS body M8, unshielded, 4 mm, DC, 3-wire, PNP NO, IO-Link COM2, M12 connector 4 pins |
| | M8 | Non-flush | 4 mm | IO-Link, PNP | NO | Cable | Stainless steel | PVC (oil-resistant) | 2 m | COM3 (230.4 kbps) | 38 mm | 26 mm | | Proximity sensor, inductive, SUS short body, M8, unshielded, 4 mm, DC, 3-wire, PNP NO, IO-Link COM3, 2 m prewired |
| | M8 | Non-flush | 4 mm | IO-Link, PNP | NO | Connector M12 | Stainless steel | - | | COM3 (230.4 kbps) | 43 mm | 20 mm | | Proximity sensor, inductive, SUS short body, M8, unshielded, 4 mm, DC, 3-wire, PNP NO, IO-Link COM3, M12 connector |
| | M8 | Non-flush | 4 mm | IO-Link, PNP | NO | M12 Pre-wired Smartclick connector | Stainless steel | PVC (oil-resistant) | 0.3 m | COM3 (230.4 kbps) | 38 mm | 26 mm | | Proximity sensor, inductive, SUS short body, M8, unshielded, 4 mm, DC, 3-wire, PNP NO, IO-Link COM3, M12 Smartclick Pig-tail 0.3 m |
| | M8 | Non-flush | 4 mm | IO-Link, PNP | NO | Connector M8 - 4 pin | Stainless steel | - | | COM3 (230.4 kbps) | 39 mm | 22 mm | | Proximity sensor, inductive, SUS short body, M8, unshielded, 4 mm, DC, 3-wire, PNP NO, IO-Link COM3, M8 connector 4 pins |
| | M8 | Non-flush | 4 mm | IO-Link, PNP | NO | Connector M8 - 3 pin | Stainless steel | - | | COM3 (230.4 kbps) | 39 mm | 22 mm | | Proximity sensor, inductive, SUS short body, M8, unshielded, 4 mm, DC, 3-wire, PNP NO, IO-Link COM3, M8 connector 3 pins |
| | M8 | Non-flush | 4 mm | IO-Link, PNP | NO | Cable | Stainless steel | PVC (oil-resistant) | 2 m | COM3 (230.4 kbps) | 38 mm | 26 mm | Flexible cable | Proximity sensor, inductive, SUS short body, M8, unshielded, 4 mm, DC, 3-wire, PNP NO, IO-Link COM3, 2 m prewired robotic cable |
| | M8 | Non-flush | 4 mm | IO-Link, PNP | NO | Cable | Stainless steel | PVC (oil-resistant) | 2 m | COM3 (230.4 kbps) | 48 mm | 30 mm | | Proximity sensor, inductive, SUS long body, M8, unshielded, 4 mm, DC, 3-wire, PNP NO, IO-Link COM3, 2 m prewired |
| | M8 | Non-flush | 4 mm | IO-Link, PNP | NO | Connector M12 | Stainless steel | - | | COM3 (230.4 kbps) | 53 mm | 30 mm | | Proximity sensor, inductive, SUS long body, M8, unshielded, 4 mm, DC, 3-wire, PNP NO, IO-Link COM3, M12 connector |
| | M8 | Non-flush | 4 mm | IO-Link, PNP | NO | M12 Pre-wired Smartclick connector | Stainless steel | PVC (oil-resistant) | 0.3 m | COM3 (230.4 kbps) | 48 mm | 30 mm | | Proximity sensor, inductive, SUS long body, M8, unshielded, 4 mm, DC, 3-wire, PNP NO, IO-Link COM3, M12 Smartclick Pig-tail 0.3 m |
| | M8 | Non-flush | 4 mm | IO-Link, PNP | NO | Connector M8 - 4 pin | Stainless steel | - | | COM3 (230.4 kbps) | 49 mm | 30 mm | | Proximity sensor, inductive, SUS long body, M8, unshielded, 4 mm, DC, 3-wire, PNP NO, IO-Link COM3, M8 connector 4 pins |
| | M8 | Non-flush | 4 mm | IO-Link, PNP | NO | Connector M8 - 3 pin | Stainless steel | - | | COM3 (230.4 kbps) | 49 mm | 30 mm | | Proximity sensor, inductive, SUS long body, M8, unshielded, 4 mm, DC, 3-wire, PNP NO, IO-Link COM3, M8 connector 3 pins |
| | M8 | Non-flush | 4 mm | PNP | NC | Cable | Stainless steel | PVC (oil-resistant) | 2 m | | | | | Proximity sensor, inductive, short SUS body M8, unshielded, 4 mm, DC, 3-wire, PNP NC, 2 m prewired |
| | M8 | Non-flush | 4 mm | PNP | NC | Connector M12 | Stainless steel | | | | | | | Proximity sensor, inductive, short SUS body M8, unshielded, 4 mm, DC, 3-wire, PNP NC, M12 connector |
| | M8 | Non-flush | 4 mm | NPN | NO | Cable | Stainless steel | PVC (oil-resistant) | 2 m | | | | | Proximity sensor, inductive, short SUS body M8, unshielded, 4 mm, DC, 3-wire, NPN NO, 2 m prewired |
| | M8 | Non-flush | 4 mm | NPN | NO | Connector M12 | Stainless steel | | | | | | | Proximity sensor, inductive, short SUS body M8, unshielded, 4 mm, DC, 3-wire, NPN NO, M12 connector |
| | M30 | Non-flush | 50 mm | IO-Link, PNP | NO | Cable | Brass, nickel plated | PVC (oil-resistant) | 2 m | COM3 (230.4 kbps) | 97 mm | 65 mm | | Proximity sensor, inductive, nickel-brass long body, M30, unshielded, 50 mm, DC, 3-wire, PNP NO, IO-Link COM3, 2 m prewired |
| | M30 | Non-flush | 50 mm | IO-Link, PNP | NO | Connector M12 | Brass, nickel plated | - | | COM3 (230.4 kbps) | 95 mm | 65 mm | | Proximity sensor, inductive, nickel-brass long body, M30, unshielded, 50 mm, DC, 3-wire, PNP NO, IO-Link COM3, M12 connector |
| | M30 | Non-flush | 50 mm | IO-Link, PNP | NO | M12 Pre-wired Smartclick connector | Brass, nickel plated | PVC (oil-resistant) | 0.3 m | COM3 (230.4 kbps) | 97 mm | 65 mm | | Proximity sensor, inductive, nickel-brass long body, M30, unshielded, 50 mm, DC, 3-wire, PNP NO, IO-Link COM3, M12 Smartclick Pig-tail 0.3 m |
| | M30 | Non-flush | 50 mm | IO-Link, PNP | NO | Cable | Brass, nickel plated | PVC (oil-resistant) | 2 m | COM3 (230.4 kbps) | 97 mm | 65 mm | Flexible cable | Proximity sensor, inductive, nickel-brass long body, M30, unshielded, 50 mm, DC, 3-wire, PNP NO, IO-Link COM3, 2 m prewired robotic cable |
| | M30 | Non-flush | 50 mm | PNP | NC | Connector M12 | Brass, nickel plated | | | | | | | Proximity sensor, inductive, nickel-brass, long body, M30, unshielded, 50 mm, DC, 3-wire, PNP NC, M12 connector |
| | M30 | Non-flush | 50 mm | NPN | NO | Connector M12 | Brass, nickel plated | | | | | | | Proximity sensor, inductive, nickel-brass, long body, M30, unshielded, 50 mm, DC, 3-wire, NPN NO, M12 connector |
| | M30 | Non-flush | 50 mm | NPN | NC | Connector M12 | Brass, nickel plated | | | | | | | Proximity sensor, inductive, nickel-brass, long body, M30, unshielded, 50 mm, DC, 3-wire, NPN NC, M12 connector |
| | M18 | Flush | 5 mm | 2-wire | NO | M12 Pre-wired Smartclick connector | Brass, nickel plated | PVC (oil-resistant reinforced) | 0.3 m | | 54 mm | 37 mm | | Proximity sensor, inductive, brass-nickel, M18, shielded, 5 mm, NO, 0.3 m pig-tail, DC 2-wire |
| | M18 | Flush | 5 mm | 2-wire | NO | M12 Pre-wired Smartclick connector | Brass, nickel plated | PVC (oil-resistant reinforced) | 0.3 m | | 54 mm | 37 mm | | Proximity sensor, inductive, brass-nickel, M18, shielded, 5 mm, NO, 0.3 m pig-tail, DC 2-wire, no polarity |
| | M18 | Flush | 5 mm | 2-wire | NO | Cable | Brass, nickel plated | PVC (oil-resistant reinforced) | 2 m | | 54 mm | 37 mm | | Proximity sensor, inductive, brass-nickel, M18, shielded, 5 mm, NO, 2 m cable, DC 2-wire |
| | M18 | Flush | 5 mm | 2-wire | NO | Cable | Brass, nickel plated | PVC (oil-resistant reinforced) | 2 m | | 54 mm | 37 mm | Flexible cable | Proximity sensor, inductive, brass-nickel, M18, shielded, 5 mm, NO, 2 m cable robotic, DC 2-wire |
| | M18 | Flush | 5 mm | 2-wire | NO | Cable | Brass, nickel plated | PVC (oil-resistant reinforced) | 2 m | | 54 mm | 37 mm | | Proximity sensor, inductive, brass-nickel, M18, shielded, 5 mm, NO, 2 m cable, DC 2-wire, no polarity |
| | M18 | Flush | 5 mm | 2-wire | NO | Cable | Brass, nickel plated | PVC (oil-resistant reinforced) | 2 m | | 54 mm | 37 mm | Flexible cable | Proximity sensor, inductive, brass-nickel, M18, shielded, 5 mm, NO, 2 m cable robotic, DC 2-wire, no polarity |
| | M18 | Flush | 5 mm | 2-wire | NC | M12 Pre-wired Smartclick connector | Brass, nickel plated | PVC (oil-resistant reinforced) | 0.3 m | | 54 mm | 37 mm | | Proximity sensor, inductive, brass-nickel, M18, shielded, 5 mm, NC, 0.3 m pig-tail, DC 2-wire |
| | M18 | Flush | 5 mm | 2-wire | NC | M12 Pre-wired Smartclick connector | Brass, nickel plated | PVC (oil-resistant reinforced) | 0.3 m | | 54 mm | 37 mm | | Proximity sensor, inductive, brass-nickel, M18, shielded, 5 mm, NC, 0.3 m pig-tail, DC 2-wire, no polarity |
| | M18 | Flush | 5 mm | 2-wire | NC | Cable | Brass, nickel plated | PVC (oil-resistant reinforced) | 2 m | | 54 mm | 37 mm | | Proximity sensor, inductive, brass-nickel, M18, shielded, 5 mm, NC, 2 m cable, DC 2-wire |
| | M18 | Flush | 5 mm | 2-wire | NC | Cable | Brass, nickel plated | PVC (oil-resistant reinforced) | 2 m | | 54 mm | 37 mm | Flexible cable | Proximity sensor, inductive, brass-nickel, M18, shielded, 5 mm, NC, 2 m cable robotic, DC 2-wire |
| | M18 | Flush | 5 mm | 2-wire | NC | Cable | Brass, nickel plated | PVC (oil-resistant reinforced) | 2 m | | 54 mm | 37 mm | | Proximity sensor, inductive, brass-nickel, M18, shielded, 5 mm, NC, 2 m cable, DC 2-wire, no polarity |
| | M18 | Flush | 5 mm | 2-wire | NC | Cable | Brass, nickel plated | PVC (oil-resistant reinforced) | 2 m | | 54 mm | 37 mm | Flexible cable | Proximity sensor, inductive, brass-nickel, M18, shielded, 5 mm, NC, 2 m cable robotic, DC 2-wire, no polarity |
| | M12 | Non-flush | 5 mm | IO-Link, PNP | NO/NC switching | Connector M12 | Brass, nickel plated | | | COM2 (38.4 kbps) | | | | Proximity sensor, inductive, nickel-brass, long body, M12, unshielded, 5 mm, DC, 3-wire, PNP NO, IO-Link COM2, M12 connector |
| | M12 | Quasi-flush | 6 mm | IO-Link, PNP | NO/NC switching | Connector M12 | Brass, nickel plated | | | COM2 (38.4 kbps) | | | | Proximity sensor, inductive, nickel-brass, short body, M12, shielded, 6 mm, DC, 3-wire, PNP NO, IO-Link COM2, M12 connector |
| | M12 | Quasi-flush | 6 mm | IO-Link, PNP | NO | Cable | Brass, nickel plated | PVC (oil-resistant) | 2 m | COM3 (230.4 kbps) | 47 mm | 29 mm | | Proximity sensor, inductive, nickel-brass, short body, M12, shielded, 6 mm, DC, 3-wire, PNP NO, IO-Link COM3, 2 m prewired |
| | M12 | Quasi-flush | 6 mm | IO-Link, PNP | NO | Connector M12 | Brass, nickel plated | - | | COM3 (230.4 kbps) | 48 mm | 29 mm | | Proximity sensor, inductive, nickel-brass, short body, M12, shielded, 6 mm, DC, 3-wire, PNP NO, IO-Link COM3, M12 connector |
| | M12 | Quasi-flush | 6 mm | IO-Link, PNP | NO | M12 Pre-wired Smartclick connector | Brass, nickel plated | PVC (oil-resistant) | 0.3 m | COM3 (230.4 kbps) | 47 mm | 29 mm | | Proximity sensor, inductive, nickel-brass short body, M12, shielded, 6 mm, DC, 3-wire, PNP NO, IO-Link COM3, M12 Smartclick Pig-tail 0.3 m |
| | M12 | Quasi-flush | 6 mm | IO-Link, PNP | NO | M12 Pre-wired Smartclick connector | Brass, nickel plated | PVC (oil-resistant) | 0.3 m | COM3 (230.4 kbps) | 47 mm | 29 mm | Flexible cable | Proximity sensor, inductive, nickel-brass, short body, M12, shielded, 6 mm, DC, 3-wire, PNP NO, IO-Link COM3, M12 Smartclick Pig-tail 0.3 m robotic cable |
| | M12 | Quasi-flush | 6 mm | IO-Link, PNP | NO | Cable | Brass, nickel plated | PVC (oil-resistant) | 2 m | COM3 (230.4 kbps) | 47 mm | 29 mm | Flexible cable | Proximity sensor, inductive, nickel-brass short body, M12, shielded, 6 mm, DC, 3-wire, PNP NO, IO-Link COM3, 2 m prewired robotic cable |
| | M12 | Quasi-flush | 6 mm | IO-Link, PNP | NO | Cable | Brass, nickel plated | PVC (oil-resistant) | 2 m | COM3 (230.4 kbps) | 69 mm | 55 mm | | Proximity sensor, inductive, nickel-brass long body, M12, shielded, 6 mm, DC, 3-wire, PNP NO, IO-Link COM3, 2 m prewired |
| | M12 | Quasi-flush | 6 mm | IO-Link, PNP | NO | Connector M12 | Brass, nickel plated | - | | COM3 (230.4 kbps) | 70 mm | 55 mm | | Proximity sensor, inductive, nickel-brass, long body, M12, shielded, 6 mm, DC, 3-wire, PNP NO, IO-Link COM3, M12 connector |
| | M12 | Quasi-flush | 6 mm | IO-Link, PNP | NO | M12 Pre-wired Smartclick connector | Brass, nickel plated | PVC (oil-resistant) | 0.3 m | COM3 (230.4 kbps) | 69 mm | 55 mm | | Proximity sensor, inductive, nickel-brass, long body, M12, shielded, 6 mm, DC, 3-wire, PNP NO, IO-Link COM3, M12 Smartclick Pig-tail 0.3 m |
| | M12 | Quasi-flush | 6 mm | PNP | NC | Cable | Brass, nickel plated | PVC (oil-resistant) | 2 m | | 47 mm | 29 mm | | Proximity sensor, inductive, nickel-brass, short body, M12, shielded, 6 mm, DC, 3-wire, PNP NC, 2 m prewired |
| | M12 | Quasi-flush | 6 mm | PNP | NC | Connector M12 | Brass, nickel plated | - | | | 48 mm | 29 mm | | Proximity sensor, inductive, nickel-brass, short body, M12, shielded, 6 mm, DC, 3-wire, PNP NC, M12 connector |
| | M12 | Quasi-flush | 6 mm | PNP | NC | M12 Pre-wired Smartclick connector | Brass, nickel plated | PVC (oil-resistant) | 0.3 m | | 47 mm | 29 mm | | Proximity sensor, inductive, nickel-brass, short body, M12, shielded, 6 mm, DC, 3-wire, PNP NC, M12 Smartclick Pig-tail 0.3 m |
| | M12 | Quasi-flush | 6 mm | IO-Link, PNP | NO + NC | Connector M12 | Brass, nickel plated | - | | COM2 (38.4 kbps) | 48 mm | 29 mm | | Proximity sensor, inductive, nickel-brass, short body, M12, shielded, 6 mm, DC, 3-wire, PNP NO+NC, IO-Link COM2, M12 connector |
| | M12 | Quasi-flush | 6 mm | NPN | NO | Cable | Brass, nickel plated | PVC (oil-resistant) | 2 m | | 47 mm | 28 mm | | Proximity sensor, inductive, nickel-brass, short body, M12, shielded, 6 mm, DC, 3-wire, NPN NO, 2 m prewired |
| | M12 | Quasi-flush | 6 mm | NPN | NO | Connector M12 | Brass, nickel plated | - | | | 48 mm | 28 mm | | Proximity sensor, inductive, nickel-brass, short body, M12, shielded, 6 mm, DC, 3-wire, NPN NO, M12 connector |
| | M12 | Quasi-flush | 6 mm | NPN | NC | Cable | Brass, nickel plated | PVC (oil-resistant) | 2 m | | 47 mm | 28 mm | | Proximity sensor, inductive, nickel-brass, short body, M12, shielded, 6 mm, DC, 3-wire, NPN NC, 2 m prewired |
| | M12 | Quasi-flush | 6 mm | NPN | NC | Connector M12 | Brass, nickel plated | - | | | 48 mm | 28 mm | | Proximity sensor, inductive, nickel-brass, short body, M12, shielded, 6 mm, DC, 3-wire, NPN NC, M12 connector |
| | M8 | Non-flush | 6 mm | IO-Link, PNP | NO | Cable | Stainless steel | PVC (oil-resistant) | 2 m | COM3 (230.4 kbps) | 38 mm | 20 mm | | Proximity sensor, inductive, SUS short body, M8, unshielded, 6 mm, DC, 3-wire, PNP NO, IO-Link COM3, 2 m prewired |
| | M8 | Non-flush | 6 mm | IO-Link, PNP | NO | Connector M12 | Stainless steel | - | | COM3 (230.4 kbps) | 43 mm | 20 mm | | Proximity sensor, inductive, SUS short body, M8, unshielded, 6 mm, DC, 3-wire, PNP NO, IO-Link COM3, M12 connector |
| | M8 | Non-flush | 6 mm | IO-Link, PNP | NO | M12 Pre-wired Smartclick connector | Stainless steel | PVC (oil-resistant) | 0.3 m | COM3 (230.4 kbps) | 38 mm | 20 mm | | Proximity sensor, inductive, SUS short body, M8, unshielded, 6 mm, DC, 3-wire, PNP NO, IO-Link COM3, M12 Smartclick Pig-tail 0.3 m |
| | M8 | Non-flush | 6 mm | IO-Link, PNP | NO | Connector M8 - 4 pin | Stainless steel | - | | COM3 (230.4 kbps) | 39 mm | 20 mm | | Proximity sensor, inductive, SUS short body, M8, unshielded, 6 mm, DC, 3-wire, PNP NO, IO-Link COM3, M8 connector 4 pins |
| | M8 | Non-flush | 6 mm | IO-Link, PNP | NO | Connector M8 - 3 pin | Stainless steel | - | | COM3 (230.4 kbps) | 39 mm | 20 mm | | Proximity sensor, inductive, SUS short body, M8, unshielded, 6 mm, DC, 3-wire, PNP NO, IO-Link COM3, M8 connector 3 pins |
| | M8 | Non-flush | 6 mm | IO-Link, PNP | NO | Cable | Stainless steel | PVC (oil-resistant) | 2 m | COM3 (230.4 kbps) | 38 mm | 20 mm | Flexible cable | Proximity sensor, inductive, SUS short body, M8, unshielded, 6 mm, DC, 3-wire, PNP NO, IO-Link COM3, 2 m prewired robotic cable |
| | M8 | Non-flush | 6 mm | IO-Link, PNP | NO | Cable | Stainless steel | PVC (oil-resistant) | 2 m | COM3 (230.4 kbps) | 48 mm | 20 mm | | Proximity sensor, inductive, SUS long body, M8, unshielded, 6 mm, DC, 3-wire, PNP NO, IO-Link COM3, 2 m prewired |
| | M8 | Non-flush | 6 mm | IO-Link, PNP | NO | Connector M12 | Stainless steel | - | | COM3 (230.4 kbps) | 53 mm | 30 mm | | Proximity sensor, inductive, SUS long body, M8, unshielded, 6 mm, DC, 3-wire, PNP NO, IO-Link COM3, M12 connector |
| | M8 | Non-flush | 6 mm | IO-Link, PNP | NO | M12 Pre-wired Smartclick connector | Stainless steel | PVC (oil-resistant) | 0.3 m | COM3 (230.4 kbps) | 48 mm | 20 mm | | Proximity sensor, inductive, SUS long body, M8, unshielded, 6 mm, DC, 3-wire, PNP NO, IO-Link COM3, M12 Smartclick Pig-tail 0.3 m |
| | M8 | Non-flush | 6 mm | IO-Link, PNP | NO | Connector M8 - 4 pin | Stainless steel | - | | COM3 (230.4 kbps) | 49 mm | 30 mm | | Proximity sensor, inductive, SUS long body, M8, unshielded, 6 mm, DC, 3-wire, PNP NO, IO-Link COM3, M8 connector 4 pins |
| | M8 | Non-flush | 6 mm | IO-Link, PNP | NO | Connector M8 - 3 pin | Stainless steel | - | | COM3 (230.4 kbps) | 49 mm | 30 mm | | Proximity sensor, inductive, SUS long body, M8, unshielded, 6 mm, DC, 3-wire, PNP NO, IO-Link COM3, M8 connector 3 pins |
| | M8 | Non-flush | 6 mm | 2-wire | NO | Cable | Stainless steel | PVC (oil-resistant reinforced) | 2 m | | 38 mm | 20 mm | | Proximity sensor, inductive, stainless steel, M8, non-shielded, 6 mm, NO, 2 m cable, DC 2-wire |
| | M8 | Non-flush | 6 mm | 2-wire | NO | Cable | Stainless steel | PVC (oil-resistant reinforced) | 5 m | | 38 mm | 20 mm | | Proximity sensor, inductive, stainless steel, M8, non-shielded, 6 mm, NO, 5 m cable, DC 2-wire |
| | M8 | Non-flush | 6 mm | 2-wire | NO | M12 Pre-wired Smartclick connector | Stainless steel | PVC (oil-resistant reinforced) | 0.3 m | | 38 mm | 20 mm | | Proximity sensor, inductive, stainless steel, M8, non-shielded, 6 mm, NO, 0.3 m pig-tail, DC 2-wire |
| | M8 | Non-flush | 6 mm | 2-wire | NO | M12 Pre-wired Smartclick connector | Stainless steel | PVC (oil-resistant reinforced) | 0.3 m | | 38 mm | 20 mm | | Proximity sensor, inductive, stainless steel, M8, non-shielded, 6 mm, NO, 0.3 m pig-tail, DC 2-wire, no polarity |
| | M8 | Non-flush | 6 mm | 2-wire | NO | Cable | Stainless steel | PVC (oil-resistant reinforced) | 2 m | | 38 mm | 20 mm | Flexible cable | Proximity sensor, inductive, stainless steel, M8, non-shielded, 6 mm, NO, 2 m cable robotic, DC 2-wire |
| | M8 | Non-flush | 6 mm | 2-wire | NO | Cable | Stainless steel | PVC (oil-resistant reinforced) | 2 m | | 38 mm | 20 mm | | Proximity sensor, inductive, stainless steel, M8, non-shielded, 6 mm, NO, 2 m cable, DC 2-wire, no polarity |
| | M8 | Non-flush | 6 mm | 2-wire | NO | Cable | Stainless steel | PVC (oil-resistant reinforced) | 2 m | | 38 mm | 20 mm | Flexible cable | Proximity sensor, inductive, stainless steel, M8, non-shielded, 6 mm, NO, 2 m cable robotic, DC 2-wire, no polarity |
| | M8 | Non-flush | 6 mm | 2-wire | NC | Cable | Stainless steel | PVC (oil-resistant reinforced) | 2 m | | 38 mm | 20 mm | | Proximity sensor, inductive, stainless steel, M8, non-shielded, 6 mm, NC, 2 m cable, DC 2-wire |
| | M8 | Non-flush | 6 mm | 2-wire | NC | M12 Pre-wired Smartclick connector | Stainless steel | PVC (oil-resistant reinforced) | 0.3 m | | 38 mm | 20 mm | | Proximity sensor, inductive, stainless steel, M8, non-shielded, 6 mm, NC, 0.3 m pig-tail, DC 2-wire |
| | M8 | Non-flush | 6 mm | 2-wire | NC | M12 Pre-wired Smartclick connector | Stainless steel | PVC (oil-resistant reinforced) | 0.3 m | | 38 mm | 20 mm | | Proximity sensor, inductive, stainless steel, M8, non-shielded, 6 mm, NC, 0.3 m pig-tail, DC 2-wire, no polarity |
| | M8 | Non-flush | 6 mm | 2-wire | NC | Cable | Stainless steel | PVC (oil-resistant reinforced) | 2 m | | 38 mm | 20 mm | Flexible cable | Proximity sensor, inductive, stainless steel, M8, non-shielded, 6 mm, NC, 2 m cable robotic, DC 2-wire |
| | M8 | Non-flush | 6 mm | 2-wire | NC | Cable | Stainless steel | PVC (oil-resistant reinforced) | 2 m | | 38 mm | 20 mm | | Proximity sensor, inductive, stainless steel, M8, non-shielded, 6 mm, NC, 2 m cable, DC 2-wire, no polarity |
| | M8 | Non-flush | 6 mm | 2-wire | NC | Cable | Stainless steel | PVC (oil-resistant reinforced) | 2 m | | 38 mm | 20 mm | Flexible cable | Proximity sensor, inductive, stainless steel, M8, non-shielded, 6 mm, NC, 2 m cable robotic, DC 2-wire, no polarity |
| | M12 | Flush | 7 mm | 2-wire | NO | Cable | Brass, nickel plated | PVC (oil-resistant reinforced) | 2 m | | 47 mm | 28 mm | | Proximity sensor, inductive, brass-nickel, M12, shielded, 7 mm, NO, 2 m cable, DC 2-wire |
| | M12 | Flush | 7 mm | 2-wire | NO | M12 Pre-wired Smartclick connector | Brass, nickel plated | PVC (oil-resistant reinforced) | 0.3 m | | 47 mm | 28 mm | | Proximity sensor, inductive, brass-nickel, M12, shielded, 7 mm, NO, 0.3 m pig-tail, DC 2-wire |
| | M12 | Flush | 7 mm | 2-wire | NO | M12 Pre-wired Smartclick connector | Brass, nickel plated | PVC (oil-resistant reinforced) | 0.3 m | | 47 mm | 28 mm | | Proximity sensor, inductive, brass-nickel, M12, shielded, 7 mm, NO, 0.3 m pig-tail, DC 2-wire, no polarity |
| | M12 | Flush | 7 mm | 2-wire | NO | Cable | Brass, nickel plated | PVC (oil-resistant reinforced) | 2 m | | 47 mm | 28 mm | Flexible cable | Proximity sensor, inductive, brass-nickel, M12, shielded, 7 mm, NO, 2 m cable robotic, DC 2-wire |
| | M12 | Flush | 7 mm | 2-wire | NO | Cable | Brass, nickel plated | PVC (oil-resistant reinforced) | 2 m | | 47 mm | 28 mm | | Proximity sensor, inductive, brass-nickel, M12, shielded, 7 mm, NO, 2 m cable, DC 2-wire, no polarity |
| | M12 | Flush | 7 mm | 2-wire | NO | Cable | Brass, nickel plated | PVC (oil-resistant reinforced) | 2 m | | 47 mm | 28 mm | Flexible cable | Proximity sensor, inductive, brass-nickel, M12, shielded, 7 mm, NO, 2 m cable robotic, DC 2-wire, no polarity |
| | M12 | Flush | 7 mm | 2-wire | NC | Cable | Brass, nickel plated | PVC (oil-resistant reinforced) | 2 m | | 47 mm | 28 mm | | Proximity sensor, inductive, brass-nickel, M12, shielded, 7 mm, NC, 2 m cable, DC 2-wire |
| | M12 | Flush | 7 mm | 2-wire | NC | M12 Pre-wired Smartclick connector | Brass, nickel plated | PVC (oil-resistant reinforced) | 0.3 m | | 47 mm | 28 mm | | Proximity sensor, inductive, brass-nickel, M12, shielded, 7 mm, NC, 0.3 m pig-tail, DC 2-wire |
| | M12 | Flush | 7 mm | 2-wire | NC | M12 Pre-wired Smartclick connector | Brass, nickel plated | PVC (oil-resistant reinforced) | 0.3 m | | 47 mm | 28 mm | | Proximity sensor, inductive, brass-nickel, M12, shielded, 7 mm, NC, 0.3 m pig-tail, DC 2-wire, no polarity |
| | M12 | Flush | 7 mm | 2-wire | NC | Cable | Brass, nickel plated | PVC (oil-resistant reinforced) | 2 m | | 47 mm | 28 mm | Flexible cable | Proximity sensor, inductive, brass-nickel, M12, shielded, 7 mm, NC, 2 m cable robotic, DC 2-wire |
| | M12 | Flush | 7 mm | 2-wire | NC | Cable | Brass, nickel plated | PVC (oil-resistant reinforced) | 2 m | | 47 mm | 28 mm | | Proximity sensor, inductive, brass-nickel, M12, shielded, 7 mm, NC, 2 m cable, DC 2-wire, no polarity |
| | M12 | Flush | 7 mm | 2-wire | NC | Cable | Brass, nickel plated | PVC (oil-resistant reinforced) | 2 m | | 47 mm | 28 mm | Flexible cable | Proximity sensor, inductive, brass-nickel, M12, shielded, 7 mm, NC, 2 m cable robotic, DC 2-wire, no polarity |
| | M18 | Quasi-flush | 8 mm | IO-Link, PNP | NO | Cable | Brass, nickel plated | PVC (oil-resistant) | 2 m | COM2 (38.4 kbps) | 53 mm | 34 mm | | Proximity sensor, inductive, nickel-brass, short body, M18, shielded, 8 mm, DC, 3-wire, PNP NO, IO-Link COM2, 2 m prewired |
| | M18 | Quasi-flush | 8 mm | IO-Link, PNP | NO | Connector M12 | Brass, nickel plated | | | COM2 (38.4 kbps) | 53 mm | 34 mm | | Proximity sensor, inductive, nickel-brass, short body, M18, shielded, 8 mm, DC, 3-wire, PNP NO, IO-Link COM2, M12 connector |
| | M18 | Flush | 8 mm | IO-Link, PNP | NO | Cable | Brass, nickel plated | PVC (oil-resistant) | 2 m | COM3 (230.4 kbps) | 55 mm | 34 mm | | Proximity sensor, inductive, nickel-brass, short body, M18, shielded, 8 mm, DC, 3-wire, PNP NO, IO-Link COM3, 2 m prewired |
| | M18 | Flush | 8 mm | IO-Link, PNP | NO | Connector M12 | Brass, nickel plated | - | | COM3 (230.4 kbps) | 53 mm | 34 mm | | Proximity sensor, inductive, nickel-brass, short body, M18, shielded, 8 mm, DC, 3-wire, PNP NO, IO-Link COM3, M12 connector |
| | M18 | Flush | 8 mm | IO-Link, PNP | NO | M12 Pre-wired Smartclick connector | Brass, nickel plated | PVC (oil-resistant) | 0.3 m | COM3 (230.4 kbps) | 55 mm | 34 mm | | Proximity sensor, inductive, nickel-brass, short body, M18, shielded, 8 mm, DC, 3-wire, PNP NO, IO-Link COM3, M12 Smartclick Pig-tail 0.3 m |
| | M18 | Quasi-flush | 8 mm | IO-Link, PNP | NO | Cable | Brass, nickel plated | PVC (oil-resistant) | 2 m | COM3 (230.4 kbps) | 55 mm | 34 mm | Flexible cable | Proximity sensor, inductive, nickel-brass short body, M18, shielded, 8 mm, DC, 3-wire, PNP NO, IO-Link COM3, 2 m prewired robotic cable |
| | M18 | Flush | 8 mm | IO-Link, PNP | NO | Cable | Brass, nickel plated | PVC (oil-resistant) | 2 m | COM3 (230.4 kbps) | 77 mm | 50 mm | | Proximity sensor, inductive, nickel-brass long body, M18, shielded, 8 mm, DC, 3-wire, PNP NO, IO-Link COM3, 2 m prewired |
| | M18 | Flush | 8 mm | IO-Link, PNP | NO | Connector M12 | Brass, nickel plated | - | | COM3 (230.4 kbps) | 75 mm | 48 mm | | Proximity sensor, inductive, nickel-brass long body, M18, shielded, 8 mm, DC, 3-wire, PNP NO, IO-Link COM3, M12 connector |
| | M18 | Quasi-flush | 8 mm | IO-Link, PNP | NO | M12 Pre-wired Smartclick connector | Brass, nickel plated | PVC (oil-resistant) | 0.3 m | COM3 (230.4 kbps) | 77 mm | 50 mm | | Proximity sensor, inductive, nickel-brass long body, M18, shielded, 8 mm, DC, 3-wire, PNP NO, IO-Link COM3, M12 Smartclick Pig-tail 0.3 m |
| | M18 | Quasi-flush | 8 mm | PNP | NC | Cable | Brass, nickel plated | PVC (oil-resistant) | 2 m | | 53 mm | 34 mm | | Proximity sensor, inductive, nickel-brass, short body, M18, shielded, 8 mm, DC, 3-wire, PNP NC, 2 m prewired |
| | M18 | Quasi-flush | 8 mm | PNP | NC | Connector M12 | Brass, nickel plated | | | | 53 mm | 34 mm | | Proximity sensor, inductive, nickel-brass, short body, M18, shielded, 8 mm, DC, 3-wire, PNP NC, M12 connector |
| | M18 | Quasi-flush | 8 mm | PNP | NC | Connector M12 | Brass, nickel plated | | | | | | | Proximity sensor, inductive, nickel-brass, long body, M18, shielded, 8 mm, DC, 3-wire, PNP NC, M12 connector |
| | M18 | Flush | 8 mm | IO-Link, PNP | NO + NC | Cable | Brass, nickel plated | PVC (oil-resistant) | 2 m | COM2 (38.4 kbps) | 55 mm | 34 mm | | Proximity sensor, inductive, nickel-brass, short body, M18, shielded, 8 mm, DC, 3-wire, PNP NO+NC, IO-Link COM2, 2 m prewired |
| | M18 | Flush | 8 mm | IO-Link, PNP | NO + NC | Connector M12 | Brass, nickel plated | - | | COM2 (38.4 kbps) | 53 mm | 34 mm | | Proximity sensor, inductive, nickel-brass, short body, M18, shielded, 8 mm, DC, 3-wire, PNP NO+NC, IO-Link COM2, M12 connector |
| | M18 | Quasi-flush | 8 mm | IO-Link, PNP | NO + NC | M12 Pre-wired Smartclick connector | Brass, nickel plated | PVC (oil-resistant) | 0.3 m | COM2 (38.4 kbps) | 55 mm | 34 mm | | Proximity sensor, inductive, nickel-brass, short body, M18, shielded, 8 mm, DC, 3-wire, PNP NO+NC, IO-Link COM2, M12 Smartclick Pig-tail 0.3 m |
| | | Quasi-flush | 8 mm | IO-Link, PNP | NO + NC | Cable | Brass, nickel plated | PVC (oil-resistant) | 2 m | COM2 (38.4 kbps) | | | | Proximity sensor, inductive, nickel-brass, long body, M18, shielded, 8 mm, DC, 3-wire, PNP NONC, IO-Link COM2, 2 m prewired |
| | M18 | Flush | 8 mm | IO-Link, PNP | NO + NC | Connector M12 | Brass, nickel plated | - | | COM2 (38.4 kbps) | 75 mm | 60 mm | | Proximity sensor, inductive, nickel-brass, long body, M18, shielded, 8 mm, DC, 3-wire, PNP NO+NC, IO-Link COM2, M12 connector |
| | M18 | Quasi-flush | 8 mm | NPN | NO | Cable | Brass, nickel plated | PVC (oil-resistant) | 2 m | | 53 mm | 34 mm | | Proximity sensor, inductive, nickel-brass, short body, M18, shielded, 8 mm, DC, 3-wire, NPN NO, 2 m prewired |
| | M18 | Flush | 8 mm | NPN | NO | Connector M12 | Brass, nickel plated | - | | | 53 mm | 34 mm | | Proximity sensor, inductive, nickel-brass, short body, M18, shielded, 8 mm, DC, 3-wire, NPN NO, M12 connector |
| | M18 | Quasi-flush | 8 mm | NPN | NC | Connector M12 | Brass, nickel plated | | | | 53 mm | 34 mm | | Proximity sensor, inductive, nickel-brass, short body, M18, shielded, 8 mm, DC, 3-wire, NPN NC, M12 connector |
| | M18 | Flush | 8 mm | PNP | NO | Cable | Brass, nickel plated | PVC (oil-resistant) | 2 m | | 55 mm | 34 mm | | Proximity sensor, inductive, nickel-brass, short body, M18, shielded, 8 mm, DC, 3-wire, NPN NO+NC, 2 m prewired |
| | M12 | Non-flush | 8 mm | IO-Link, PNP | NO | Cable | Brass, nickel plated | PVC (oil-resistant) | 2 m | COM2 (38.4 kbps) | | | | Proximity sensor, inductive, nickel-brass, short body, M12, unshielded, 8 mm, DC, 3-wire, PNP NO, IO-Link COM2, 2 m prewired |
| | M12 | Non-flush | 8 mm | IO-Link, PNP | NO | Connector M12 | Brass, nickel plated | - | | COM2 (38.4 kbps) | 48 mm | 19 mm | | Proximity sensor, inductive, nickel-brass, short body, M12, unshielded, 8 mm, DC, 3-wire, PNP NO, IO-Link COM2, M12 connector |
| | M12 | Non-flush | 8 mm | IO-Link, PNP | NO | Connector M12 | Brass, nickel plated | - | | COM2 (38.4 kbps) | 70 mm | 48 mm | | Proximity sensor, inductive, nickel-brass, long body, M12, unshielded, 8 mm, DC, 3-wire, PNP NO, IO-Link COM2, M12 connector |
| | M8 | Non-flush | 8 mm | IO-Link, PNP | NO/NC switching | Connector M8 - 3 pin | Brass, nickel plated | | | COM2 (38.4 kbps) | | | | Proximity sensor, inductive, SUS body, long body, M8, unshielded, 8 mm, DC, 3-wire, PNP NO, IO-Link COM2, M8 connector 3 pins |
| | M12 | Non-flush | 8 mm | IO-Link, PNP | NO | Cable | Brass, nickel plated | PVC (oil-resistant) | 2 m | COM3 (230.4 kbps) | 47 mm | 26 mm | | Proximity sensor, inductive, nickel-brass short body, M12, unshielded, 8 mm, DC, 3-wire, PNP NO, IO-Link COM3, 2 m prewired |
| | M12 | Non-flush | 8 mm | IO-Link, PNP | NO | Connector M12 | Brass, nickel plated | - | | COM3 (230.4 kbps) | 48 mm | 19 mm | | Proximity sensor, inductive, nickel-brass, short body, M12, unshielded, 8 mm, DC, 3-wire, PNP NO, IO-Link COM3, M12 connector |
| | M12 | Non-flush | 8 mm | IO-Link, PNP | NO | M12 Pre-wired Smartclick connector | Brass, nickel plated | PVC (oil-resistant) | 0.3 m | COM3 (230.4 kbps) | 47 mm | 26 mm | | Proximity sensor, inductive, nickel-brass short body, M12, unshielded, 8 mm, DC, 3-wire, PNP NO, IO-Link COM3, M12 Smartclick Pig-tail 0.3 m |
| | M12 | Non-flush | 8 mm | IO-Link, PNP | NO | Cable | Brass, nickel plated | PVC (oil-resistant) | 2 m | COM3 (230.4 kbps) | 47 mm | 26 mm | Flexible cable | Proximity sensor, inductive, nickel-brass short body, M12, unshielded, 8 mm, DC, 3-wire, PNP NO, IO-Link COM3, 2 m prewired robotic cable |
| | M8 | Non-flush | 8 mm | IO-Link, PNP | NO | Cable | Stainless steel | PVC (oil-resistant) | 2 m | COM3 (230.4 kbps) | 38 mm | 20 mm | | Proximity sensor, inductive, SUS short body, M8, unshielded, 8 mm, DC, 3-wire, PNP NO, IO-Link COM3, 2 m prewired |
| | M8 | Non-flush | 8 mm | IO-Link, PNP | NO | Connector M12 | Stainless steel | - | | COM3 (230.4 kbps) | 43 mm | 20 mm | | Proximity sensor, inductive, SUS short body, M8, unshielded, 8 mm, DC, 3-wire, PNP NO, IO-Link COM3, M12 connector |
| | M8 | Non-flush | 8 mm | IO-Link, PNP | NO | M12 Pre-wired Smartclick connector | Stainless steel | PVC (oil-resistant) | 0.3 m | COM3 (230.4 kbps) | 38 mm | 20 mm | | Proximity sensor, inductive, SUS body, short body, M8, unshielded, 8 mm, DC, 3-wire, PNP NO, IO-Link COM3, M12 Smartclick Pig-tail 0.3 m |
| | M8 | Non-flush | 8 mm | IO-Link, PNP | NO | Connector M8 - 4 pin | Stainless steel | - | | COM3 (230.4 kbps) | 39 mm | 20 mm | | Proximity sensor, inductive, SUS short body, M8, unshielded, 8 mm, DC, 8-wire, PNP NO, IO-Link COM3, M8 connector 4 pins |
| | M8 | Non-flush | 8 mm | IO-Link, PNP | NO | Connector M8 - 3 pin | Stainless steel | - | | COM3 (230.4 kbps) | 39 mm | 20 mm | | Proximity sensor, inductive, SUS short body, M8, unshielded, 8 mm, DC, 3-wire, PNP NO, IO-Link COM3, M8 connector 3 pins |
| | M8 | Non-flush | 8 mm | IO-Link, PNP | NO | Cable | Stainless steel | PVC (oil-resistant) | 2 m | COM3 (230.4 kbps) | 38 mm | 20 mm | Flexible cable | Proximity sensor, inductive, SUS short body, M8, unshielded, 8 mm, DC, 3-wire, PNP NO, IO-Link COM3, 2 m prewired robotic cable |
| | M12 | Non-flush | 8 mm | IO-Link, PNP | NO | Cable | Brass, nickel plated | PVC (oil-resistant) | 2 m | COM3 (230.4 kbps) | 69 mm | 48 mm | | Proximity sensor, inductive, nickel-brass long body, M12, unshielded, 8 mm, DC, 3-wire, PNP NO, IO-Link COM3, 2 m prewired |
| | M12 | Non-flush | 8 mm | IO-Link, PNP | NO | Connector M12 | Brass, nickel plated | - | | COM3 (230.4 kbps) | 70 mm | 48 mm | | Proximity sensor, inductive, nickel-brass long body, M12, unshielded, 8 mm, DC, 3-wire, PNP NO, IO-Link COM3, M12 connector |
| | M12 | Non-flush | 8 mm | IO-Link, PNP | NO | M12 Pre-wired Smartclick connector | Brass, nickel plated | PVC (oil-resistant) | 0.3 m | COM3 (230.4 kbps) | 69 mm | 48 mm | | Proximity sensor, inductive, nickel-brass long body, M12, unshielded, 8 mm, DC, 3-wire, PNP NO, IO-Link COM3, M12 Smartclick Pig-tail 0.3 m |
| | M8 | Non-flush | 8 mm | IO-Link, PNP | NO | Cable | Stainless steel | PVC (oil-resistant) | 2 m | COM3 (230.4 kbps) | 48 mm | 20 mm | | Proximity sensor, inductive, SUS long body, M8, unshielded, 8 mm, DC, 3-wire, PNP NO, IO-Link COM3, 2 m prewired |
| | M8 | Non-flush | 8 mm | IO-Link, PNP | NO | Connector M12 | Stainless steel | - | | COM3 (230.4 kbps) | 53 mm | 30 mm | | Proximity sensor, inductive, SUS long body, M8, unshielded, 8 mm, DC, 3-wire, PNP NO, IO-Link COM3, M12 connector |
| | M8 | Non-flush | 8 mm | IO-Link, PNP | NO | M12 Pre-wired Smartclick connector | Stainless steel | PVC (oil-resistant) | 0.3 m | COM3 (230.4 kbps) | 48 mm | 20 mm | | Proximity sensor, inductive, SUS long body, M8, unshielded, 8 mm, DC, 3-wire, PNP NO, IO-Link COM3, M12 Smartclick Pig-tail 0.3 m |
| | M8 | Non-flush | 8 mm | IO-Link, PNP | NO | Connector M8 - 4 pin | Stainless steel | - | | COM3 (230.4 kbps) | 49 mm | 30 mm | | Proximity sensor, inductive, SUS long body, M8, unshielded, 8 mm, DC, 3-wire, PNP NO, IO-Link COM3, M8 connector 4 pins |
| | M8 | Non-flush | 8 mm | IO-Link, PNP | NO | Connector M8 - 3 pin | Stainless steel | - | | COM3 (230.4 kbps) | 49 mm | 30 mm | | Proximity sensor, inductive, SUS long body, M8, unshielded, 8 mm, DC, 3-wire, PNP NO, IO-Link COM3, M8 connector 3 pins |
| | M12 | Non-flush | 8 mm | PNP | NC | Cable | Brass, nickel plated | PVC (oil-resistant) | 2 m | | | | | Proximity sensor, inductive, nickel-brass, short body, M12, unshielded, 8 mm, DC, 3-wire, PNP NC, 2 m prewired |
| | M12 | Non-flush | 8 mm | PNP | NC | Connector M12 | Brass, nickel plated | - | | | 48 mm | 19 mm | | Proximity sensor, inductive, nickel-brass, short body, M12, unshielded, 8 mm, DC, 3-wire, PNP NC, M12 connector |
| | | Non-flush | 8 mm | PNP | NC | Cable | Brass, nickel plated | PVC (oil-resistant) | 2 m | | | | | Proximity sensor, inductive, nickel-brass, long body, M12, unshielded, 8 mm, DC, 3-wire, PNP NC, 2 m prewired |
| | | Non-flush | 8 mm | PNP | NC | Connector M12 | Brass, nickel plated | | | | | | | Proximity sensor, inductive, nickel-brass, long body, M12, unshielded, 8 mm, DC, 3-wire, PNP NC, M12 connector |
| | M12 | Non-flush | 8 mm | IO-Link, PNP | NO + NC | Cable | Brass, nickel plated | PVC (oil-resistant) | 2 m | COM2 (38.4 kbps) | | | | Proximity sensor, inductive, nickel-brass, short body, M12, unshielded, 8 mm, DC, 3-wire, PNP NONC, IO-Link COM2, 2 m prewired |
| | M12 | Non-flush | 8 mm | IO-Link, PNP | NO + NC | Connector M12 | Brass, nickel plated | - | | COM2 (38.4 kbps) | 48 mm | 19 mm | | Proximity sensor, inductive, nickel-brass, short body, M12, unshielded, 8 mm, DC, 3-wire, PNP NO+NC, IO-Link COM2, M12 connector |
| | M12 | Non-flush | 8 mm | IO-Link, PNP | NO + NC | Connector M12 | Brass, nickel plated | - | | COM2 (38.4 kbps) | 70 mm | 48 mm | | Proximity sensor, inductive, nickel-brass, long body, M12, unshielded, 8 mm, DC, 3-wire, PNP NO+NC, IO-Link COM2, M12 connector |
| | M12 | Non-flush | 8 mm | NPN | NO | Cable | Brass, nickel plated | PVC (oil-resistant) | 2 m | | | | | Proximity sensor, inductive, nickel-brass, short body, M12, unshielded, 8 mm, DC, 3-wire, NPN NO, 2 m prewired |
| | | Non-flush | 8 mm | NPN | NO | Connector M12 | Brass, nickel plated | | | | | | | Proximity sensor, inductive, nickel-brass, short body, M12, unshielded, 8 mm, DC, 3-wire, NPN NO, M12 connector |
| | M12 | Non-flush | 8 mm | NPN | NO | Cable | Brass, nickel plated | PVC (oil-resistant) | 2 m | | | | | Proximity sensor, inductive, nickel-brass, long body, M12, unshielded, 8 mm, DC, 3-wire, NPN NO, 2 m prewired |
| | M12 | Non-flush | 8 mm | NPN | NO | Connector M12 | Brass, nickel plated | - | | | 70 mm | 48 mm | | Proximity sensor, inductive, nickel-brass, long body, M12, unshielded, 8 mm, DC, 3-wire, NPN NO, M12 connector |
| | M8 | Non-flush | 8 mm | NPN | NO | Cable | Stainless steel | PVC (oil-resistant) | 2 m | | 48 mm | 36 mm | | Proximity sensor, inductive, SUS long body, M8, unshielded, 8 mm, DC, 3-wire, NPN NO, 2 m prewired |
| | M12 | Quasi-flush | 9 mm | IO-Link, PNP | NO | Cable | Brass, nickel plated | PVC (oil-resistant) | 2 m | COM3 (230.4 kbps) | 47 mm | 29 mm | | Proximity sensor, inductive, nickel-brass, short body, M12, shielded, 9 mm, DC, 3-wire, PNP NO, IO-Link COM3, 2 m prewired |
| | M12 | Quasi-flush | 9 mm | IO-Link, PNP | NO | Connector M12 | Brass, nickel plated | - | | COM3 (230.4 kbps) | 48 mm | 29 mm | | Proximity sensor, inductive, nickel-brass, short body, M12, shielded, 9 mm, DC, 3-wire, PNP NO, IO-Link COM3, M12 connector |
| | M12 | Quasi-flush | 9 mm | IO-Link, PNP | NO | M12 Pre-wired Smartclick connector | Brass, nickel plated | PVC (oil-resistant) | 0.3 m | COM3 (230.4 kbps) | 47 mm | 29 mm | | Proximity sensor, inductive, nickel-brass, short body, M12, shielded, 9 mm, DC, 3-wire, PNP NO, IO-Link COM3, M12 Smartclick Pig-tail 0.3 m |
| | M12 | Quasi-flush | 9 mm | IO-Link, PNP | NO | M12 Pre-wired Smartclick connector | Brass, nickel plated | PVC (oil-resistant) | 0.3 m | COM3 (230.4 kbps) | 47 mm | 29 mm | Flexible cable | Proximity sensor, inductive, nickel-brass, short body, M12, shielded, 9 mm, DC, 3-wire, PNP NO, IO-Link COM3, M12 Smartclick Pig-tail 0.3 m robotic cable |
| | M12 | Quasi-flush | 9 mm | IO-Link, PNP | NO | Cable | Brass, nickel plated | PVC (oil-resistant) | 2 m | COM3 (230.4 kbps) | 47 mm | 29 mm | Flexible cable | Proximity sensor, inductive, nickel-brass short body, M12, shielded, 9 mm, DC, 3-wire, PNP NO, IO-Link COM3, 2 m prewired robotic cable |
| | M12 | Quasi-flush | 9 mm | IO-Link, PNP | NO | Cable | Brass, nickel plated | PVC (oil-resistant) | 2 m | COM3 (230.4 kbps) | 69 mm | 55 mm | | Proximity sensor, inductive, nickel-brass, long body, M12, shielded, 9 mm, DC, 3-wire, PNP NO, IO-Link COM3, 2 m cable |
| | M12 | Quasi-flush | 9 mm | IO-Link, PNP | NO | Connector M12 | Brass, nickel plated | - | | COM3 (230.4 kbps) | 70 mm | 55 mm | | Proximity sensor, inductive, nickel-brass, long body, M12, shielded, 9 mm, DC, 3-wire, PNP NO, IO-Link COM3, M12 connector |
| | M12 | Quasi-flush | 9 mm | IO-Link, PNP | NO | M12 Pre-wired Smartclick connector | Brass, nickel plated | PVC (oil-resistant) | 0.3 m | COM3 (230.4 kbps) | 69 mm | 55 mm | | Proximity sensor, inductive, nickel-brass, long body, M12, shielded, 9 mm, DC, 3-wire, PNP NO, IO-Link COM3, M12 Smartclick Pig-tail 0.3 m |
| | M12 | Quasi-flush | 9 mm | PNP | NC | Connector M12 | Brass, nickel plated | | | | | | | Proximity sensor, inductive, nickel-brass, short body, M12, shielded, 9 mm, DC, 3-wire, PNP NC, M12 connector |
| | M12 | Non-flush | 9 mm | PNP | NC | M12 Pre-wired Smartclick connector | Brass, nickel plated | PVC (oil-resistant) | 0.3 m | | | | | Proximity sensor, inductive, nickel-brass, short body, M12, shielded, 9 mm, DC, 3-wire, PNP NC, M12 Smartclick Pig-tail 0.3 m |
| | M12 | Quasi-flush | 9 mm | NPN | NO | Cable | Brass, nickel plated | PVC (oil-resistant) | 2 m | | 47 mm | 29 mm | | Proximity sensor, inductive, nickel-brass, short body, M12, shielded, 9 mm, DC, 3-wire, NPN NO, 2 m prewired |
| | M12 | Quasi-flush | 9 mm | NPN | NO | Connector M12 | Brass, nickel plated | - | | | 48 mm | 29 mm | | Proximity sensor, inductive, nickel-brass, short body, M12, shielded, 9 mm, DC, 3-wire, NPN NO, M12 connector |
| | M12 | Quasi-flush | 9 mm | NPN | NO | M12 Pre-wired Smartclick connector | Brass, nickel plated | PVC (oil-resistant) | 0.3 m | | 47.1 mm | 29 mm | | Proximity sensor, inductive, nickel-brass, short body, M12, shielded, 9 mm, DC, 3-wire, NPN NO, M12 Smartclick Pig-tail 0.3 m |
| | M12 | Quasi-flush | 9 mm | NPN | NO | Cable | Brass, nickel plated | PVC (oil-resistant) | 2 m | | 69 mm | 55 mm | | Proximity sensor, inductive, nickel-brass, long body, M12, shielded, 9 mm, DC, 3-wire, NPN NO, 2 m prewired |
| | M12 | Quasi-flush | 9 mm | NPN | NO | Connector M12 | Brass, nickel plated | - | | | 70 mm | 55 mm | | Proximity sensor, inductive, nickel-brass, long body, M12, shielded, 9 mm, DC, 3-wire, NPN NO, M12 connector |
| | M12 | Quasi-flush | 9 mm | NPN | NC | Connector M12 | Brass, nickel plated | - | | | 48 mm | 29 mm | | Proximity sensor, inductive, nickel-brass, short body, M12, shielded, 9 mm, DC, 3-wire, NPN NC, M12 connector |
Réinitialiser tous les filtres
Comparer les produits
Afficher produits supplémentaires
En quoi pouvons-nous vous aider ?
Pour toute question ou demande de devis, veuillez nous contacter ou envoyer une demande.
Fonctions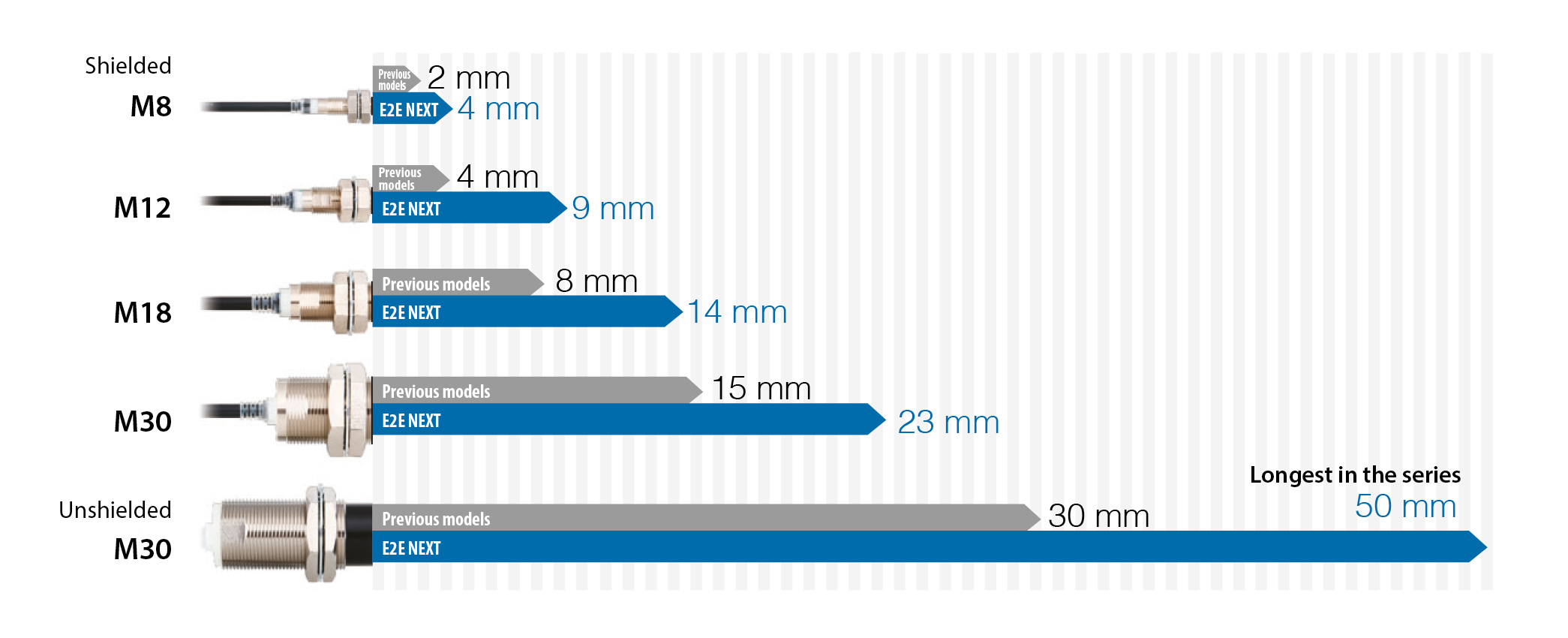 Permet une conception plus spacieuse avec moins de risque de contact
Avec les modèles précédents, pour éviter les fausses détections, vous étiez contraint d'adopter des conceptions d'installation de détecteurs qui risquaient d'entrer en contact. Le détecteur de proximité E2E NEXT PREMIUM permet de détecter avec précision à une plus grande distance, ce qui signifie que vous pouvez adopter des modèles avec plus d'espace et moins de risque de contact.

Taille unique plus petite que les modèles précédents
Comparaison des tailles entre les modèles avec une distance de détection équivalente (« E2E NEXT » fait référence aux modèles à quatre distances)

Mise à niveau facile des installations existantes permettant le remplacement des détecteurs de proximité en 10 secondes
La distance de détection du modèle HIGH SPEC est environ deux fois supérieure à celle des modèles précédents. Par exemple, la distance de détection du modèle à quatre distances de taille M12 est de 9 mm, ce qui est à peu près identique aux modèles M18 classiques. L'utilisation de ces détecteurs avec l'e-jig vous permet de mettre facilement à niveau vos installations existantes afin de pouvoir remplacer leurs détecteurs en seulement 10 secondes.*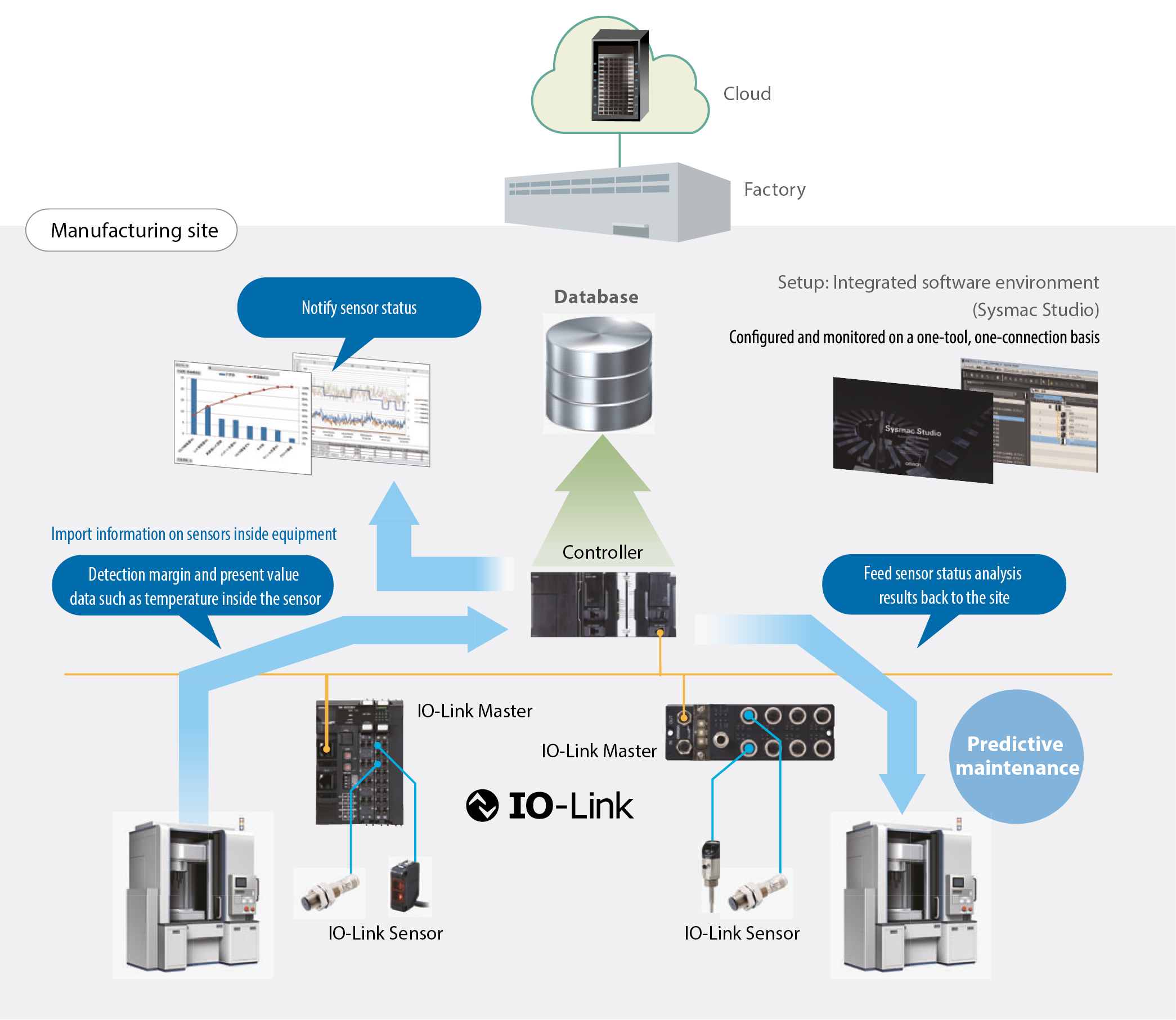 Permet une maintenance prédictive grâce à la surveillance de l'état
Le fait de connecter des détecteurs à des contrôleurs à l'aide d'une unité maître IO-Link permet d'envoyer les informations nécessaires à un fonctionnement stable aux périphériques hôtes. Cela permet la surveillance de l'état et la détection des défaillances des détecteurs, ce qui contribue à la maintenance prédictive de l'équipement et des installations. Vous pouvez également améliorer la productivité de votre installation en accumulant des informations dans des bases de données et en renvoyant les résultats d'analyse à l'équipement sur le site.
Vidéos
E2E NEXT Proximity Sensor: long distance detection
The E2E NEXT proximity sensor has a longer detection range compared to previous models, and allows for more spacious designs with less risk of contact. It also enables you to standardize your designs by letting you adopt a single one-size model instead of multiple models of different sizes.