NYP
Armoire PC industriel
Processeurs Intel® (depuis le Atom® jusqu'au processeur Intel® Xeon®) 
Windows 10 IoT Enterprise, Windows Embedded Standard 7 ou sans système d'exploitation
Système d'exploitation ouvert afin d'utiliser vos propres logiciels 
Port Ethernet pour accéder à vos systèmes informatiques
Facteur de forme optimisé : options à 1, 2 ou 3 couches
Processeurs Intel® (depuis le Atom® jusqu'au processeur Intel® Xeon®) 
Windows 10 IoT Enterprise, Windows Embedded Standard 7 ou sans système d'exploitation
Système d'exploitation ouvert permettant le fonctionnement de logiciels et de matériel personnalisés
Port Ethernet pour accéder à vos systèmes informatiques
Moniteur industriel 15,4 et 12,1 pouces
Boîtier PC industriel et armoire PC industrielle (boîtier PC industriel + moniteur intégré)
Modèles disponibles avec interface du câble pour moniteur NY, pour une liaison jusqu'à 100 m entre l'IPC et l'écran
Caractéristiques et références
| Produit | Screen diagonal | Processor family | Processor specification | Cooling method | Memory | Storage | Operating system | Expansion slot | Modular port | Video output | Display ratio | Number of pixels, horizontal | Number of pixels, vertical | Description |
| --- | --- | --- | --- | --- | --- | --- | --- | --- | --- | --- | --- | --- | --- | --- |
| | 12.1 in | Intel® Core™ i7 | 4700EQ (2.4 GHz) | Active cooling (fan) | 4 GB RAM (non ECC) | No Storage | No OS | 1 x PCIe slot (X4 lanes) | RS-232 | DVI-I | 16:10 | 1280 | 800 | Industrial Panel PC with Intel® Core™ i7-4700EQ, 4 GB DRAM (non-ECC), No storage, No OS, PCIe slot, RS-232, 12.1" display with capacitive touchscreen |
| | 15.4 in | Intel® Core™ i7 | 4700EQ (2.4 GHz) | Active cooling (fan) | 4 GB RAM (non ECC) | No Storage | No OS | 1 x PCIe slot (X4 lanes) | RS-232 | DVI-I | 16:10 | 1280 | 800 | Industrial Panel PC with Intel® Core™ i7-4700EQ, 4 GB DRAM (non-ECC), No storage, No OS, PCIe slot, RS-232, 15.4" display with capacitive touchscreen |
| | 12.1 in | Intel® Core™ i7 | 4700EQ (2.4 GHz) | Active cooling (fan) | 4 GB RAM (non ECC) | No Storage | No OS | 1 x PCIe slot (X4 lanes) | DVI-D | DVI-I | 16:10 | 1280 | 800 | Industrial Panel PC with Intel® Core™ i7-4700EQ, 4 GB DRAM (non-ECC), No storage, No OS, PCIe slot, extra DVI-D, 12.1" display with capacitive touchscreen |
| | 15.4 in | Intel® Core™ i7 | 4700EQ (2.4 GHz) | Active cooling (fan) | 4 GB RAM (non ECC) | No Storage | No OS | 1 x PCIe slot (X4 lanes) | DVI-D | DVI-I | 16:10 | 1280 | 800 | Industrial Panel PC with Intel® Core™ i7-4700EQ, 4 GB DRAM (non-ECC), No storage, No OS, PCIe slot, extra DVI-D, 15.4" display with capacitive touchscreen |
| | 12.1 in | Intel® Core™ i7 | 4700EQ (2.4 GHz) | Active cooling (fan) | 4 GB RAM (non ECC) | No Storage | No OS | 1 x PCIe slot (X4 lanes) | NYML | DVI-I | 16:10 | 1280 | 800 | Industrial Panel PC with Intel® Core™ i7-4700EQ, 4 GB DRAM (non-ECC), No storage, No OS, PCIe slot, NYML port, 12.1" display with capacitive touchscreen |
| | 15.4 in | Intel® Core™ i7 | 4700EQ (2.4 GHz) | Active cooling (fan) | 4 GB RAM (non ECC) | No Storage | No OS | 1 x PCIe slot (X4 lanes) | NYML | DVI-I | 16:10 | 1280 | 800 | Industrial Panel PC with Intel® Core™ i7-4700EQ, 4 GB DRAM (non-ECC), No storage, No OS, PCIe slot, NYML port, 15.4" display with capacitive touchscreen |
| | 12.1 in | Intel® Core™ i7 | 4700EQ (2.4 GHz) | Active cooling (fan) | 4 GB RAM (non ECC) | 32 GB SSD | WES 7 (32 bits) | 1 x PCIe slot (X4 lanes) | RS-232 | DVI-I | 16:10 | 1280 | 800 | Industrial Panel PC with Intel® Core™ i7-4700EQ, 4 GB DRAM (non-ECC), 32 GB SSD-SLC, WES 7 (32-bit), PCIe slot, RS-232, 12.1" display with capacitive touchscreen |
| | 15.4 in | Intel® Core™ i7 | 4700EQ (2.4 GHz) | Active cooling (fan) | 4 GB RAM (non ECC) | 32 GB SSD | WES 7 (32 bits) | 1 x PCIe slot (X4 lanes) | RS-232 | DVI-I | 16:10 | 1280 | 800 | Industrial Panel PC with Intel® Core™ i7-4700EQ, 4 GB DRAM (non-ECC), 32 GB SSD-SLC, WES 7 (32-bit), PCIe slot, RS-232, 15.4" display with capacitive touchscreen |
| | 12.1 in | Intel® Core™ i7 | 4700EQ (2.4 GHz) | Active cooling (fan) | 4 GB RAM (non ECC) | 32 GB SSD | WES 7 (32 bits) | 1 x PCIe slot (X4 lanes) | DVI-D | DVI-I | 16:10 | 1280 | 800 | Industrial Panel PC with Intel® Core™ i7-4700EQ, 4 GB DRAM (non-ECC), 32 GB SSD-SLC, WES 7 (32-bit), PCIe slot, extra DVI-D, 12.1" display with capacitive touchscreen |
| | 15.4 in | Intel® Core™ i7 | 4700EQ (2.4 GHz) | Active cooling (fan) | 4 GB RAM (non ECC) | 32 GB SSD | WES 7 (32 bits) | 1 x PCIe slot (X4 lanes) | DVI-D | DVI-I | 16:10 | 1280 | 800 | Industrial Panel PC with Intel® Core™ i7-4700EQ, 4 GB DRAM (non-ECC), 32 GB SSD-SLC, WES 7 (32-bit), PCIe slot, extra DVI-D, 15.4" display with capacitive touchscreen |
| | 12.1 in | Intel® Core™ i7 | 4700EQ (2.4 GHz) | Active cooling (fan) | 4 GB RAM (non ECC) | 64 GB SSD | WES 7 (32 bits) | 1 x PCIe slot (X4 lanes) | RS-232 | DVI-I | 16:10 | 1280 | 800 | Industrial Panel PC with Intel® Core™ i7-4700EQ, 4 GB DRAM (non-ECC), 64 GB SSD-SLC, WES 7 (32-bit), PCIe slot, RS-232, 12.1" display with capacitive touchscreen |
| | 15.4 in | Intel® Core™ i7 | 4700EQ (2.4 GHz) | Active cooling (fan) | 4 GB RAM (non ECC) | 64 GB SSD | WES 7 (32 bits) | 1 x PCIe slot (X4 lanes) | RS-232 | DVI-I | 16:10 | 1280 | 800 | Industrial Panel PC with Intel® Core™ i7-4700EQ, 4 GB DRAM (non-ECC), 64 GB SSD-SLC, WES 7 (32-bit), PCIe slot, RS-232, 15.4" display with capacitive touchscreen |
| | 12.1 in | Intel® Core™ i7 | 4700EQ (2.4 GHz) | Active cooling (fan) | 4 GB RAM (non ECC) | 64 GB SSD | WES 7 (32 bits) | 1 x PCIe slot (X4 lanes) | DVI-D | DVI-I | 16:10 | 1280 | 800 | Industrial Panel PC with Intel® Core™ i7-4700EQ, 4 GB DRAM (non-ECC), 64 GB SSD-SLC, WES 7 (32-bit), PCIe slot, extra DVI-D, 12.1" display with capacitive touchscreen |
| | 15.4 in | Intel® Core™ i7 | 4700EQ (2.4 GHz) | Active cooling (fan) | 4 GB RAM (non ECC) | 64 GB SSD | WES 7 (32 bits) | 1 x PCIe slot (X4 lanes) | DVI-D | DVI-I | 16:10 | 1280 | 800 | Industrial Panel PC with Intel® Core™ i7-4700EQ, 4 GB DRAM (non-ECC), 64 GB SSD-SLC, WES 7 (32-bit), PCIe slot, extra DVI-D, 15.4" display with capacitive touchscreen |
| | 12.1 in | Intel® Core™ i7 | 4700EQ (2.4 GHz) | Active cooling (fan) | 4 GB RAM (non ECC) | 320 GB HDD | WES 7 (32 bits) | 1 x PCIe slot (X4 lanes) | RS-232 | DVI-I | 16:10 | 1280 | 800 | Industrial Panel PC with Intel® Core™ i7-4700EQ, 4 GB DRAM (non-ECC), 320 GB HDD, WES 7 (32-bit), PCIe slot, RS-232, 12.1" display with capacitive touchscreen |
| | 15.4 in | Intel® Core™ i7 | 4700EQ (2.4 GHz) | Active cooling (fan) | 4 GB RAM (non ECC) | 320 GB HDD | WES 7 (32 bits) | 1 x PCIe slot (X4 lanes) | RS-232 | DVI-I | 16:10 | 1280 | 800 | Industrial Panel PC with Intel® Core™ i7-4700EQ, 4 GB DRAM (non-ECC), 320 GB HDD, WES 7 (32-bit), PCIe slot, RS-232, 15.4" display with capacitive touchscreen |
| | 12.1 in | Intel® Core™ i7 | 4700EQ (2.4 GHz) | Active cooling (fan) | 4 GB RAM (non ECC) | 320 GB HDD | WES 7 (32 bits) | 1 x PCIe slot (X4 lanes) | DVI-D | DVI-I | 16:10 | 1280 | 800 | Industrial Panel PC with Intel® Core™ i7-4700EQ, 4 GB DRAM (non-ECC), 320 GB HDD, WES 7 (32-bit), PCIe slot, extra DVI-D, 12.1" display with capacitive touchscreen |
| | 15.4 in | Intel® Core™ i7 | 4700EQ (2.4 GHz) | Active cooling (fan) | 4 GB RAM (non ECC) | 320 GB HDD | WES 7 (32 bits) | 1 x PCIe slot (X4 lanes) | DVI-D | DVI-I | 16:10 | 1280 | 800 | Industrial Panel PC with Intel® Core™ i7-4700EQ, 4 GB DRAM (non-ECC), 320 GB HDD, WES 7 (32-bit), PCIe slot, extra DVI-D, 15.4" display with capacitive touchscreen |
| | 12.1 in | Intel® Core™ i7 | 4700EQ (2.4 GHz) | Active cooling (fan) | 4 GB RAM (non ECC) | 128 GB SSD | WES 7 (32 bits) | 1 x PCIe slot (X4 lanes) | RS-232 | DVI-I | 16:10 | 1280 | 800 | Industrial Panel PC with Intel® Core™ i7-4700EQ, 4 GB DRAM (non-ECC), 128 GB SSD-iMLC, WES 7 (32-bit), PCIe slot, RS-232, 12.1" display with capacitive touchscreen |
| | 15.4 in | Intel® Core™ i7 | 4700EQ (2.4 GHz) | Active cooling (fan) | 4 GB RAM (non ECC) | 128 GB SSD | WES 7 (32 bits) | 1 x PCIe slot (X4 lanes) | RS-232 | DVI-I | 16:10 | 1280 | 800 | Industrial Panel PC with Intel® Core™ i7-4700EQ, 4 GB DRAM (non-ECC), 128 GB SSD-iMLC, WES 7 (32-bit), PCIe slot, RS-232, 15.4" display with capacitive touchscreen |
| | 12.1 in | Intel® Core™ i7 | 4700EQ (2.4 GHz) | Active cooling (fan) | 4 GB RAM (non ECC) | 128 GB SSD | WES 7 (32 bits) | 1 x PCIe slot (X4 lanes) | DVI-D | DVI-I | 16:10 | 1280 | 800 | Industrial Panel PC with Intel® Core™ i7-4700EQ, 4 GB DRAM (non-ECC), 128 GB SSD-iMLC, WES 7 (32-bit), PCIe slot, extra DVI-D, 12.1" display with capacitive touchscreen |
| | 15.4 in | Intel® Core™ i7 | 4700EQ (2.4 GHz) | Active cooling (fan) | 4 GB RAM (non ECC) | 128 GB SSD | WES 7 (32 bits) | 1 x PCIe slot (X4 lanes) | DVI-D | DVI-I | 16:10 | 1280 | 800 | Industrial Panel PC with Intel® Core™ i7-4700EQ, 4 GB DRAM (non-ECC), 128 GB SSD-iMLC, WES 7 (32-bit), PCIe slot, extra DVI-D, 15.4" display with capacitive touchscreen |
| | 12.1 in | Intel® Core™ i7 | 4700EQ (2.4 GHz) | Active cooling (fan) | 4 GB RAM (non ECC) | 32 GB SSD | WES 7 (64 bits) | 1 x PCIe slot (X4 lanes) | RS-232 | DVI-I | 16:10 | 1280 | 800 | Industrial Panel PC with Intel® Core™ i7-4700EQ, 4 GB DRAM (non-ECC), 32 GB SSD-SLC, WES 7 (64-bit), PCIe slot, RS-232, 12.1" display with capacitive touchscreen |
| | 15.4 in | Intel® Core™ i7 | 4700EQ (2.4 GHz) | Active cooling (fan) | 4 GB RAM (non ECC) | 32 GB SSD | WES 7 (64 bits) | 1 x PCIe slot (X4 lanes) | RS-232 | DVI-I | 16:10 | 1280 | 800 | Industrial Panel PC with Intel® Core™ i7-4700EQ, 4 GB DRAM (non-ECC), 32 GB SSD-SLC, WES 7 (64-bit), PCIe slot, RS-232, 15.4" display with capacitive touchscreen |
| | 12.1 in | Intel® Core™ i7 | 4700EQ (2.4 GHz) | Active cooling (fan) | 4 GB RAM (non ECC) | 32 GB SSD | WES 7 (64 bits) | 1 x PCIe slot (X4 lanes) | DVI-D | DVI-I | 16:10 | 1280 | 800 | Industrial Panel PC with Intel® Core™ i7-4700EQ, 4 GB DRAM (non-ECC), 32 GB SSD-SLC, WES 7 (64-bit), PCIe slot, extra DVI-D, 12.1" display with capacitive touchscreen |
| | 15.4 in | Intel® Core™ i7 | 4700EQ (2.4 GHz) | Active cooling (fan) | 4 GB RAM (non ECC) | 32 GB SSD | WES 7 (64 bits) | 1 x PCIe slot (X4 lanes) | DVI-D | DVI-I | 16:10 | 1280 | 800 | Industrial Panel PC with Intel® Core™ i7-4700EQ, 4 GB DRAM (non-ECC), 32 GB SSD-SLC, WES 7 (64-bit), PCIe slot, extra DVI-D, 15.4" display with capacitive touchscreen |
| | 12.1 in | Intel® Core™ i7 | 4700EQ (2.4 GHz) | Active cooling (fan) | 4 GB RAM (non ECC) | 64 GB SSD | WES 7 (64 bits) | 1 x PCIe slot (X4 lanes) | RS-232 | DVI-I | 16:10 | 1280 | 800 | Industrial Panel PC with Intel® Core™ i7-4700EQ, 4 GB DRAM (non-ECC), 64 GB SSD-SLC, WES 7 (64-bit), PCIe slot, RS-232, 12.1" display with capacitive touchscreen |
| | 15.4 in | Intel® Core™ i7 | 4700EQ (2.4 GHz) | Active cooling (fan) | 4 GB RAM (non ECC) | 64 GB SSD | WES 7 (64 bits) | 1 x PCIe slot (X4 lanes) | RS-232 | DVI-I | 16:10 | 1280 | 800 | Industrial Panel PC with Intel® Core™ i7-4700EQ, 4 GB DRAM (non-ECC), 64 GB SSD-SLC, WES 7 (64-bit), PCIe slot, RS-232, 15.4" display with capacitive touchscreen |
| | 12.1 in | Intel® Core™ i7 | 4700EQ (2.4 GHz) | Active cooling (fan) | 4 GB RAM (non ECC) | 64 GB SSD | WES 7 (64 bits) | 1 x PCIe slot (X4 lanes) | DVI-D | DVI-I | 16:10 | 1280 | 800 | Industrial Panel PC with Intel® Core™ i7-4700EQ, 4 GB DRAM (non-ECC), 64 GB SSD-SLC, WES 7 (64-bit), PCIe slot, extra DVI-D, 12.1" display with capacitive touchscreen |
| | 15.4 in | Intel® Core™ i7 | 4700EQ (2.4 GHz) | Active cooling (fan) | 4 GB RAM (non ECC) | 64 GB SSD | WES 7 (64 bits) | 1 x PCIe slot (X4 lanes) | DVI-D | DVI-I | 16:10 | 1280 | 800 | Industrial Panel PC with Intel® Core™ i7-4700EQ, 4 GB DRAM (non-ECC), 64 GB SSD-SLC, WES 7 (64-bit), PCIe slot, extra DVI-D, 15.4" display with capacitive touchscreen |
| | 12.1 in | Intel® Core™ i7 | 4700EQ (2.4 GHz) | Active cooling (fan) | 4 GB RAM (non ECC) | 320 GB HDD | WES 7 (64 bits) | 1 x PCIe slot (X4 lanes) | RS-232 | DVI-I | 16:10 | 1280 | 800 | Industrial Panel PC with Intel® Core™ i7-4700EQ, 4 GB DRAM (non-ECC), 320 GB HDD, WES 7 (64-bit), PCIe slot, RS-232, 12.1" display with capacitive touchscreen |
| | 15.4 in | Intel® Core™ i7 | 4700EQ (2.4 GHz) | Active cooling (fan) | 4 GB RAM (non ECC) | 320 GB HDD | WES 7 (64 bits) | 1 x PCIe slot (X4 lanes) | RS-232 | DVI-I | 16:10 | 1280 | 800 | Industrial Panel PC with Intel® Core™ i7-4700EQ, 4 GB DRAM (non-ECC), 320 GB HDD, WES 7 (64-bit), PCIe slot, RS-232, 15.4" display with capacitive touchscreen |
| | 12.1 in | Intel® Core™ i7 | 4700EQ (2.4 GHz) | Active cooling (fan) | 4 GB RAM (non ECC) | 320 GB HDD | WES 7 (64 bits) | 1 x PCIe slot (X4 lanes) | DVI-D | DVI-I | 16:10 | 1280 | 800 | Industrial Panel PC with Intel® Core™ i7-4700EQ, 4 GB DRAM (non-ECC), 320 GB HDD, WES 7 (64-bit), PCIe slot, extra DVI-D, 12.1" display with capacitive touchscreen |
| | 15.4 in | Intel® Core™ i7 | 4700EQ (2.4 GHz) | Active cooling (fan) | 4 GB RAM (non ECC) | 320 GB HDD | WES 7 (64 bits) | 1 x PCIe slot (X4 lanes) | DVI-D | DVI-I | 16:10 | 1280 | 800 | Industrial Panel PC with Intel® Core™ i7-4700EQ, 4 GB DRAM (non-ECC), 320 GB HDD, WES 7 (64-bit), PCIe slot, extra DVI-D, 15.4" display with capacitive touchscreen |
| | 12.1 in | Intel® Core™ i7 | 4700EQ (2.4 GHz) | Active cooling (fan) | 4 GB RAM (non ECC) | 128 GB SSD | WES 7 (64 bits) | 1 x PCIe slot (X4 lanes) | RS-232 | DVI-I | 16:10 | 1280 | 800 | Industrial Panel PC with Intel® Core™ i7-4700EQ, 4 GB DRAM (non-ECC), 128 GB SSD-iMLC, WES 7 (64-bit), PCIe slot, RS-232, 12.1" display with capacitive touchscreen |
| | 15.4 in | Intel® Core™ i7 | 4700EQ (2.4 GHz) | Active cooling (fan) | 4 GB RAM (non ECC) | 128 GB SSD | WES 7 (64 bits) | 1 x PCIe slot (X4 lanes) | RS-232 | DVI-I | 16:10 | 1280 | 800 | Industrial Panel PC with Intel® Core™ i7-4700EQ, 4 GB DRAM (non-ECC), 128 GB SSD-iMLC, WES 7 (64-bit), PCIe slot, RS-232, 15.4" display with capacitive touchscreen |
| | 12.1 in | Intel® Core™ i7 | 4700EQ (2.4 GHz) | Active cooling (fan) | 4 GB RAM (non ECC) | 128 GB SSD | WES 7 (64 bits) | 1 x PCIe slot (X4 lanes) | DVI-D | DVI-I | 16:10 | 1280 | 800 | Industrial Panel PC with Intel® Core™ i7-4700EQ, 4 GB DRAM (non-ECC), 128 GB SSD-iMLC, WES 7 (64-bit), PCIe slot, extra DVI-D, 12.1" display with capacitive touchscreen |
| | 15.4 in | Intel® Core™ i7 | 4700EQ (2.4 GHz) | Active cooling (fan) | 4 GB RAM (non ECC) | 128 GB SSD | WES 7 (64 bits) | 1 x PCIe slot (X4 lanes) | DVI-D | DVI-I | 16:10 | 1280 | 800 | Industrial Panel PC with Intel® Core™ i7-4700EQ, 4 GB DRAM (non-ECC), 128 GB SSD-iMLC, WES 7 (64-bit), PCIe slot, extra DVI-D, 15.4" display with capacitive touchscreen |
| | 12.1 in | Intel® Core™ i7 | 4700EQ (2.4 GHz) | Active cooling (fan) | 4 GB RAM (non ECC) | 64 GB SSD | Windows 10 (64 bits) | 1 x PCIe slot (X4 lanes) | RS-232 | DVI-I | 16:10 | 1280 | 800 | Industrial Panel PC with Intel® Core™ i7-4700EQ, 4 GB DRAM (non-ECC), 64 GB SSD-SLC, WIN 10 IoT Ent. (64-bit), PCIe slot, RS-232, 12.1" display with capacitive touchscreen |
| | 15.4 in | Intel® Core™ i7 | 4700EQ (2.4 GHz) | Active cooling (fan) | 4 GB RAM (non ECC) | 64 GB SSD | Windows 10 (64 bits) | 1 x PCIe slot (X4 lanes) | RS-232 | DVI-I | 16:10 | 1280 | 800 | Industrial Panel PC with Intel® Core™ i7-4700EQ, 4 GB DRAM (non-ECC), 64 GB SSD-SLC, WIN 10 IoT Ent. (64-bit), PCIe slot, RS-232, 15.4" display with capacitive touchscreen |
| | 12.1 in | Intel® Core™ i7 | 4700EQ (2.4 GHz) | Active cooling (fan) | 4 GB RAM (non ECC) | 64 GB SSD | Windows 10 (64 bits) | 1 x PCIe slot (X4 lanes) | DVI-D | DVI-I | 16:10 | 1280 | 800 | Industrial Panel PC with Intel® Core™ i7-4700EQ, 4 GB DRAM (non-ECC), 64 GB SSD-SLC, WIN 10 IoT Ent. (64-bit), PCIe slot, extra DVI-D, 12.1" display with capacitive touchscreen |
| | 15.4 in | Intel® Core™ i7 | 4700EQ (2.4 GHz) | Active cooling (fan) | 4 GB RAM (non ECC) | 64 GB SSD | Windows 10 (64 bits) | 1 x PCIe slot (X4 lanes) | DVI-D | DVI-I | 16:10 | 1280 | 800 | Industrial Panel PC with Intel® Core™ i7-4700EQ, 4 GB DRAM (non-ECC), 64 GB SSD-SLC, WIN 10 IoT Ent. (64-bit), PCIe slot, extra DVI-D, 15.4" display with capacitive touchscreen |
| | 12.1 in | Intel® Core™ i7 | 4700EQ (2.4 GHz) | Active cooling (fan) | 4 GB RAM (non ECC) | 64 GB SSD | Windows 10 (64 bits) | 1 x PCIe slot (X4 lanes) | NYML | DVI-I | 16:10 | 1280 | 800 | Industrial Panel PC with Intel® Core™ i7-4700EQ, 4 GB DRAM (non-ECC), 64 GB SSD-SLC, WIN 10 IoT Ent. (64-bit), PCIe slot, NYML port, 12.1" display with capacitive touchscreen |
| | 15.4 in | Intel® Core™ i7 | 4700EQ (2.4 GHz) | Active cooling (fan) | 4 GB RAM (non ECC) | 64 GB SSD | Windows 10 (64 bits) | 1 x PCIe slot (X4 lanes) | NYML | DVI-I | 16:10 | 1280 | 800 | Industrial Panel PC with Intel® Core™ i7-4700EQ, 4 GB DRAM (non-ECC), 64 GB SSD-SLC, WIN 10 IoT Ent. (64-bit), PCIe slot, NYML port, 15.4" display with capacitive touchscreen |
| | 12.1 in | Intel® Core™ i7 | 4700EQ (2.4 GHz) | Active cooling (fan) | 4 GB RAM (non ECC) | 320 GB HDD | Windows 10 (64 bits) | 1 x PCIe slot (X4 lanes) | RS-232 | DVI-I | 16:10 | 1280 | 800 | Industrial Panel PC with Intel® Core™ i7-4700EQ, 4 GB DRAM (non-ECC), 320 GB HDD, WIN 10 IoT Ent. (64-bit), PCIe slot, RS-232, 12.1" display with capacitive touchscreen |
| | 15.4 in | Intel® Core™ i7 | 4700EQ (2.4 GHz) | Active cooling (fan) | 4 GB RAM (non ECC) | 320 GB HDD | Windows 10 (64 bits) | 1 x PCIe slot (X4 lanes) | RS-232 | DVI-I | 16:10 | 1280 | 800 | Industrial Panel PC with Intel® Core™ i7-4700EQ, 4 GB DRAM (non-ECC), 320 GB HDD, WIN 10 IoT Ent. (64-bit), PCIe slot, RS-232, 15.4" display with capacitive touchscreen |
| | 12.1 in | Intel® Core™ i7 | 4700EQ (2.4 GHz) | Active cooling (fan) | 4 GB RAM (non ECC) | 320 GB HDD | Windows 10 (64 bits) | 1 x PCIe slot (X4 lanes) | DVI-D | DVI-I | 16:10 | 1280 | 800 | Industrial Panel PC with Intel® Core™ i7-4700EQ, 4 GB DRAM (non-ECC), 320 GB HDD, WIN 10 IoT Ent. (64-bit), PCIe slot, extra DVI-D, 12.1" display with capacitive touchscreen |
| | 15.4 in | Intel® Core™ i7 | 4700EQ (2.4 GHz) | Active cooling (fan) | 4 GB RAM (non ECC) | 320 GB HDD | Windows 10 (64 bits) | 1 x PCIe slot (X4 lanes) | DVI-D | DVI-I | 16:10 | 1280 | 800 | Industrial Panel PC with Intel® Core™ i7-4700EQ, 4 GB DRAM (non-ECC), 320 GB HDD, WIN 10 IoT Ent. (64-bit), PCIe slot, extra DVI-D, 15.4" display with capacitive touchscreen |
| | 12.1 in | Intel® Core™ i7 | 4700EQ (2.4 GHz) | Active cooling (fan) | 4 GB RAM (non ECC) | 320 GB HDD | Windows 10 (64 bits) | 1 x PCIe slot (X4 lanes) | NYML | DVI-I | 16:10 | 1280 | 800 | Industrial Panel PC with Intel® Core™ i7-4700EQ, 4 GB DRAM (non-ECC), 320 GB HDD, WIN 10 IoT Ent. (64-bit), PCIe slot, NYML port, 12.1" display with capacitive touchscreen |
| | 15.4 in | Intel® Core™ i7 | 4700EQ (2.4 GHz) | Active cooling (fan) | 4 GB RAM (non ECC) | 320 GB HDD | Windows 10 (64 bits) | 1 x PCIe slot (X4 lanes) | NYML | DVI-I | 16:10 | 1280 | 800 | Industrial Panel PC with Intel® Core™ i7-4700EQ, 4 GB DRAM (non-ECC), 320 GB HDD, WIN 10 IoT Ent. (64-bit), PCIe slot, NYML port, 15.4" display with capacitive touchscreen |
| | 12.1 in | Intel® Core™ i7 | 4700EQ (2.4 GHz) | Active cooling (fan) | 4 GB RAM (non ECC) | 128 GB SSD | Windows 10 (64 bits) | 1 x PCIe slot (X4 lanes) | RS-232 | DVI-I | 16:10 | 1280 | 800 | Industrial Panel PC with Intel® Core™ i7-4700EQ, 4 GB DRAM (non-ECC), 128 GB SSD-iMLC, WIN 10 IoT Ent. (64-bit), PCIe slot, RS-232, 12.1" display with capacitive touchscreen |
| | 15.4 in | Intel® Core™ i7 | 4700EQ (2.4 GHz) | Active cooling (fan) | 4 GB RAM (non ECC) | 128 GB SSD | Windows 10 (64 bits) | 1 x PCIe slot (X4 lanes) | RS-232 | DVI-I | 16:10 | 1280 | 800 | Industrial Panel PC with Intel® Core™ i7-4700EQ, 4 GB DRAM (non-ECC), 128 GB SSD-iMLC, WIN 10 IoT Ent. (64-bit), PCIe slot, RS-232, 15.4" display with capacitive touchscreen |
| | 12.1 in | Intel® Core™ i7 | 4700EQ (2.4 GHz) | Active cooling (fan) | 4 GB RAM (non ECC) | 128 GB SSD | Windows 10 (64 bits) | 1 x PCIe slot (X4 lanes) | DVI-D | DVI-I | 16:10 | 1280 | 800 | Industrial Panel PC with Intel® Core™ i7-4700EQ, 4 GB DRAM (non-ECC), 128 GB SSD-iMLC, WIN 10 IoT Ent. (64-bit), PCIe slot, extra DVI-D, 12.1" display with capacitive touchscreen |
| | 15.4 in | Intel® Core™ i7 | 4700EQ (2.4 GHz) | Active cooling (fan) | 4 GB RAM (non ECC) | 128 GB SSD | Windows 10 (64 bits) | 1 x PCIe slot (X4 lanes) | DVI-D | DVI-I | 16:10 | 1280 | 800 | Industrial Panel PC with Intel® Core™ i7-4700EQ, 4 GB DRAM (non-ECC), 128 GB SSD-iMLC, WIN 10 IoT Ent. (64-bit), PCIe slot, extra DVI-D, 15.4" display with capacitive touchscreen |
| | 12.1 in | Intel® Core™ i7 | 4700EQ (2.4 GHz) | Active cooling (fan) | 4 GB RAM (non ECC) | 128 GB SSD | Windows 10 (64 bits) | 1 x PCIe slot (X4 lanes) | NYML | DVI-I | 16:10 | 1280 | 800 | Industrial Panel PC with Intel® Core™ i7-4700EQ, 4 GB DRAM (non-ECC), 128 GB SSD-iMLC, WIN 10 IoT Ent. (64-bit), PCIe slot, NYML port, 12.1" display with capacitive touchscreen |
| | 15.4 in | Intel® Core™ i7 | 4700EQ (2.4 GHz) | Active cooling (fan) | 4 GB RAM (non ECC) | 128 GB SSD | Windows 10 (64 bits) | 1 x PCIe slot (X4 lanes) | NYML | DVI-I | 16:10 | 1280 | 800 | Industrial Panel PC with Intel® Core™ i7-4700EQ, 4 GB DRAM (non-ECC), 128 GB SSD-iMLC, WIN 10 IoT Ent. (64-bit), PCIe slot, NYML port, 15.4" display with capacitive touchscreen |
| | 12.1 in | Intel® Core™ i7 | 4700EQ (2.4 GHz) | Active cooling (fan) | 8 GB RAM (non ECC) | No Storage | No OS | 1 x PCIe slot (X4 lanes) | RS-232 | DVI-I | 16:10 | 1280 | 800 | Industrial Panel PC with Intel® Core™ i7-4700EQ, 8 GB DRAM (non-ECC), No storage, No OS, PCIe slot, RS-232, 12.1" display with capacitive touchscreen |
| | 15.4 in | Intel® Core™ i7 | 4700EQ (2.4 GHz) | Active cooling (fan) | 8 GB RAM (non ECC) | No Storage | No OS | 1 x PCIe slot (X4 lanes) | RS-232 | DVI-I | 16:10 | 1280 | 800 | Industrial Panel PC with Intel® Core™ i7-4700EQ, 8 GB DRAM (non-ECC), No storage, No OS, PCIe slot, RS-232, 15.4" display with capacitive touchscreen |
| | 12.1 in | Intel® Core™ i7 | 4700EQ (2.4 GHz) | Active cooling (fan) | 8 GB RAM (non ECC) | No Storage | No OS | 1 x PCIe slot (X4 lanes) | DVI-D | DVI-I | 16:10 | 1280 | 800 | Industrial Panel PC with Intel® Core™ i7-4700EQ, 8 GB DRAM (non-ECC), No storage, No OS, PCIe slot, extra DVI-D, 12.1" display with capacitive touchscreen |
| | 15.4 in | Intel® Core™ i7 | 4700EQ (2.4 GHz) | Active cooling (fan) | 8 GB RAM (non ECC) | No Storage | No OS | 1 x PCIe slot (X4 lanes) | DVI-D | DVI-I | 16:10 | 1280 | 800 | Industrial Panel PC with Intel® Core™ i7-4700EQ, 8 GB DRAM (non-ECC), No storage, No OS, PCIe slot, extra DVI-D, 15.4" display with capacitive touchscreen |
| | 12.1 in | Intel® Core™ i7 | 4700EQ (2.4 GHz) | Active cooling (fan) | 8 GB RAM (non ECC) | No Storage | No OS | 1 x PCIe slot (X4 lanes) | NYML | DVI-I | 16:10 | 1280 | 800 | Industrial Panel PC with Intel® Core™ i7-4700EQ, 8 GB DRAM (non-ECC), No storage, No OS, PCIe slot, NYML port, 12.1" display with capacitive touchscreen |
| | 15.4 in | Intel® Core™ i7 | 4700EQ (2.4 GHz) | Active cooling (fan) | 8 GB RAM (non ECC) | No Storage | No OS | 1 x PCIe slot (X4 lanes) | NYML | DVI-I | 16:10 | 1280 | 800 | Industrial Panel PC with Intel® Core™ i7-4700EQ, 8 GB DRAM (non-ECC), No storage, No OS, PCIe slot, NYML port, 15.4" display with capacitive touchscreen |
| | 12.1 in | Intel® Core™ i7 | 4700EQ (2.4 GHz) | Active cooling (fan) | 8 GB RAM (non ECC) | 32 GB SSD | WES 7 (64 bits) | 1 x PCIe slot (X4 lanes) | RS-232 | DVI-I | 16:10 | 1280 | 800 | Industrial Panel PC with Intel® Core™ i7-4700EQ, 8 GB DRAM (non-ECC), 32 GB SSD-SLC, WES 7 (64-bit), PCIe slot, RS-232, 12.1" display with capacitive touchscreen |
| | 15.4 in | Intel® Core™ i7 | 4700EQ (2.4 GHz) | Active cooling (fan) | 8 GB RAM (non ECC) | 32 GB SSD | WES 7 (64 bits) | 1 x PCIe slot (X4 lanes) | RS-232 | DVI-I | 16:10 | 1280 | 800 | Industrial Panel PC with Intel® Core™ i7-4700EQ, 8 GB DRAM (non-ECC), 32 GB SSD-SLC, WES 7 (64-bit), PCIe slot, RS-232, 15.4" display with capacitive touchscreen |
| | 12.1 in | Intel® Core™ i7 | 4700EQ (2.4 GHz) | Active cooling (fan) | 8 GB RAM (non ECC) | 32 GB SSD | WES 7 (64 bits) | 1 x PCIe slot (X4 lanes) | DVI-D | DVI-I | 16:10 | 1280 | 800 | Industrial Panel PC with Intel® Core™ i7-4700EQ, 8 GB DRAM (non-ECC), 32 GB SSD-SLC, WES 7 (64-bit), PCIe slot, extra DVI-D, 12.1" display with capacitive touchscreen |
| | 15.4 in | Intel® Core™ i7 | 4700EQ (2.4 GHz) | Active cooling (fan) | 8 GB RAM (non ECC) | 32 GB SSD | WES 7 (64 bits) | 1 x PCIe slot (X4 lanes) | DVI-D | DVI-I | 16:10 | 1280 | 800 | Industrial Panel PC with Intel® Core™ i7-4700EQ, 8 GB DRAM (non-ECC), 32 GB SSD-SLC, WES 7 (64-bit), PCIe slot, extra DVI-D, 15.4" display with capacitive touchscreen |
| | 12.1 in | Intel® Core™ i7 | 4700EQ (2.4 GHz) | Active cooling (fan) | 8 GB RAM (non ECC) | 64 GB SSD | WES 7 (64 bits) | 1 x PCIe slot (X4 lanes) | RS-232 | DVI-I | 16:10 | 1280 | 800 | Industrial Panel PC with Intel® Core™ i7-4700EQ, 8 GB DRAM (non-ECC), 64 GB SSD-SLC, WES 7 (64-bit), PCIe slot, RS-232, 12.1" display with capacitive touchscreen |
| | 15.4 in | Intel® Core™ i7 | 4700EQ (2.4 GHz) | Active cooling (fan) | 8 GB RAM (non ECC) | 64 GB SSD | WES 7 (64 bits) | 1 x PCIe slot (X4 lanes) | RS-232 | DVI-I | 16:10 | 1280 | 800 | Industrial Panel PC with Intel® Core™ i7-4700EQ, 8 GB DRAM (non-ECC), 64 GB SSD-SLC, WES 7 (64-bit), PCIe slot, RS-232, 15.4" display with capacitive touchscreen |
| | 12.1 in | Intel® Core™ i7 | 4700EQ (2.4 GHz) | Active cooling (fan) | 8 GB RAM (non ECC) | 64 GB SSD | WES 7 (64 bits) | 1 x PCIe slot (X4 lanes) | DVI-D | DVI-I | 16:10 | 1280 | 800 | Industrial Panel PC with Intel® Core™ i7-4700EQ, 8 GB DRAM (non-ECC), 64 GB SSD-SLC, WES 7 (64-bit), PCIe slot, extra DVI-D, 12.1" display with capacitive touchscreen |
| | 15.4 in | Intel® Core™ i7 | 4700EQ (2.4 GHz) | Active cooling (fan) | 8 GB RAM (non ECC) | 64 GB SSD | WES 7 (64 bits) | 1 x PCIe slot (X4 lanes) | DVI-D | DVI-I | 16:10 | 1280 | 800 | Industrial Panel PC with Intel® Core™ i7-4700EQ, 8 GB DRAM (non-ECC), 64 GB SSD-SLC, WES 7 (64-bit), PCIe slot, extra DVI-D, 15.4" display with capacitive touchscreen |
| | 12.1 in | Intel® Core™ i7 | 4700EQ (2.4 GHz) | Active cooling (fan) | 8 GB RAM (non ECC) | 320 GB HDD | WES 7 (64 bits) | 1 x PCIe slot (X4 lanes) | RS-232 | DVI-I | 16:10 | 1280 | 800 | Industrial Panel PC with Intel® Core™ i7-4700EQ, 8 GB DRAM (non-ECC), 320 GB HDD, WES 7 (64-bit), PCIe slot, RS-232, 12.1" display with capacitive touchscreen |
| | 15.4 in | Intel® Core™ i7 | 4700EQ (2.4 GHz) | Active cooling (fan) | 8 GB RAM (non ECC) | 320 GB HDD | WES 7 (64 bits) | 1 x PCIe slot (X4 lanes) | RS-232 | DVI-I | 16:10 | 1280 | 800 | Industrial Panel PC with Intel® Core™ i7-4700EQ, 8 GB DRAM (non-ECC), 320 GB HDD, WES 7 (64-bit), PCIe slot, RS-232, 15.4" display with capacitive touchscreen |
| | 12.1 in | Intel® Core™ i7 | 4700EQ (2.4 GHz) | Active cooling (fan) | 8 GB RAM (non ECC) | 320 GB HDD | WES 7 (64 bits) | 1 x PCIe slot (X4 lanes) | DVI-D | DVI-I | 16:10 | 1280 | 800 | Industrial Panel PC with Intel® Core™ i7-4700EQ, 8 GB DRAM (non-ECC), 320 GB HDD, WES 7 (64-bit), PCIe slot, extra DVI-D, 12.1" display with capacitive touchscreen |
| | 15.4 in | Intel® Core™ i7 | 4700EQ (2.4 GHz) | Active cooling (fan) | 8 GB RAM (non ECC) | 320 GB HDD | WES 7 (64 bits) | 1 x PCIe slot (X4 lanes) | DVI-D | DVI-I | 16:10 | 1280 | 800 | Industrial Panel PC with Intel® Core™ i7-4700EQ, 8 GB DRAM (non-ECC), 320 GB HDD, WES 7 (64-bit), PCIe slot, extra DVI-D, 15.4" display with capacitive touchscreen |
| | 12.1 in | Intel® Core™ i7 | 4700EQ (2.4 GHz) | Active cooling (fan) | 8 GB RAM (non ECC) | 128 GB SSD | WES 7 (64 bits) | 1 x PCIe slot (X4 lanes) | RS-232 | DVI-I | 16:10 | 1280 | 800 | Industrial Panel PC with Intel® Core™ i7-4700EQ, 8 GB DRAM (non-ECC), 128 GB SSD-iMLC, WES 7 (64-bit), PCIe slot, RS-232, 12.1" display with capacitive touchscreen |
| | 15.4 in | Intel® Core™ i7 | 4700EQ (2.4 GHz) | Active cooling (fan) | 8 GB RAM (non ECC) | 128 GB SSD | WES 7 (64 bits) | 1 x PCIe slot (X4 lanes) | RS-232 | DVI-I | 16:10 | 1280 | 800 | Industrial Panel PC with Intel® Core™ i7-4700EQ, 8 GB DRAM (non-ECC), 128 GB SSD-iMLC, WES 7 (64-bit), PCIe slot, RS-232, 15.4" display with capacitive touchscreen |
| | 12.1 in | Intel® Core™ i7 | 4700EQ (2.4 GHz) | Active cooling (fan) | 8 GB RAM (non ECC) | 128 GB SSD | WES 7 (64 bits) | 1 x PCIe slot (X4 lanes) | DVI-D | DVI-I | 16:10 | 1280 | 800 | Industrial Panel PC with Intel® Core™ i7-4700EQ, 8 GB DRAM (non-ECC), 128 GB SSD-iMLC, WES 7 (64-bit), PCIe slot, extra DVI-D, 12.1" display with capacitive touchscreen |
| | 15.4 in | Intel® Core™ i7 | 4700EQ (2.4 GHz) | Active cooling (fan) | 8 GB RAM (non ECC) | 128 GB SSD | WES 7 (64 bits) | 1 x PCIe slot (X4 lanes) | DVI-D | DVI-I | 16:10 | 1280 | 800 | Industrial Panel PC with Intel® Core™ i7-4700EQ, 8 GB DRAM (non-ECC), 128 GB SSD-iMLC, WES 7 (64-bit), PCIe slot, extra DVI-D, 15.4" display with capacitive touchscreen |
| | 12.1 in | Intel® Core™ i7 | 4700EQ (2.4 GHz) | Active cooling (fan) | 8 GB RAM (non ECC) | 64 GB SSD | Windows 10 (64 bits) | 1 x PCIe slot (X4 lanes) | RS-232 | DVI-I | 16:10 | 1280 | 800 | Industrial Panel PC with Intel® Core™ i7-4700EQ, 8 GB DRAM (non-ECC), 64 GB SSD-SLC, WIN 10 IoT Ent. (64-bit), PCIe slot, RS-232, 12.1" display with capacitive touchscreen |
| | 15.4 in | Intel® Core™ i7 | 4700EQ (2.4 GHz) | Active cooling (fan) | 8 GB RAM (non ECC) | 64 GB SSD | Windows 10 (64 bits) | 1 x PCIe slot (X4 lanes) | RS-232 | DVI-I | 16:10 | 1280 | 800 | Industrial Panel PC with Intel® Core™ i7-4700EQ, 8 GB DRAM (non-ECC), 64 GB SSD-SLC, WIN 10 IoT Ent. (64-bit), PCIe slot, RS-232, 15.4" display with capacitive touchscreen |
| | 12.1 in | Intel® Core™ i7 | 4700EQ (2.4 GHz) | Active cooling (fan) | 8 GB RAM (non ECC) | 64 GB SSD | Windows 10 (64 bits) | 1 x PCIe slot (X4 lanes) | DVI-D | DVI-I | 16:10 | 1280 | 800 | Industrial Panel PC with Intel® Core™ i7-4700EQ, 8 GB DRAM (non-ECC), 64 GB SSD-SLC, WIN 10 IoT Ent. (64-bit), PCIe slot, extra DVI-D, 12.1" display with capacitive touchscreen |
| | 15.4 in | Intel® Core™ i7 | 4700EQ (2.4 GHz) | Active cooling (fan) | 8 GB RAM (non ECC) | 64 GB SSD | Windows 10 (64 bits) | 1 x PCIe slot (X4 lanes) | DVI-D | DVI-I | 16:10 | 1280 | 800 | Industrial Panel PC with Intel® Core™ i7-4700EQ, 8 GB DRAM (non-ECC), 64 GB SSD-SLC, WIN 10 IoT Ent. (64-bit), PCIe slot, extra DVI-D, 15.4" display with capacitive touchscreen |
| | 12.1 in | Intel® Core™ i7 | 4700EQ (2.4 GHz) | Active cooling (fan) | 8 GB RAM (non ECC) | 64 GB SSD | Windows 10 (64 bits) | 1 x PCIe slot (X4 lanes) | NYML | DVI-I | 16:10 | 1280 | 800 | Industrial Panel PC with Intel® Core™ i7-4700EQ, 8 GB DRAM (non-ECC), 64 GB SSD-SLC, WIN 10 IoT Ent. (64-bit), PCIe slot, NYML port, 12.1" display with capacitive touchscreen |
| | 15.4 in | Intel® Core™ i7 | 4700EQ (2.4 GHz) | Active cooling (fan) | 8 GB RAM (non ECC) | 64 GB SSD | Windows 10 (64 bits) | 1 x PCIe slot (X4 lanes) | NYML | DVI-I | 16:10 | 1280 | 800 | Industrial Panel PC with Intel® Core™ i7-4700EQ, 8 GB DRAM (non-ECC), 64 GB SSD-SLC, WIN 10 IoT Ent. (64-bit), PCIe slot, NYML port, 15.4" display with capacitive touchscreen |
| | 12.1 in | Intel® Core™ i7 | 4700EQ (2.4 GHz) | Active cooling (fan) | 8 GB RAM (non ECC) | 320 GB HDD | Windows 10 (64 bits) | 1 x PCIe slot (X4 lanes) | RS-232 | DVI-I | 16:10 | 1280 | 800 | Industrial Panel PC with Intel® Core™ i7-4700EQ, 8 GB DRAM (non-ECC), 320 GB HDD, WIN 10 IoT Ent. (64-bit), PCIe slot, RS-232, 12.1" display with capacitive touchscreen |
| | 15.4 in | Intel® Core™ i7 | 4700EQ (2.4 GHz) | Active cooling (fan) | 8 GB RAM (non ECC) | 320 GB HDD | Windows 10 (64 bits) | 1 x PCIe slot (X4 lanes) | RS-232 | DVI-I | 16:10 | 1280 | 800 | Industrial Panel PC with Intel® Core™ i7-4700EQ, 8 GB DRAM (non-ECC), 320 GB HDD, WIN 10 IoT Ent. (64-bit), PCIe slot, RS-232, 15.4" display with capacitive touchscreen |
| | 12.1 in | Intel® Core™ i7 | 4700EQ (2.4 GHz) | Active cooling (fan) | 8 GB RAM (non ECC) | 320 GB HDD | Windows 10 (64 bits) | 1 x PCIe slot (X4 lanes) | DVI-D | DVI-I | 16:10 | 1280 | 800 | Industrial Panel PC with Intel® Core™ i7-4700EQ, 8 GB DRAM (non-ECC), 320 GB HDD, WIN 10 IoT Ent. (64-bit), PCIe slot, extra DVI-D, 12.1" display with capacitive touchscreen |
| | 15.4 in | Intel® Core™ i7 | 4700EQ (2.4 GHz) | Active cooling (fan) | 8 GB RAM (non ECC) | 320 GB HDD | Windows 10 (64 bits) | 1 x PCIe slot (X4 lanes) | DVI-D | DVI-I | 16:10 | 1280 | 800 | Industrial Panel PC with Intel® Core™ i7-4700EQ, 8 GB DRAM (non-ECC), 320 GB HDD, WIN 10 IoT Ent. (64-bit), PCIe slot, extra DVI-D, 15.4" display with capacitive touchscreen |
| | 12.1 in | Intel® Core™ i7 | 4700EQ (2.4 GHz) | Active cooling (fan) | 8 GB RAM (non ECC) | 320 GB HDD | Windows 10 (64 bits) | 1 x PCIe slot (X4 lanes) | NYML | DVI-I | 16:10 | 1280 | 800 | Industrial Panel PC with Intel® Core™ i7-4700EQ, 8 GB DRAM (non-ECC), 320 GB HDD, WIN 10 IoT Ent. (64-bit), PCIe slot, NYML port, 12.1" display with capacitive touchscreen |
| | 15.4 in | Intel® Core™ i7 | 4700EQ (2.4 GHz) | Active cooling (fan) | 8 GB RAM (non ECC) | 320 GB HDD | Windows 10 (64 bits) | 1 x PCIe slot (X4 lanes) | NYML | DVI-I | 16:10 | 1280 | 800 | Industrial Panel PC with Intel® Core™ i7-4700EQ, 8 GB DRAM (non-ECC), 320 GB HDD, WIN 10 IoT Ent. (64-bit), PCIe slot, NYML port, 15.4" display with capacitive touchscreen |
| | 12.1 in | Intel® Core™ i7 | 4700EQ (2.4 GHz) | Active cooling (fan) | 8 GB RAM (non ECC) | 128 GB SSD | Windows 10 (64 bits) | 1 x PCIe slot (X4 lanes) | RS-232 | DVI-I | 16:10 | 1280 | 800 | Industrial Panel PC with Intel® Core™ i7-4700EQ, 8 GB DRAM (non-ECC), 128 GB SSD-iMLC, WIN 10 IoT Ent. (64-bit), PCIe slot, RS-232, 12.1" display with capacitive touchscreen |
| | 15.4 in | Intel® Core™ i7 | 4700EQ (2.4 GHz) | Active cooling (fan) | 8 GB RAM (non ECC) | 128 GB SSD | Windows 10 (64 bits) | 1 x PCIe slot (X4 lanes) | RS-232 | DVI-I | 16:10 | 1280 | 800 | Industrial Panel PC with Intel® Core™ i7-4700EQ, 8 GB DRAM (non-ECC), 128 GB SSD-iMLC, WIN 10 IoT Ent. (64-bit), PCIe slot, RS-232, 15.4" display with capacitive touchscreen |
| | 12.1 in | Intel® Core™ i7 | 4700EQ (2.4 GHz) | Active cooling (fan) | 8 GB RAM (non ECC) | 128 GB SSD | Windows 10 (64 bits) | 1 x PCIe slot (X4 lanes) | DVI-D | DVI-I | 16:10 | 1280 | 800 | Industrial Panel PC with Intel® Core™ i7-4700EQ, 8 GB DRAM (non-ECC), 128 GB SSD-iMLC, WIN 10 IoT Ent. (64-bit), PCIe slot, extra DVI-D, 12.1" display with capacitive touchscreen |
| | 15.4 in | Intel® Core™ i7 | 4700EQ (2.4 GHz) | Active cooling (fan) | 8 GB RAM (non ECC) | 128 GB SSD | Windows 10 (64 bits) | 1 x PCIe slot (X4 lanes) | DVI-D | DVI-I | 16:10 | 1280 | 800 | Industrial Panel PC with Intel® Core™ i7-4700EQ, 8 GB DRAM (non-ECC), 128 GB SSD-iMLC, WIN 10 IoT Ent. (64-bit), PCIe slot, extra DVI-D, 15.4" display with capacitive touchscreen |
| | 12.1 in | Intel® Core™ i7 | 4700EQ (2.4 GHz) | Active cooling (fan) | 8 GB RAM (non ECC) | 128 GB SSD | Windows 10 (64 bits) | 1 x PCIe slot (X4 lanes) | NYML | DVI-I | 16:10 | 1280 | 800 | Industrial Panel PC with Intel® Core™ i7-4700EQ, 8 GB DRAM (non-ECC), 128 GB SSD-iMLC, WIN 10 IoT Ent. (64-bit), PCIe slot, NYML port, 12.1" display with capacitive touchscreen |
| | 15.4 in | Intel® Core™ i7 | 4700EQ (2.4 GHz) | Active cooling (fan) | 8 GB RAM (non ECC) | 128 GB SSD | Windows 10 (64 bits) | 1 x PCIe slot (X4 lanes) | NYML | DVI-I | 16:10 | 1280 | 800 | Industrial Panel PC with Intel® Core™ i7-4700EQ, 8 GB DRAM (non-ECC), 128 GB SSD-iMLC, WIN 10 IoT Ent. (64-bit), PCIe slot, NYML port, 15.4" display with capacitive touchscreen |
| | 12.1 in | Intel® Core™ i7 | 4700EQ (2.4 GHz) | Active cooling (fan) | 16 GB RAM (non ECC) | 128 GB SSD | Windows 10 (64 bits) | 1 x PCIe slot (X4 lanes) | RS-232 | DVI-I | 16:10 | 1280 | 800 | Industrial Panel PC with Intel® Core™ i7-4700EQ, 16 GB DRAM (non-ECC), 128 GB SSD-iMLC, WIN 10 IoT Ent. (64-bit), PCIe slot, RS-232, 12.1" display with capacitive touchscreen |
| | 15.4 in | Intel® Core™ i7 | 4700EQ (2.4 GHz) | Active cooling (fan) | 16 GB RAM (non ECC) | 128 GB SSD | Windows 10 (64 bits) | 1 x PCIe slot (X4 lanes) | RS-232 | DVI-I | 16:10 | 1280 | 800 | Industrial Panel PC with Intel® Core™ i7-4700EQ, 16 GB DRAM (non-ECC), 128 GB SSD-iMLC, WIN 10 IoT Ent. (64-bit), PCIe slot, RS-232, 15.4" display with capacitive touchscreen |
| | 12.1 in | Intel® Atom™ | E3940 (1.6 GHz) | Passive cooling (fanless) | 2 GB RAM (non ECC) | No Storage | No OS | No Expansion | No Port | DVI-D | 16:10 | 1280 | 800 | Industrial Panel PC with Intel® Atom™ E3940, 2 GB DRAM (non-ECC), No Storage, No OS, No exp. slots, No I/F option, 12.1" (1280x800) display with capacitive touchscreen, build-in type |
| | 15.4 in | Intel® Atom™ | E3940 (1.6 GHz) | Passive cooling (fanless) | 2 GB RAM (non ECC) | No Storage | No OS | No Expansion | No Port | DVI-D | 16:10 | 1280 | 800 | Industrial Panel PC with Intel® Atom™ E3940, 2 GB DRAM (non-ECC), No Storage, No OS, No exp. slots, No I/F option, 15.4" (1280x800) display with capacitive touchscreen, build-in type |
| | 18.5 in | Intel® Atom™ | E3940 (1.6 GHz) | Passive cooling (fanless) | 2 GB RAM (non ECC) | No Storage | No OS | No Expansion | No Port | DVI-D | 16:9 | 1920 | 1080 | Industrial Panel PC with Intel® Atom™ E3940, 2 GB DRAM (non-ECC), No Storage, No OS, No exp. slots, No I/F option, 18.5" (1920x1080) display with capacitive touchscreen, build-in type |
| | 12.1 in | Intel® Atom™ | E3940 (1.6 GHz) | Passive cooling (fanless) | 4 GB RAM (non ECC) | No Storage | No OS | No Expansion | No Port | DVI-D | 16:10 | 1280 | 800 | Industrial Panel PC with Intel® Atom™ E3940, 4 GB DRAM (non-ECC), No Storage, No OS, No exp. slots, No I/F option, 12.1" (1280x800) display with capacitive touchscreen, build-in type |
| | 15.4 in | Intel® Atom™ | E3940 (1.6 GHz) | Passive cooling (fanless) | 4 GB RAM (non ECC) | No Storage | No OS | No Expansion | No Port | DVI-D | 16:10 | 1280 | 800 | Industrial Panel PC with Intel® Atom™ E3940, 4 GB DRAM (non-ECC), No Storage, No OS, No exp. slots, No I/F option, 15.4" (1280x800) display with capacitive touchscreen, build-in type |
| | 18.5 in | Intel® Atom™ | E3940 (1.6 GHz) | Passive cooling (fanless) | 4 GB RAM (non ECC) | No Storage | No OS | No Expansion | No Port | DVI-D | 16:9 | 1920 | 1080 | Industrial Panel PC with Intel® Atom™ E3940, 4 GB DRAM (non-ECC), No Storage, No OS, No exp. slots, No I/F option, 18.5" (1920x1080) display with capacitive touchscreen, build-in type |
| | 12.1 in | Intel® Atom™ | E3940 (1.6 GHz) | Passive cooling (fanless) | 4 GB RAM (non ECC) | 64 GB CFast | Windows 10 (64 bits) | No Expansion | No Port | DVI-D | 16:10 | 1280 | 800 | Industrial Panel PC with Intel® Atom™ E3940, 4 GB DRAM (non-ECC), 64 GB CFast iMLC, WIN 10 IoT 2019 (64-bit), No exp. slots, No I/F option, 12.1" (1280x800) display with capacitive touchscreen, build-in type |
| | 15.4 in | Intel® Atom™ | E3940 (1.6 GHz) | Passive cooling (fanless) | 4 GB RAM (non ECC) | 64 GB CFast | Windows 10 (64 bits) | No Expansion | No Port | DVI-D | 16:10 | 1280 | 800 | Industrial Panel PC with Intel® Atom™ E3940, 4 GB DRAM (non-ECC), 64 GB CFast iMLC, WIN 10 IoT 2019 (64-bit), No exp. slots, No I/F option, 15.4" (1280x800) display with capacitive touchscreen, build-in type |
| | 18.5 in | Intel® Atom™ | E3940 (1.6 GHz) | Passive cooling (fanless) | 4 GB RAM (non ECC) | 64 GB CFast | Windows 10 (64 bits) | No Expansion | No Port | DVI-D | 16:9 | 1920 | 1080 | Industrial Panel PC with Intel® Atom™ E3940, 4 GB DRAM (non-ECC), 64 GB CFast iMLC, WIN 10 IoT 2019 (64-bit), No exp. slots, No I/F option, 18.5" (1920x1080) display with capacitive touchscreen, build-in type |
| | 12.1 in | Intel® Atom™ | E3940 (1.6 GHz) | Passive cooling (fanless) | 4 GB RAM (non ECC) | 128 GB CFast | Windows 10 (64 bits) | No Expansion | No Port | DVI-D | 16:10 | 1280 | 800 | Industrial Panel PC with Intel® Atom™ E3940, 4 GB DRAM (non-ECC), 128 GB CFast iMLC, WIN 10 IoT 2019 (64-bit), No exp. slots, No I/F option, 12.1" (1280x800) display with capacitive touchscreen, build-in type |
| | 15.4 in | Intel® Atom™ | E3940 (1.6 GHz) | Passive cooling (fanless) | 4 GB RAM (non ECC) | 128 GB CFast | Windows 10 (64 bits) | No Expansion | No Port | DVI-D | 16:10 | 1280 | 800 | Industrial Panel PC with Intel® Atom™ E3940, 4 GB DRAM (non-ECC), 128 GB CFast iMLC, WIN 10 IoT 2019 (64-bit), No exp. slots, No I/F option, 15.4" (1280x800) display with capacitive touchscreen, build-in type |
| | 18.5 in | Intel® Atom™ | E3940 (1.6 GHz) | Passive cooling (fanless) | 4 GB RAM (non ECC) | 128 GB CFast | Windows 10 (64 bits) | No Expansion | No Port | DVI-D | 16:9 | 1920 | 1080 | Industrial Panel PC with Intel® Atom™ E3940, 4 GB DRAM (non-ECC), 128 GB CFast iMLC, WIN 10 IoT 2019 (64-bit), No exp. slots, No I/F option, 18.5" (1920x1080) display with capacitive touchscreen, build-in type |
| | 12.1 in | Intel® Atom™ | E3940 (1.6 GHz) | Passive cooling (fanless) | 4 GB RAM (non ECC) | 256 GB CFast | Windows 10 (64 bits) | No Expansion | No Port | DVI-D | 16:10 | 1280 | 800 | Industrial Panel PC with Intel® Atom™ E3940, 4 GB DRAM (non-ECC), 256 GB CFast iMLC, WIN 10 IoT 2019 (64-bit), No exp. slots, No I/F option, 12.1" (1280x800) display with capacitive touchscreen, build-in type |
| | 15.4 in | Intel® Atom™ | E3940 (1.6 GHz) | Passive cooling (fanless) | 4 GB RAM (non ECC) | 256 GB CFast | Windows 10 (64 bits) | No Expansion | No Port | DVI-D | 16:10 | 1280 | 800 | Industrial Panel PC with Intel® Atom™ E3940, 4 GB DRAM (non-ECC), 256 GB CFast iMLC, WIN 10 IoT 2019 (64-bit), No exp. slots, No I/F option, 15.4" (1280x800) display with capacitive touchscreen, build-in type |
| | 18.5 in | Intel® Atom™ | E3940 (1.6 GHz) | Passive cooling (fanless) | 4 GB RAM (non ECC) | 256 GB CFast | Windows 10 (64 bits) | No Expansion | No Port | DVI-D | 16:9 | 1920 | 1080 | Industrial Panel PC with Intel® Atom™ E3940, 4 GB DRAM (non-ECC), 256 GB CFast iMLC, WIN 10 IoT 2019 (64-bit), No exp. slots, No I/F option, 18.5" (1920x1080) display with capacitive touchscreen, build-in type |
| | 12.1 in | Intel® Atom™ | E3940 (1.6 GHz) | Passive cooling (fanless) | 8 GB RAM (non ECC) | No Storage | No OS | No Expansion | No Port | DVI-D | 16:10 | 1280 | 800 | Industrial Panel PC with Intel® Atom™ E3940, 8 GB DRAM (non-ECC), No Storage, No OS, No exp. slots, No I/F option, 12.1" (1280x800) display with capacitive touchscreen, build-in type |
| | 15.4 in | Intel® Atom™ | E3940 (1.6 GHz) | Passive cooling (fanless) | 8 GB RAM (non ECC) | No Storage | No OS | No Expansion | No Port | DVI-D | 16:10 | 1280 | 800 | Industrial Panel PC with Intel® Atom™ E3940, 8 GB DRAM (non-ECC), No Storage, No OS, No exp. slots, No I/F option, 15.4" (1280x800) display with capacitive touchscreen, build-in type |
| | 18.5 in | Intel® Atom™ | E3940 (1.6 GHz) | Passive cooling (fanless) | 8 GB RAM (non ECC) | No Storage | No OS | No Expansion | No Port | DVI-D | 16:9 | 1920 | 1080 | Industrial Panel PC with Intel® Atom™ E3940, 8 GB DRAM (non-ECC), No Storage, No OS, No exp. slots, No I/F option, 18.5" (1920x1080) display with capacitive touchscreen, build-in type |
| | 12.1 in | Intel® Atom™ | E3940 (1.6 GHz) | Passive cooling (fanless) | 8 GB RAM (non ECC) | 64 GB CFast | Windows 10 (64 bits) | No Expansion | No Port | DVI-D | 16:10 | 1280 | 800 | Industrial Panel PC with Intel® Atom™ E3940, 8 GB DRAM (non-ECC), 64 GB CFast iMLC, WIN 10 IoT 2019 (64-bit), No exp. slots, No I/F option, 12.1" (1280x800) display with capacitive touchscreen, build-in type |
| | 15.4 in | Intel® Atom™ | E3940 (1.6 GHz) | Passive cooling (fanless) | 8 GB RAM (non ECC) | 64 GB CFast | Windows 10 (64 bits) | No Expansion | No Port | DVI-D | 16:10 | 1280 | 800 | Industrial Panel PC with Intel® Atom™ E3940, 8 GB DRAM (non-ECC), 64 GB CFast iMLC, WIN 10 IoT 2019 (64-bit), No exp. slots, No I/F option, 15.4" (1280x800) display with capacitive touchscreen, build-in type |
| | 18.5 in | Intel® Atom™ | E3940 (1.6 GHz) | Passive cooling (fanless) | 8 GB RAM (non ECC) | 64 GB CFast | Windows 10 (64 bits) | No Expansion | No Port | DVI-D | 16:9 | 1920 | 1080 | Industrial Panel PC with Intel® Atom™ E3940, 8 GB DRAM (non-ECC), 64 GB CFast iMLC, WIN 10 IoT 2019 (64-bit), No exp. slots, No I/F option, 18.5" (1920x1080) display with capacitive touchscreen, build-in type |
| | 12.1 in | Intel® Atom™ | E3940 (1.6 GHz) | Passive cooling (fanless) | 8 GB RAM (non ECC) | 128 GB CFast | Windows 10 (64 bits) | No Expansion | No Port | DVI-D | 16:10 | 1280 | 800 | Industrial Panel PC with Intel® Atom™ E3940, 8 GB DRAM (non-ECC), 128 GB CFast iMLC, WIN 10 IoT 2019 (64-bit), No exp. slots, No I/F option, 12.1" (1280x800) display with capacitive touchscreen, build-in type |
| | 15.4 in | Intel® Atom™ | E3940 (1.6 GHz) | Passive cooling (fanless) | 8 GB RAM (non ECC) | 128 GB CFast | Windows 10 (64 bits) | No Expansion | No Port | DVI-D | 16:10 | 1280 | 800 | Industrial Panel PC with Intel® Atom™ E3940, 8 GB DRAM (non-ECC), 128 GB CFast iMLC, WIN 10 IoT 2019 (64-bit), No exp. slots, No I/F option, 15.4" (1280x800) display with capacitive touchscreen, build-in type |
| | 18.5 in | Intel® Atom™ | E3940 (1.6 GHz) | Passive cooling (fanless) | 8 GB RAM (non ECC) | 128 GB CFast | Windows 10 (64 bits) | No Expansion | No Port | DVI-D | 16:9 | 1920 | 1080 | Industrial Panel PC with Intel® Atom™ E3940, 8 GB DRAM (non-ECC), 128 GB CFast iMLC, WIN 10 IoT 2019 (64-bit), No exp. slots, No I/F option, 18.5" (1920x1080) display with capacitive touchscreen, build-in type |
| | 12.1 in | Intel® Atom™ | E3940 (1.6 GHz) | Passive cooling (fanless) | 8 GB RAM (non ECC) | 256 GB CFast | Windows 10 (64 bits) | No Expansion | No Port | DVI-D | 16:10 | 1280 | 800 | Industrial Panel PC with Intel® Atom™ E3940, 8 GB DRAM (non-ECC), 256 GB CFast iMLC, WIN 10 IoT 2019 (64-bit), No exp. slots, No I/F option, 12.1" (1280x800) display with capacitive touchscreen, build-in type |
| | 15.4 in | Intel® Atom™ | E3940 (1.6 GHz) | Passive cooling (fanless) | 8 GB RAM (non ECC) | 256 GB CFast | Windows 10 (64 bits) | No Expansion | No Port | DVI-D | 16:10 | 1280 | 800 | Industrial Panel PC with Intel® Atom™ E3940, 8 GB DRAM (non-ECC), 256 GB CFast iMLC, WIN 10 IoT 2019 (64-bit), No exp. slots, No I/F option, 15.4" (1280x800) display with capacitive touchscreen, build-in type |
| | 18.5 in | Intel® Atom™ | E3940 (1.6 GHz) | Passive cooling (fanless) | 8 GB RAM (non ECC) | 256 GB CFast | Windows 10 (64 bits) | No Expansion | No Port | DVI-D | 16:9 | 1920 | 1080 | Industrial Panel PC with Intel® Atom™ E3940, 8 GB DRAM (non-ECC), 256 GB CFast iMLC, WIN 10 IoT 2019 (64-bit), No exp. slots, No I/F option, 18.5" (1920x1080) display with capacitive touchscreen, build-in type |
| | 12.1 in | Intel® Celeron® | 3965U (2.2 GHz) | Passive cooling (fanless) | 4 GB RAM (non ECC) | No Storage | No OS | No Expansion | No Port | DVI-D | 16:10 | 1280 | 800 | Industrial Panel PC with Intel® Celeron® 3965U, 4 GB DDR4 RAM (non-ECC), No storage, No OS, no PCIe slot, no option port, 12.1" display with capacitive touchscreen |
| | 15.4 in | Intel® Celeron® | 3965U (2.2 GHz) | Passive cooling (fanless) | 4 GB RAM (non ECC) | No Storage | No OS | No Expansion | No Port | DVI-D | 16:10 | 1280 | 800 | Industrial Panel PC with Intel® Celeron® 3965U, 4 GB DDR4 RAM (non-ECC), No storage, No OS, no PCIe slot, no option port, 15.4" display with capacitive touchscreen |
| | 18.5 in | Intel® Celeron® | 3965U (2.2 GHz) | Passive cooling (fanless) | 4 GB RAM (non ECC) | No Storage | No OS | No Expansion | No Port | DVI-D | 16:9 | 1920 | 1080 | Industrial Panel PC with Intel® Celeron® 3965U, 4 GB DRAM (non-ECC), No Storage, No OS, No exp. slots, No I/F option, 18.5" (1920x1080) display with capacitive touchscreen, build-in type |
| | 12.1 in | Intel® Celeron® | 3965U (2.2 GHz) | Passive cooling (fanless) | 4 GB RAM (non ECC) | 64 GB CFast | Windows 10 (64 bits) | No Expansion | No Port | DVI-D | 16:10 | 1280 | 800 | Industrial Panel PC with Intel® Celeron® 3965U, 4 GB DDR4 RAM (non-ECC), 64 GB CFast iMLC, WIN 10 IoT Ent. (64-bit), no PCIe slot, no option port, 12.1" display with capacitive touchscreen |
| | 15.4 in | Intel® Celeron® | 3965U (2.2 GHz) | Passive cooling (fanless) | 4 GB RAM (non ECC) | 64 GB CFast | Windows 10 (64 bits) | No Expansion | No Port | DVI-D | 16:10 | 1280 | 800 | Industrial Panel PC with Intel® Celeron® 3965U, 4 GB DDR4 RAM (non-ECC), 64 GB CFast iMLC, WIN 10 IoT Ent. (64-bit), no PCIe slot, no option port, 15.4" display with capacitive touchscreen |
| | 18.5 in | Intel® Celeron® | 3965U (2.2 GHz) | Passive cooling (fanless) | 4 GB RAM (non ECC) | 64 GB CFast | Windows 10 (64 bits) | No Expansion | No Port | DVI-D | 16:9 | 1920 | 1080 | Industrial Panel PC with Intel® Celeron® 3965U, 4 GB DRAM (non-ECC), 64 GB CFast iMLC, WIN 10 IoT Ent. (64-bit), No exp. slots, No I/F option, 18.5" (1920x1080) display with capacitive touchscreen, build-in type |
| | 12.1 in | Intel® Celeron® | 3965U (2.2 GHz) | Passive cooling (fanless) | 4 GB RAM (non ECC) | 64 GB CFast | Windows 10 (64 bits) | No Expansion | NYML | DVI-D | 16:10 | 1280 | 800 | Industrial Panel PC with Intel® Celeron® 3965U, 4 GB DRAM (non-ECC), 64 GB CFast iMLC, WIN 10 IoT Ent. (64-bit), No expansion slots, NY Monitor Link, 12.1" (1280x800) display with capacitive touchscreen, build-in type |
| | 12.1 in | Intel® Celeron® | 3965U (2.2 GHz) | Passive cooling (fanless) | 4 GB RAM (non ECC) | 128 GB CFast | Windows 10 (64 bits) | No Expansion | No Port | DVI-D | 16:10 | 1280 | 800 | Industrial Panel PC with Intel® Celeron® 3965U, 4 GB DDR4 RAM (non-ECC), 128 GB CFast iMLC, WIN 10 IoT Ent. (64-bit), no PCIe slot, no option port, 12.1" display with capacitive touchscreen |
| | 15.4 in | Intel® Celeron® | 3965U (2.2 GHz) | Passive cooling (fanless) | 4 GB RAM (non ECC) | 128 GB CFast | Windows 10 (64 bits) | No Expansion | No Port | DVI-D | 16:10 | 1280 | 800 | Industrial Panel PC with Intel® Celeron® 3965U, 4 GB DDR4 RAM (non-ECC), 128 GB CFast iMLC, WIN 10 IoT Ent. (64-bit), no PCIe slot, no option port, 15.4" display with capacitive touchscreen |
| | 18.5 in | Intel® Celeron® | 3965U (2.2 GHz) | Passive cooling (fanless) | 4 GB RAM (non ECC) | 128 GB CFast | Windows 10 (64 bits) | No Expansion | No Port | DVI-D | 16:9 | 1920 | 1080 | Industrial Panel PC with Intel® Celeron® 3965U, 4 GB DRAM (non-ECC), 128 GB CFast iMLC, WIN 10 IoT Ent. (64-bit), No exp. slots, No I/F option, 18.5" (1920x1080) display with capacitive touchscreen, build-in type |
| | 12.1 in | Intel® Celeron® | 3965U (2.2 GHz) | Passive cooling (fanless) | 4 GB RAM (non ECC) | 256 GB CFast | Windows 10 (64 bits) | No Expansion | No Port | DVI-D | 16:10 | 1280 | 800 | Industrial Panel PC with Intel® Celeron® 3965U, 4 GB DDR4 RAM (non-ECC), 256 GB CFast iMLC, WIN 10 IoT Ent. (64-bit), no PCIe slot, no option port, 12.1" display with capacitive touchscreen |
| | 15.4 in | Intel® Celeron® | 3965U (2.2 GHz) | Passive cooling (fanless) | 4 GB RAM (non ECC) | 256 GB CFast | Windows 10 (64 bits) | No Expansion | No Port | DVI-D | 16:10 | 1280 | 800 | Industrial Panel PC with Intel® Celeron® 3965U, 4 GB DDR4 RAM (non-ECC), 256 GB CFast iMLC, WIN 10 IoT Ent. (64-bit), no PCIe slot, no option port, 15.4" display with capacitive touchscreen |
| | 18.5 in | Intel® Celeron® | 3965U (2.2 GHz) | Passive cooling (fanless) | 4 GB RAM (non ECC) | 256 GB CFast | Windows 10 (64 bits) | No Expansion | No Port | DVI-D | 16:9 | 1920 | 1080 | Industrial Panel PC with Intel® Celeron® 3965U, 4 GB DRAM (non-ECC), 256 GB CFast iMLC, WIN 10 IoT Ent. (64-bit), No exp. slots, No I/F option, 18.5" (1920x1080) display with capacitive touchscreen, build-in type |
| | 12.1 in | Intel® Celeron® | 3965U (2.2 GHz) | Passive cooling (fanless) | 4 GB RAM (non ECC) | No Storage | No OS | 1 x PCIe slot (X2 lanes) | RS-232 | DVI-D | 16:10 | 1280 | 800 | Industrial Panel PC with Intel® Celeron® 3965U, 4 GB DDR4 RAM (non-ECC), No storage, No OS, PCIe slot, RS-232, 12.1" display with capacitive touchscreen |
| | 15.4 in | Intel® Celeron® | 3965U (2.2 GHz) | Passive cooling (fanless) | 4 GB RAM (non ECC) | No Storage | No OS | 1 x PCIe slot (X2 lanes) | RS-232 | DVI-D | 16:10 | 1280 | 800 | Industrial Panel PC with Intel® Celeron® 3965U, 4 GB DDR4 RAM (non-ECC), No storage, No OS, PCIe slot, RS-232, 15.4" display with capacitive touchscreen |
| | 12.1 in | Intel® Celeron® | 3965U (2.2 GHz) | Passive cooling (fanless) | 4 GB RAM (non ECC) | No Storage | No OS | 1 x PCIe slot (X2 lanes) | DVI-D | DVI-D | 16:10 | 1280 | 800 | Industrial Panel PC with Intel® Celeron® 3965U, 4 GB DDR4 RAM (non-ECC), No storage, No OS, PCIe slot, extra DVI-D, 12.1" display with capacitive touchscreen |
| | 15.4 in | Intel® Celeron® | 3965U (2.2 GHz) | Passive cooling (fanless) | 4 GB RAM (non ECC) | No Storage | No OS | 1 x PCIe slot (X2 lanes) | DVI-D | DVI-D | 16:10 | 1280 | 800 | Industrial Panel PC with Intel® Celeron® 3965U, 4 GB DDR4 RAM (non-ECC), No storage, No OS, PCIe slot, extra DVI-D, 15.4" display with capacitive touchscreen |
| | 12.1 in | Intel® Celeron® | 3965U (2.2 GHz) | Passive cooling (fanless) | 4 GB RAM (non ECC) | No Storage | No OS | 1 x PCIe slot (X2 lanes) | NYML | DVI-D | 16:10 | 1280 | 800 | Industrial Panel PC with Intel® Celeron® 3965U, 4 GB DDR4 RAM (non-ECC), No storage, No OS, PCIe slot, NYML port, 12.1" display with capacitive touchscreen |
| | 15.4 in | Intel® Celeron® | 3965U (2.2 GHz) | Passive cooling (fanless) | 4 GB RAM (non ECC) | No Storage | No OS | 1 x PCIe slot (X2 lanes) | NYML | DVI-D | 16:10 | 1280 | 800 | Industrial Panel PC with Intel® Celeron® 3965U, 4 GB DDR4 RAM (non-ECC), No storage, No OS, PCIe slot, NYML port, 15.4" display with capacitive touchscreen |
| | 12.1 in | Intel® Celeron® | 3965U (2.2 GHz) | Passive cooling (fanless) | 4 GB RAM (non ECC) | 64 GB SSD | Windows 10 (64 bits) | 1 x PCIe slot (X2 lanes) | RS-232 | DVI-D | 16:10 | 1280 | 800 | Industrial Panel PC with Intel® Celeron® 3965U, 4 GB DDR4 RAM (non-ECC), 64 GB SSD-SLC, WIN 10 IoT Ent. (64-bit), PCIe slot, RS-232, 12.1" display with capacitive touchscreen |
| | 15.4 in | Intel® Celeron® | 3965U (2.2 GHz) | Passive cooling (fanless) | 4 GB RAM (non ECC) | 64 GB SSD | Windows 10 (64 bits) | 1 x PCIe slot (X2 lanes) | RS-232 | DVI-D | 16:10 | 1280 | 800 | Industrial Panel PC with Intel® Celeron® 3965U, 4 GB DDR4 RAM (non-ECC), 64 GB SSD-SLC, WIN 10 IoT Ent. (64-bit), PCIe slot, RS-232, 15.4" display with capacitive touchscreen |
| | 12.1 in | Intel® Celeron® | 3965U (2.2 GHz) | Passive cooling (fanless) | 4 GB RAM (non ECC) | 64 GB SSD | Windows 10 (64 bits) | 1 x PCIe slot (X2 lanes) | DVI-D | DVI-D | 16:10 | 1280 | 800 | Industrial Panel PC with Intel® Celeron® 3965U, 4 GB DDR4 RAM (non-ECC), 64 GB SSD-SLC, WIN 10 IoT Ent. (64-bit), PCIe slot, extra DVI-D, 12.1" display with capacitive touchscreen |
| | 15.4 in | Intel® Celeron® | 3965U (2.2 GHz) | Passive cooling (fanless) | 4 GB RAM (non ECC) | 64 GB SSD | Windows 10 (64 bits) | 1 x PCIe slot (X2 lanes) | DVI-D | DVI-D | 16:10 | 1280 | 800 | Industrial Panel PC with Intel® Celeron® 3965U, 4 GB DDR4 RAM (non-ECC), 64 GB SSD-SLC, WIN 10 IoT Ent. (64-bit), PCIe slot, extra DVI-D, 15.4" display with capacitive touchscreen |
| | 12.1 in | Intel® Celeron® | 3965U (2.2 GHz) | Passive cooling (fanless) | 4 GB RAM (non ECC) | 64 GB SSD | Windows 10 (64 bits) | 1 x PCIe slot (X2 lanes) | NYML | DVI-D | 16:10 | 1280 | 800 | Industrial Panel PC with Intel® Celeron® 3965U, 4 GB DDR4 RAM (non-ECC), 64 GB SSD-SLC, WIN 10 IoT Ent. (64-bit), PCIe slot, NYML port, 12.1" display with capacitive touchscreen |
| | 15.4 in | Intel® Celeron® | 3965U (2.2 GHz) | Passive cooling (fanless) | 4 GB RAM (non ECC) | 64 GB SSD | Windows 10 (64 bits) | 1 x PCIe slot (X2 lanes) | NYML | DVI-D | 16:10 | 1280 | 800 | Industrial Panel PC with Intel® Celeron® 3965U, 4 GB DDR4 RAM (non-ECC), 64 GB SSD-SLC, WIN 10 IoT Ent. (64-bit), PCIe slot, NYML port, 15.4" display with capacitive touchscreen |
| | 12.1 in | Intel® Celeron® | 3965U (2.2 GHz) | Passive cooling (fanless) | 4 GB RAM (non ECC) | 320 GB HDD | Windows 10 (64 bits) | 1 x PCIe slot (X2 lanes) | RS-232 | DVI-D | 16:10 | 1280 | 800 | Industrial Panel PC with Intel® Celeron® 3965U, 4 GB DDR4 RAM (non-ECC), 320 GB HDD, WIN 10 IoT Ent. (64-bit), PCIe slot, RS-232, 12.1" display with capacitive touchscreen |
| | 15.4 in | Intel® Celeron® | 3965U (2.2 GHz) | Passive cooling (fanless) | 4 GB RAM (non ECC) | 320 GB HDD | Windows 10 (64 bits) | 1 x PCIe slot (X2 lanes) | RS-232 | DVI-D | 16:10 | 1280 | 800 | Industrial Panel PC with Intel® Celeron® 3965U, 4 GB DDR4 RAM (non-ECC), 320 GB HDD, WIN 10 IoT Ent. (64-bit), PCIe slot, RS-232, 15.4" display with capacitive touchscreen |
| | 12.1 in | Intel® Celeron® | 3965U (2.2 GHz) | Passive cooling (fanless) | 4 GB RAM (non ECC) | 320 GB HDD | Windows 10 (64 bits) | 1 x PCIe slot (X2 lanes) | DVI-D | DVI-D | 16:10 | 1280 | 800 | Industrial Panel PC with Intel® Celeron® 3965U, 4 GB DDR4 RAM (non-ECC), 320 GB HDD, WIN 10 IoT Ent. (64-bit), PCIe slot, extra DVI-D, 12.1" display with capacitive touchscreen |
| | 15.4 in | Intel® Celeron® | 3965U (2.2 GHz) | Passive cooling (fanless) | 4 GB RAM (non ECC) | 320 GB HDD | Windows 10 (64 bits) | 1 x PCIe slot (X2 lanes) | DVI-D | DVI-D | 16:10 | 1280 | 800 | Industrial Panel PC with Intel® Celeron® 3965U, 4 GB DDR4 RAM (non-ECC), 320 GB HDD, WIN 10 IoT Ent. (64-bit), PCIe slot, extra DVI-D, 15.4" display with capacitive touchscreen |
| | 12.1 in | Intel® Celeron® | 3965U (2.2 GHz) | Passive cooling (fanless) | 4 GB RAM (non ECC) | 320 GB HDD | Windows 10 (64 bits) | 1 x PCIe slot (X2 lanes) | NYML | DVI-D | 16:10 | 1280 | 800 | Industrial Panel PC with Intel® Celeron® 3965U, 4 GB DDR4 RAM (non-ECC), 320 GB HDD, WIN 10 IoT Ent. (64-bit), PCIe slot, NYML port, 12.1" display with capacitive touchscreen |
| | 15.4 in | Intel® Celeron® | 3965U (2.2 GHz) | Passive cooling (fanless) | 4 GB RAM (non ECC) | 320 GB HDD | Windows 10 (64 bits) | 1 x PCIe slot (X2 lanes) | NYML | DVI-D | 16:10 | 1280 | 800 | Industrial Panel PC with Intel® Celeron® 3965U, 4 GB DDR4 RAM (non-ECC), 320 GB HDD, WIN 10 IoT Ent. (64-bit), PCIe slot, NYML port, 15.4" display with capacitive touchscreen |
| | 12.1 in | Intel® Celeron® | 3965U (2.2 GHz) | Passive cooling (fanless) | 4 GB RAM (non ECC) | 128 GB SSD | Windows 10 (64 bits) | 1 x PCIe slot (X2 lanes) | RS-232 | DVI-D | 16:10 | 1280 | 800 | Industrial Panel PC with Intel® Celeron® 3965U, 4 GB DDR4 RAM (non-ECC), 128 GB SSD-iMLC, WIN 10 IoT Ent. (64-bit), PCIe slot, RS-232, 12.1" display with capacitive touchscreen |
| | 15.4 in | Intel® Celeron® | 3965U (2.2 GHz) | Passive cooling (fanless) | 4 GB RAM (non ECC) | 128 GB SSD | Windows 10 (64 bits) | 1 x PCIe slot (X2 lanes) | RS-232 | DVI-D | 16:10 | 1280 | 800 | Industrial Panel PC with Intel® Celeron® 3965U, 4 GB DDR4 RAM (non-ECC), 128 GB SSD-iMLC, WIN 10 IoT Ent. (64-bit), PCIe slot, RS-232, 15.4" display with capacitive touchscreen |
| | 12.1 in | Intel® Celeron® | 3965U (2.2 GHz) | Passive cooling (fanless) | 4 GB RAM (non ECC) | 128 GB SSD | Windows 10 (64 bits) | 1 x PCIe slot (X2 lanes) | DVI-D | DVI-D | 16:10 | 1280 | 800 | Industrial Panel PC with Intel® Celeron® 3965U, 4 GB DDR4 RAM (non-ECC), 128 GB SSD-iMLC, WIN 10 IoT Ent. (64-bit), PCIe slot, extra DVI-D, 12.1" display with capacitive touchscreen |
| | 15.4 in | Intel® Celeron® | 3965U (2.2 GHz) | Passive cooling (fanless) | 4 GB RAM (non ECC) | 128 GB SSD | Windows 10 (64 bits) | 1 x PCIe slot (X2 lanes) | DVI-D | DVI-D | 16:10 | 1280 | 800 | Industrial Panel PC with Intel® Celeron® 3965U, 4 GB DDR4 RAM (non-ECC), 128 GB SSD-iMLC, WIN 10 IoT Ent. (64-bit), PCIe slot, extra DVI-D, 15.4" display with capacitive touchscreen |
| | 12.1 in | Intel® Celeron® | 3965U (2.2 GHz) | Passive cooling (fanless) | 4 GB RAM (non ECC) | 128 GB SSD | Windows 10 (64 bits) | 1 x PCIe slot (X2 lanes) | NYML | DVI-D | 16:10 | 1280 | 800 | Industrial Panel PC with Intel® Celeron® 3965U, 4 GB DDR4 RAM (non-ECC), 128 GB SSD-iMLC, WIN 10 IoT Ent. (64-bit), PCIe slot, NYML port, 12.1" display with capacitive touchscreen |
| | 15.4 in | Intel® Celeron® | 3965U (2.2 GHz) | Passive cooling (fanless) | 4 GB RAM (non ECC) | 128 GB SSD | Windows 10 (64 bits) | 1 x PCIe slot (X2 lanes) | NYML | DVI-D | 16:10 | 1280 | 800 | Industrial Panel PC with Intel® Celeron® 3965U, 4 GB DDR4 RAM (non-ECC), 128 GB SSD-iMLC, WIN 10 IoT Ent. (64-bit), PCIe slot, NYML port, 15.4" display with capacitive touchscreen |
| | 12.1 in | Intel® Celeron® | 3965U (2.2 GHz) | Passive cooling (fanless) | 8 GB RAM (non ECC) | No Storage | No OS | No Expansion | No Port | DVI-D | 16:10 | 1280 | 800 | Industrial Panel PC with Intel® Celeron® 3965U, 8 GB DDR4 RAM (non-ECC), No storage, No OS, no PCIe slot, no option port, 12.1" display with capacitive touchscreen |
| | 15.4 in | Intel® Celeron® | 3965U (2.2 GHz) | Passive cooling (fanless) | 8 GB RAM (non ECC) | No Storage | No OS | No Expansion | No Port | DVI-D | 16:10 | 1280 | 800 | Industrial Panel PC with Intel® Celeron® 3965U, 8 GB DDR4 RAM (non-ECC), No storage, No OS, no PCIe slot, no option port, 15.4" display with capacitive touchscreen |
| | 18.5 in | Intel® Celeron® | 3965U (2.2 GHz) | Passive cooling (fanless) | 8 GB RAM (non ECC) | No Storage | No OS | No Expansion | No Port | DVI-D | 16:9 | 1920 | 1080 | Industrial Panel PC with Intel® Celeron® 3965U, 8 GB DRAM (non-ECC), No Storage, No OS, No exp. slots, No I/F option, 18.5" (1920x1080) display with capacitive touchscreen, build-in type |
| | 12.1 in | Intel® Celeron® | 3965U (2.2 GHz) | Passive cooling (fanless) | 8 GB RAM (non ECC) | 128 GB CFast | No OS | No Expansion | No Port | DVI-D | 16:10 | 1280 | 800 | Industrial Panel PC with Intel® Celeron® 3965U, 8 GB DRAM (non-ECC), 128 GB CFast iMLC, No OS, No expansion slots, No I/F option, 12.1" (1280x800) display with capacitive touchscreen, build-in type |
| | 12.1 in | Intel® Celeron® | 3965U (2.2 GHz) | Passive cooling (fanless) | 8 GB RAM (non ECC) | 64 GB CFast | Windows 10 (64 bits) | No Expansion | No Port | DVI-D | 16:10 | 1280 | 800 | Industrial Panel PC with Intel® Celeron® 3965U, 8 GB DDR4 RAM (non-ECC), 64 GB CFast iMLC, WIN 10 IoT Ent. (64-bit), no PCIe slot, no option port, 12.1" display with capacitive touchscreen |
| | 15.4 in | Intel® Celeron® | 3965U (2.2 GHz) | Passive cooling (fanless) | 8 GB RAM (non ECC) | 64 GB CFast | Windows 10 (64 bits) | No Expansion | No Port | DVI-D | 16:10 | 1280 | 800 | Industrial Panel PC with Intel® Celeron® 3965U, 8 GB DDR4 RAM (non-ECC), 64 GB CFast iMLC, WIN 10 IoT Ent. (64-bit), no PCIe slot, no option port, 15.4" display with capacitive touchscreen |
| | 18.5 in | Intel® Celeron® | 3965U (2.2 GHz) | Passive cooling (fanless) | 8 GB RAM (non ECC) | 64 GB CFast | Windows 10 (64 bits) | No Expansion | No Port | DVI-D | 16:9 | 1920 | 1080 | Industrial Panel PC with Intel® Celeron® 3965U, 8 GB DRAM (non-ECC), 64 GB CFast iMLC, WIN 10 IoT Ent. (64-bit), No exp. slots, No I/F option, 18.5" (1920x1080) display with capacitive touchscreen, build-in type |
| | 12.1 in | Intel® Celeron® | 3965U (2.2 GHz) | Passive cooling (fanless) | 8 GB RAM (non ECC) | 128 GB CFast | Windows 10 (64 bits) | No Expansion | No Port | DVI-D | 16:10 | 1280 | 800 | Industrial Panel PC with Intel® Celeron® 3965U, 8 GB DDR4 RAM (non-ECC), 128 GB CFast iMLC, WIN 10 IoT Ent. (64-bit), no PCIe slot, no option port, 12.1" display with capacitive touchscreen |
| | 15.4 in | Intel® Celeron® | 3965U (2.2 GHz) | Passive cooling (fanless) | 8 GB RAM (non ECC) | 128 GB CFast | Windows 10 (64 bits) | No Expansion | No Port | DVI-D | 16:10 | 1280 | 800 | Industrial Panel PC with Intel® Celeron® 3965U, 8 GB DDR4 RAM (non-ECC), 128 GB CFast iMLC, WIN 10 IoT Ent. (64-bit), no PCIe slot, no option port, 15.4" display with capacitive touchscreen |
| | 18.5 in | Intel® Celeron® | 3965U (2.2 GHz) | Passive cooling (fanless) | 8 GB RAM (non ECC) | 128 GB CFast | Windows 10 (64 bits) | No Expansion | No Port | DVI-D | 16:9 | 1920 | 1080 | Industrial Panel PC with Intel® Celeron® 3965U, 8 GB DRAM (non-ECC), 128 GB CFast iMLC, WIN 10 IoT Ent. (64-bit), No exp. slots, No I/F option, 18.5" (1920x1080) display with capacitive touchscreen, build-in type |
| | 12.1 in | Intel® Celeron® | 3965U (2.2 GHz) | Passive cooling (fanless) | 8 GB RAM (non ECC) | 256 GB CFast | Windows 10 (64 bits) | No Expansion | No Port | DVI-D | 16:10 | 1280 | 800 | Industrial Panel PC with Intel® Celeron® 3965U, 8 GB DDR4 RAM (non-ECC), 256 GB CFast iMLC, WIN 10 IoT Ent. (64-bit), no PCIe slot, no option port, 12.1" display with capacitive touchscreen |
| | 15.4 in | Intel® Celeron® | 3965U (2.2 GHz) | Passive cooling (fanless) | 8 GB RAM (non ECC) | 256 GB CFast | Windows 10 (64 bits) | No Expansion | No Port | DVI-D | 16:10 | 1280 | 800 | Industrial Panel PC with Intel® Celeron® 3965U, 8 GB DDR4 RAM (non-ECC), 256 GB CFast iMLC, WIN 10 IoT Ent. (64-bit), no PCIe slot, no option port, 15.4" display with capacitive touchscreen |
| | 18.5 in | Intel® Celeron® | 3965U (2.2 GHz) | Passive cooling (fanless) | 8 GB RAM (non ECC) | 256 GB CFast | Windows 10 (64 bits) | No Expansion | No Port | DVI-D | 16:9 | 1920 | 1080 | Industrial Panel PC with Intel® Celeron® 3965U, 8 GB DRAM (non-ECC), 256 GB CFast iMLC, WIN 10 IoT Ent. (64-bit), No exp. slots, No I/F option, 18.5" (1920x1080) display with capacitive touchscreen, build-in type |
| | 12.1 in | Intel® Celeron® | 3965U (2.2 GHz) | Passive cooling (fanless) | 8 GB RAM (non ECC) | No Storage | No OS | 1 x PCIe slot (X2 lanes) | RS-232 | DVI-D | 16:10 | 1280 | 800 | Industrial Panel PC with Intel® Celeron® 3965U, 8 GB DDR4 RAM (non-ECC), No storage, No OS, PCIe slot, RS-232, 12.1" display with capacitive touchscreen |
| | 15.4 in | Intel® Celeron® | 3965U (2.2 GHz) | Passive cooling (fanless) | 8 GB RAM (non ECC) | No Storage | No OS | 1 x PCIe slot (X2 lanes) | RS-232 | DVI-D | 16:10 | 1280 | 800 | Industrial Panel PC with Intel® Celeron® 3965U, 8 GB DDR4 RAM (non-ECC), No storage, No OS, PCIe slot, RS-232, 15.4" display with capacitive touchscreen |
| | 12.1 in | Intel® Celeron® | 3965U (2.2 GHz) | Passive cooling (fanless) | 8 GB RAM (non ECC) | No Storage | No OS | 1 x PCIe slot (X2 lanes) | DVI-D | DVI-D | 16:10 | 1280 | 800 | Industrial Panel PC with Intel® Celeron® 3965U, 8 GB DDR4 RAM (non-ECC), No storage, No OS, PCIe slot, extra DVI-D, 12.1" display with capacitive touchscreen |
| | 15.4 in | Intel® Celeron® | 3965U (2.2 GHz) | Passive cooling (fanless) | 8 GB RAM (non ECC) | No Storage | No OS | 1 x PCIe slot (X2 lanes) | DVI-D | DVI-D | 16:10 | 1280 | 800 | Industrial Panel PC with Intel® Celeron® 3965U, 8 GB DDR4 RAM (non-ECC), No storage, No OS, PCIe slot, extra DVI-D, 15.4" display with capacitive touchscreen |
| | 12.1 in | Intel® Celeron® | 3965U (2.2 GHz) | Passive cooling (fanless) | 8 GB RAM (non ECC) | No Storage | No OS | 1 x PCIe slot (X2 lanes) | NYML | DVI-D | 16:10 | 1280 | 800 | Industrial Panel PC with Intel® Celeron® 3965U, 8 GB DDR4 RAM (non-ECC), No storage, No OS, PCIe slot, NYML port, 12.1" display with capacitive touchscreen |
| | 15.4 in | Intel® Celeron® | 3965U (2.2 GHz) | Passive cooling (fanless) | 8 GB RAM (non ECC) | No Storage | No OS | 1 x PCIe slot (X2 lanes) | NYML | DVI-D | 16:10 | 1280 | 800 | Industrial Panel PC with Intel® Celeron® 3965U, 8 GB DDR4 RAM (non-ECC), No storage, No OS, PCIe slot, NYML port, 15.4" display with capacitive touchscreen |
| | 12.1 in | Intel® Celeron® | 3965U (2.2 GHz) | Passive cooling (fanless) | 8 GB RAM (non ECC) | 64 GB SSD | Windows 10 (64 bits) | 1 x PCIe slot (X2 lanes) | RS-232 | DVI-D | 16:10 | 1280 | 800 | Industrial Panel PC with Intel® Celeron® 3965U, 8 GB DDR4 RAM (non-ECC), 64 GB SSD-SLC, WIN 10 IoT Ent. (64-bit), PCIe slot, RS-232, 12.1" display with capacitive touchscreen |
| | 15.4 in | Intel® Celeron® | 3965U (2.2 GHz) | Passive cooling (fanless) | 8 GB RAM (non ECC) | 64 GB SSD | Windows 10 (64 bits) | 1 x PCIe slot (X2 lanes) | RS-232 | DVI-D | 16:10 | 1280 | 800 | Industrial Panel PC with Intel® Celeron® 3965U, 8 GB DDR4 RAM (non-ECC), 64 GB SSD-SLC, WIN 10 IoT Ent. (64-bit), PCIe slot, RS-232, 15.4" display with capacitive touchscreen |
| | 12.1 in | Intel® Celeron® | 3965U (2.2 GHz) | Passive cooling (fanless) | 8 GB RAM (non ECC) | 64 GB SSD | Windows 10 (64 bits) | 1 x PCIe slot (X2 lanes) | DVI-D | DVI-D | 16:10 | 1280 | 800 | Industrial Panel PC with Intel® Celeron® 3965U, 8 GB DDR4 RAM (non-ECC), 64 GB SSD-SLC, WIN 10 IoT Ent. (64-bit), PCIe slot, extra DVI-D, 12.1" display with capacitive touchscreen |
| | 15.4 in | Intel® Celeron® | 3965U (2.2 GHz) | Passive cooling (fanless) | 8 GB RAM (non ECC) | 64 GB SSD | Windows 10 (64 bits) | 1 x PCIe slot (X2 lanes) | DVI-D | DVI-D | 16:10 | 1280 | 800 | Industrial Panel PC with Intel® Celeron® 3965U, 8 GB DDR4 RAM (non-ECC), 64 GB SSD-SLC, WIN 10 IoT Ent. (64-bit), PCIe slot, extra DVI-D, 15.4" display with capacitive touchscreen |
| | 12.1 in | Intel® Celeron® | 3965U (2.2 GHz) | Passive cooling (fanless) | 8 GB RAM (non ECC) | 64 GB SSD | Windows 10 (64 bits) | 1 x PCIe slot (X2 lanes) | NYML | DVI-D | 16:10 | 1280 | 800 | Industrial Panel PC with Intel® Celeron® 3965U, 8 GB DDR4 RAM (non-ECC), 64 GB SSD-SLC, WIN 10 IoT Ent. (64-bit), PCIe slot, NYML port, 12.1" display with capacitive touchscreen |
| | 15.4 in | Intel® Celeron® | 3965U (2.2 GHz) | Passive cooling (fanless) | 8 GB RAM (non ECC) | 64 GB SSD | Windows 10 (64 bits) | 1 x PCIe slot (X2 lanes) | NYML | DVI-D | 16:10 | 1280 | 800 | Industrial Panel PC with Intel® Celeron® 3965U, 8 GB DDR4 RAM (non-ECC), 64 GB SSD-SLC, WIN 10 IoT Ent. (64-bit), PCIe slot, NYML port, 15.4" display with capacitive touchscreen |
| | 12.1 in | Intel® Celeron® | 3965U (2.2 GHz) | Passive cooling (fanless) | 8 GB RAM (non ECC) | 320 GB HDD | Windows 10 (64 bits) | 1 x PCIe slot (X2 lanes) | RS-232 | DVI-D | 16:10 | 1280 | 800 | Industrial Panel PC with Intel® Celeron® 3965U, 8 GB DDR4 RAM (non-ECC), 320 GB HDD, WIN 10 IoT Ent. (64-bit), PCIe slot, RS-232, 12.1" display with capacitive touchscreen |
| | 15.4 in | Intel® Celeron® | 3965U (2.2 GHz) | Passive cooling (fanless) | 8 GB RAM (non ECC) | 320 GB HDD | Windows 10 (64 bits) | 1 x PCIe slot (X2 lanes) | RS-232 | DVI-D | 16:10 | 1280 | 800 | Industrial Panel PC with Intel® Celeron® 3965U, 8 GB DDR4 RAM (non-ECC), 320 GB HDD, WIN 10 IoT Ent. (64-bit), PCIe slot, RS-232, 15.4" display with capacitive touchscreen |
| | 12.1 in | Intel® Celeron® | 3965U (2.2 GHz) | Passive cooling (fanless) | 8 GB RAM (non ECC) | 320 GB HDD | Windows 10 (64 bits) | 1 x PCIe slot (X2 lanes) | DVI-D | DVI-D | 16:10 | 1280 | 800 | Industrial Panel PC with Intel® Celeron® 3965U, 8 GB DDR4 RAM (non-ECC), 320 GB HDD, WIN 10 IoT Ent. (64-bit), PCIe slot, extra DVI-D, 12.1" display with capacitive touchscreen |
| | 15.4 in | Intel® Celeron® | 3965U (2.2 GHz) | Passive cooling (fanless) | 8 GB RAM (non ECC) | 320 GB HDD | Windows 10 (64 bits) | 1 x PCIe slot (X2 lanes) | DVI-D | DVI-D | 16:10 | 1280 | 800 | Industrial Panel PC with Intel® Celeron® 3965U, 8 GB DDR4 RAM (non-ECC), 320 GB HDD, WIN 10 IoT Ent. (64-bit), PCIe slot, extra DVI-D, 15.4" display with capacitive touchscreen |
| | 12.1 in | Intel® Celeron® | 3965U (2.2 GHz) | Passive cooling (fanless) | 8 GB RAM (non ECC) | 320 GB HDD | Windows 10 (64 bits) | 1 x PCIe slot (X2 lanes) | NYML | DVI-D | 16:10 | 1280 | 800 | Industrial Panel PC with Intel® Celeron® 3965U, 8 GB DDR4 RAM (non-ECC), 320 GB HDD, WIN 10 IoT Ent. (64-bit), PCIe slot, NYML port, 12.1" display with capacitive touchscreen |
| | 15.4 in | Intel® Celeron® | 3965U (2.2 GHz) | Passive cooling (fanless) | 8 GB RAM (non ECC) | 320 GB HDD | Windows 10 (64 bits) | 1 x PCIe slot (X2 lanes) | NYML | DVI-D | 16:10 | 1280 | 800 | Industrial Panel PC with Intel® Celeron® 3965U, 8 GB DDR4 RAM (non-ECC), 320 GB HDD, WIN 10 IoT Ent. (64-bit), PCIe slot, NYML port, 15.4" display with capacitive touchscreen |
| | 12.1 in | Intel® Celeron® | 3965U (2.2 GHz) | Passive cooling (fanless) | 8 GB RAM (non ECC) | 128 GB SSD | Windows 10 (64 bits) | 1 x PCIe slot (X2 lanes) | RS-232 | DVI-D | 16:10 | 1280 | 800 | Industrial Panel PC with Intel® Celeron® 3965U, 8 GB DDR4 RAM (non-ECC), 128 GB SSD-iMLC, WIN 10 IoT Ent. (64-bit), PCIe slot, RS-232, 12.1" display with capacitive touchscreen |
| | 15.4 in | Intel® Celeron® | 3965U (2.2 GHz) | Passive cooling (fanless) | 8 GB RAM (non ECC) | 128 GB SSD | Windows 10 (64 bits) | 1 x PCIe slot (X2 lanes) | RS-232 | DVI-D | 16:10 | 1280 | 800 | Industrial Panel PC with Intel® Celeron® 3965U, 8 GB DDR4 RAM (non-ECC), 128 GB SSD-iMLC, WIN 10 IoT Ent. (64-bit), PCIe slot, RS-232, 15.4" display with capacitive touchscreen |
| | 12.1 in | Intel® Celeron® | 3965U (2.2 GHz) | Passive cooling (fanless) | 8 GB RAM (non ECC) | 128 GB SSD | Windows 10 (64 bits) | 1 x PCIe slot (X2 lanes) | DVI-D | DVI-D | 16:10 | 1280 | 800 | Industrial Panel PC with Intel® Celeron® 3965U, 8 GB DDR4 RAM (non-ECC), 128 GB SSD-iMLC, WIN 10 IoT Ent. (64-bit), PCIe slot, extra DVI-D, 12.1" display with capacitive touchscreen |
| | 15.4 in | Intel® Celeron® | 3965U (2.2 GHz) | Passive cooling (fanless) | 8 GB RAM (non ECC) | 128 GB SSD | Windows 10 (64 bits) | 1 x PCIe slot (X2 lanes) | DVI-D | DVI-D | 16:10 | 1280 | 800 | Industrial Panel PC with Intel® Celeron® 3965U, 8 GB DDR4 RAM (non-ECC), 128 GB SSD-iMLC, WIN 10 IoT Ent. (64-bit), PCIe slot, extra DVI-D, 15.4" display with capacitive touchscreen |
| | 12.1 in | Intel® Celeron® | 3965U (2.2 GHz) | Passive cooling (fanless) | 8 GB RAM (non ECC) | 128 GB SSD | Windows 10 (64 bits) | 1 x PCIe slot (X2 lanes) | NYML | DVI-D | 16:10 | 1280 | 800 | Industrial Panel PC with Intel® Celeron® 3965U, 8 GB DDR4 RAM (non-ECC), 128 GB SSD-iMLC, WIN 10 IoT Ent. (64-bit), PCIe slot, NYML port, 12.1" display with capacitive touchscreen |
| | 15.4 in | Intel® Celeron® | 3965U (2.2 GHz) | Passive cooling (fanless) | 8 GB RAM (non ECC) | 128 GB SSD | Windows 10 (64 bits) | 1 x PCIe slot (X2 lanes) | NYML | DVI-D | 16:10 | 1280 | 800 | Industrial Panel PC with Intel® Celeron® 3965U, 8 GB DDR4 RAM (non-ECC), 128 GB SSD-iMLC, WIN 10 IoT Ent. (64-bit), PCIe slot, NYML port, 15.4" display with capacitive touchscreen |
| | 12.1 in | Intel® Core™ i5 | 7300U (2.6 GHz) | Passive cooling (fanless) | 4 GB RAM (non ECC) | No Storage | No OS | 1 x PCIe slot (X2 lanes) | RS-232 | DVI-D | 16:10 | 1280 | 800 | Industrial Panel PC with Intel® Core™ i5-7300U, 4 GB DDR4 RAM (non-ECC), No storage, No OS, PCIe slot, RS-232, 12.1" display with capacitive touchscreen |
| | 15.4 in | Intel® Core™ i5 | 7300U (2.6 GHz) | Passive cooling (fanless) | 4 GB RAM (non ECC) | No Storage | No OS | 1 x PCIe slot (X2 lanes) | RS-232 | DVI-D | 16:10 | 1280 | 800 | Industrial Panel PC with Intel® Core™ i5-7300U, 4 GB DDR4 RAM (non-ECC), No storage, No OS, PCIe slot, RS-232, 15.4" display with capacitive touchscreen |
| | 12.1 in | Intel® Core™ i5 | 7300U (2.6 GHz) | Passive cooling (fanless) | 4 GB RAM (non ECC) | No Storage | No OS | 1 x PCIe slot (X2 lanes) | NYML | DVI-D | 16:10 | 1280 | 800 | Industrial Panel PC with Intel® Core™ i5-7300U, 4 GB DDR4 RAM (non-ECC), No storage, No OS, PCIe slot, NYML port, 12.1" display with capacitive touchscreen |
| | 15.4 in | Intel® Core™ i5 | 7300U (2.6 GHz) | Passive cooling (fanless) | 4 GB RAM (non ECC) | No Storage | No OS | 1 x PCIe slot (X2 lanes) | NYML | DVI-D | 16:10 | 1280 | 800 | Industrial Panel PC with Intel® Core™ i5-7300U, 4 GB DDR4 RAM (non-ECC), No storage, No OS, PCIe slot, NYML port, 15.4" display with capacitive touchscreen |
| | 12.1 in | Intel® Core™ i5 | 7300U (2.6 GHz) | Passive cooling (fanless) | 4 GB RAM (non ECC) | 64 GB SSD | Windows 10 (64 bits) | 1 x PCIe slot (X2 lanes) | RS-232 | DVI-D | 16:10 | 1280 | 800 | Industrial Panel PC with Intel® Core™ i5-7300U, 4 GB DDR4 RAM (non-ECC), 64 GB SSD-SLC, WIN 10 IoT Ent. (64-bit), PCIe slot, RS-232, 12.1" display with capacitive touchscreen |
| | 15.4 in | Intel® Core™ i5 | 7300U (2.6 GHz) | Passive cooling (fanless) | 4 GB RAM (non ECC) | 64 GB SSD | Windows 10 (64 bits) | 1 x PCIe slot (X2 lanes) | RS-232 | DVI-D | 16:10 | 1280 | 800 | Industrial Panel PC with Intel® Core™ i5-7300U, 4 GB DDR4 RAM (non-ECC), 64 GB SSD-SLC, WIN 10 IoT Ent. (64-bit), PCIe slot, RS-232, 15.4" display with capacitive touchscreen |
| | 12.1 in | Intel® Core™ i5 | 7300U (2.6 GHz) | Passive cooling (fanless) | 4 GB RAM (non ECC) | 64 GB SSD | Windows 10 (64 bits) | 1 x PCIe slot (X2 lanes) | DVI-D | DVI-D | 16:10 | 1280 | 800 | Industrial Panel PC with Intel® Core™ i5-7300U, 4 GB DDR4 RAM (non-ECC), 64 GB SSD-SLC, WIN 10 IoT Ent. (64-bit), PCIe slot, extra DVI-D, 12.1" display with capacitive touchscreen |
| | 15.4 in | Intel® Core™ i5 | 7300U (2.6 GHz) | Passive cooling (fanless) | 4 GB RAM (non ECC) | 64 GB SSD | Windows 10 (64 bits) | 1 x PCIe slot (X2 lanes) | DVI-D | DVI-D | 16:10 | 1280 | 800 | Industrial Panel PC with Intel® Core™ i5-7300U, 4 GB DDR4 RAM (non-ECC), 64 GB SSD-SLC, WIN 10 IoT Ent. (64-bit), PCIe slot, extra DVI-D, 15.4" display with capacitive touchscreen |
| | 12.1 in | Intel® Core™ i5 | 7300U (2.6 GHz) | Passive cooling (fanless) | 4 GB RAM (non ECC) | 64 GB SSD | Windows 10 (64 bits) | 1 x PCIe slot (X2 lanes) | NYML | DVI-D | 16:10 | 1280 | 800 | Industrial Panel PC with Intel® Core™ i5-7300U, 4 GB DDR4 RAM (non-ECC), 64 GB SSD-SLC, WIN 10 IoT Ent. (64-bit), PCIe slot, NYML port, 12.1" display with capacitive touchscreen |
| | 15.4 in | Intel® Core™ i5 | 7300U (2.6 GHz) | Passive cooling (fanless) | 4 GB RAM (non ECC) | 64 GB SSD | Windows 10 (64 bits) | 1 x PCIe slot (X2 lanes) | NYML | DVI-D | 16:10 | 1280 | 800 | Industrial Panel PC with Intel® Core™ i5-7300U, 4 GB DDR4 RAM (non-ECC), 64 GB SSD-SLC, WIN 10 IoT Ent. (64-bit), PCIe slot, NYML port, 15.4" display with capacitive touchscreen |
| | 12.1 in | Intel® Core™ i5 | 7300U (2.6 GHz) | Passive cooling (fanless) | 4 GB RAM (non ECC) | 320 GB HDD | Windows 10 (64 bits) | 1 x PCIe slot (X2 lanes) | RS-232 | DVI-D | 16:10 | 1280 | 800 | Industrial Panel PC with Intel® Core™ i5-7300U, 4 GB DDR4 RAM (non-ECC), 320 GB HDD, WIN 10 IoT Ent. (64-bit), PCIe slot, RS-232, 12.1" display with capacitive touchscreen |
| | 15.4 in | Intel® Core™ i5 | 7300U (2.6 GHz) | Passive cooling (fanless) | 4 GB RAM (non ECC) | 320 GB HDD | Windows 10 (64 bits) | 1 x PCIe slot (X2 lanes) | RS-232 | DVI-D | 16:10 | 1280 | 800 | Industrial Panel PC with Intel® Core™ i5-7300U, 4 GB DDR4 RAM (non-ECC), 320 GB HDD, WIN 10 IoT Ent. (64-bit), PCIe slot, RS-232, 15.4" display with capacitive touchscreen |
| | 12.1 in | Intel® Core™ i5 | 7300U (2.6 GHz) | Passive cooling (fanless) | 4 GB RAM (non ECC) | 320 GB HDD | Windows 10 (64 bits) | 1 x PCIe slot (X2 lanes) | DVI-D | DVI-D | 16:10 | 1280 | 800 | Industrial Panel PC with Intel® Core™ i5-7300U, 4 GB DDR4 RAM (non-ECC), 320 GB HDD, WIN 10 IoT Ent. (64-bit), PCIe slot, extra DVI-D, 12.1" display with capacitive touchscreen |
| | 15.4 in | Intel® Core™ i5 | 7300U (2.6 GHz) | Passive cooling (fanless) | 4 GB RAM (non ECC) | 320 GB HDD | Windows 10 (64 bits) | 1 x PCIe slot (X2 lanes) | DVI-D | DVI-D | 16:10 | 1280 | 800 | Industrial Panel PC with Intel® Core™ i5-7300U, 4 GB DDR4 RAM (non-ECC), 320 GB HDD, WIN 10 IoT Ent. (64-bit), PCIe slot, extra DVI-D, 15.4" display with capacitive touchscreen |
| | 12.1 in | Intel® Core™ i5 | 7300U (2.6 GHz) | Passive cooling (fanless) | 4 GB RAM (non ECC) | 320 GB HDD | Windows 10 (64 bits) | 1 x PCIe slot (X2 lanes) | NYML | DVI-D | 16:10 | 1280 | 800 | Industrial Panel PC with Intel® Core™ i5-7300U, 4 GB DDR4 RAM (non-ECC), 320 GB HDD, WIN 10 IoT Ent. (64-bit), PCIe slot, NYML port, 12.1" display with capacitive touchscreen |
| | 15.4 in | Intel® Core™ i5 | 7300U (2.6 GHz) | Passive cooling (fanless) | 4 GB RAM (non ECC) | 320 GB HDD | Windows 10 (64 bits) | 1 x PCIe slot (X2 lanes) | NYML | DVI-D | 16:10 | 1280 | 800 | Industrial Panel PC with Intel® Core™ i5-7300U, 4 GB DDR4 RAM (non-ECC), 320 GB HDD, WIN 10 IoT Ent. (64-bit), PCIe slot, NYML port, 15.4" display with capacitive touchscreen |
| | 12.1 in | Intel® Core™ i5 | 7300U (2.6 GHz) | Passive cooling (fanless) | 4 GB RAM (non ECC) | 128 GB SSD | Windows 10 (64 bits) | 1 x PCIe slot (X2 lanes) | RS-232 | DVI-D | 16:10 | 1280 | 800 | Industrial Panel PC with Intel® Core™ i5-7300U, 4 GB DDR4 RAM (non-ECC), 128 GB SSD-iMLC, WIN 10 IoT Ent. (64-bit), PCIe slot, RS-232, 12.1" display with capacitive touchscreen |
| | 15.4 in | Intel® Core™ i5 | 7300U (2.6 GHz) | Passive cooling (fanless) | 4 GB RAM (non ECC) | 128 GB SSD | Windows 10 (64 bits) | 1 x PCIe slot (X2 lanes) | RS-232 | DVI-D | 16:10 | 1280 | 800 | Industrial Panel PC with Intel® Core™ i5-7300U, 4 GB DDR4 RAM (non-ECC), 128 GB SSD-iMLC, WIN 10 IoT Ent. (64-bit), PCIe slot, RS-232, 15.4" display with capacitive touchscreen |
| | 12.1 in | Intel® Core™ i5 | 7300U (2.6 GHz) | Passive cooling (fanless) | 4 GB RAM (non ECC) | 128 GB SSD | Windows 10 (64 bits) | 1 x PCIe slot (X2 lanes) | DVI-D | DVI-D | 16:10 | 1280 | 800 | Industrial Panel PC with Intel® Core™ i5-7300U, 4 GB DDR4 RAM (non-ECC), 128 GB SSD-iMLC, WIN 10 IoT Ent. (64-bit), PCIe slot, extra DVI-D, 12.1" display with capacitive touchscreen |
| | 15.4 in | Intel® Core™ i5 | 7300U (2.6 GHz) | Passive cooling (fanless) | 4 GB RAM (non ECC) | 128 GB SSD | Windows 10 (64 bits) | 1 x PCIe slot (X2 lanes) | DVI-D | DVI-D | 16:10 | 1280 | 800 | Industrial Panel PC with Intel® Core™ i5-7300U, 4 GB DDR4 RAM (non-ECC), 128 GB SSD-iMLC, WIN 10 IoT Ent. (64-bit), PCIe slot, extra DVI-D, 15.4" display with capacitive touchscreen |
| | 12.1 in | Intel® Core™ i5 | 7300U (2.6 GHz) | Passive cooling (fanless) | 4 GB RAM (non ECC) | 128 GB SSD | Windows 10 (64 bits) | 1 x PCIe slot (X2 lanes) | NYML | DVI-D | 16:10 | 1280 | 800 | Industrial Panel PC with Intel® Core™ i5-7300U, 4 GB DDR4 RAM (non-ECC), 128 GB SSD-iMLC, WIN 10 IoT Ent. (64-bit), PCIe slot, NYML port, 12.1" display with capacitive touchscreen |
| | 15.4 in | Intel® Core™ i5 | 7300U (2.6 GHz) | Passive cooling (fanless) | 4 GB RAM (non ECC) | 128 GB SSD | Windows 10 (64 bits) | 1 x PCIe slot (X2 lanes) | NYML | DVI-D | 16:10 | 1280 | 800 | Industrial Panel PC with Intel® Core™ i5-7300U, 4 GB DDR4 RAM (non-ECC), 128 GB SSD-iMLC, WIN 10 IoT Ent. (64-bit), PCIe slot, NYML port, 15.4" display with capacitive touchscreen |
| | 12.1 in | Intel® Core™ i5 | 7300U (2.6 GHz) | Passive cooling (fanless) | 8 GB RAM (non ECC) | No Storage | No OS | No Expansion | No Port | DVI-D | 16:10 | 1280 | 800 | Industrial Panel PC with Intel® Core™ i5-7300U, 8 GB DDR4 RAM (non-ECC), No storage, No OS, no PCIe slot, no option port, 12.1" display with capacitive touchscreen |
| | 15.4 in | Intel® Core™ i5 | 7300U (2.6 GHz) | Passive cooling (fanless) | 8 GB RAM (non ECC) | No Storage | No OS | No Expansion | No Port | DVI-D | 16:10 | 1280 | 800 | Industrial Panel PC with Intel® Core™ i5-7300U, 8 GB DDR4 RAM (non-ECC), No storage, No OS, no PCIe slot, no option port, 15.4" display with capacitive touchscreen |
| | 18.5 in | Intel® Core™ i5 | 7300U (2.6 GHz) | Passive cooling (fanless) | 8 GB RAM (non ECC) | No Storage | No OS | No Expansion | No Port | DVI-D | 16:9 | 1920 | 1080 | Industrial Panel PC with Intel® Core™ i5-7300U, 8 GB DRAM (non-ECC), No Storage, No OS, No exp. slots, No I/F option, 18.5" (1920x1080) display with capacitive touchscreen, build-in type |
| | 12.1 in | Intel® Core™ i5 | 7300U (2.6 GHz) | Passive cooling (fanless) | 8 GB RAM (non ECC) | 64 GB CFast | Windows 10 (64 bits) | No Expansion | No Port | DVI-D | 16:10 | 1280 | 800 | Industrial Panel PC with Intel® Core™ i5-7300U, 8 GB DDR4 RAM (non-ECC), 64 GB CFast iMLC, WIN 10 IoT Ent. (64-bit), no PCIe slot, no option port, 12.1" display with capacitive touchscreen |
| | 15.4 in | Intel® Core™ i5 | 7300U (2.6 GHz) | Passive cooling (fanless) | 8 GB RAM (non ECC) | 64 GB CFast | Windows 10 (64 bits) | No Expansion | No Port | DVI-D | 16:10 | 1280 | 800 | Industrial Panel PC with Intel® Core™ i5-7300U, 8 GB DDR4 RAM (non-ECC), 64 GB CFast iMLC, WIN 10 IoT Ent. (64-bit), no PCIe slot, no option port, 15.4" display with capacitive touchscreen |
| | 18.5 in | Intel® Core™ i5 | 7300U (2.6 GHz) | Passive cooling (fanless) | 8 GB RAM (non ECC) | 64 GB CFast | Windows 10 (64 bits) | No Expansion | No Port | DVI-D | 16:9 | 1920 | 1080 | Industrial Panel PC with Intel® Core™ i5-7300U, 8 GB DRAM (non-ECC), 64 GB CFast iMLC, WIN 10 IoT Ent. (64-bit), No exp. slots, No I/F option, 18.5" (1920x1080) display with capacitive touchscreen, build-in type |
| | 12.1 in | Intel® Core™ i5 | 7300U (2.6 GHz) | Passive cooling (fanless) | 8 GB RAM (non ECC) | 128 GB CFast | Windows 10 (64 bits) | No Expansion | No Port | DVI-D | 16:10 | 1280 | 800 | Industrial Panel PC with Intel® Core™ i5-7300U, 8 GB DDR4 RAM (non-ECC), 128 GB CFast iMLC, WIN 10 IoT Ent. (64-bit), no PCIe slot, no option port, 12.1" display with capacitive touchscreen |
| | 15.4 in | Intel® Core™ i5 | 7300U (2.6 GHz) | Passive cooling (fanless) | 8 GB RAM (non ECC) | 128 GB CFast | Windows 10 (64 bits) | No Expansion | No Port | DVI-D | 16:10 | 1280 | 800 | Industrial Panel PC with Intel® Core™ i5-7300U, 8 GB DDR4 RAM (non-ECC), 128 GB CFast iMLC, WIN 10 IoT Ent. (64-bit), no PCIe slot, no option port, 15.4" display with capacitive touchscreen |
| | 18.5 in | Intel® Core™ i5 | 7300U (2.6 GHz) | Passive cooling (fanless) | 8 GB RAM (non ECC) | 128 GB CFast | Windows 10 (64 bits) | No Expansion | No Port | DVI-D | 16:9 | 1920 | 1080 | Industrial Panel PC with Intel® Core™ i5-7300U, 8 GB DRAM (non-ECC), 128 GB CFast iMLC, WIN 10 IoT Ent. (64-bit), No exp. slots, No I/F option, 18.5" (1920x1080) display with capacitive touchscreen, build-in type |
| | 12.1 in | Intel® Core™ i5 | 7300U (2.6 GHz) | Passive cooling (fanless) | 8 GB RAM (non ECC) | 256 GB CFast | Windows 10 (64 bits) | No Expansion | No Port | DVI-D | 16:10 | 1280 | 800 | Industrial Panel PC with Intel® Core™ i5-7300U, 8 GB DDR4 RAM (non-ECC), 256 GB CFast iMLC, WIN 10 IoT Ent. (64-bit), no PCIe slot, no option port, 12.1" display with capacitive touchscreen |
| | 15.4 in | Intel® Core™ i5 | 7300U (2.6 GHz) | Passive cooling (fanless) | 8 GB RAM (non ECC) | 256 GB CFast | Windows 10 (64 bits) | No Expansion | No Port | DVI-D | 16:10 | 1280 | 800 | Industrial Panel PC with Intel® Core™ i5-7300U, 8 GB DDR4 RAM (non-ECC), 256 GB CFast iMLC, WIN 10 IoT Ent. (64-bit), no PCIe slot, no option port, 15.4" display with capacitive touchscreen |
| | 18.5 in | Intel® Core™ i5 | 7300U (2.6 GHz) | Passive cooling (fanless) | 8 GB RAM (non ECC) | 256 GB CFast | Windows 10 (64 bits) | No Expansion | No Port | DVI-D | 16:9 | 1920 | 1080 | Industrial Panel PC with Intel® Core™ i5-7300U, 8 GB DRAM (non-ECC), 256 GB CFast iMLC, WIN 10 IoT Ent. (64-bit), No exp. slots, No I/F option, 18.5" (1920x1080) display with capacitive touchscreen, build-in type |
| | 12.1 in | Intel® Core™ i5 | 7300U (2.6 GHz) | Passive cooling (fanless) | 8 GB RAM (non ECC) | No Storage | No OS | 1 x PCIe slot (X2 lanes) | RS-232 | DVI-D | 16:10 | 1280 | 800 | Industrial Panel PC with Intel® Core™ i5-7300U, 8 GB DDR4 RAM (non-ECC), No storage, No OS, PCIe slot, RS-232, 12.1" display with capacitive touchscreen |
| | 15.4 in | Intel® Core™ i5 | 7300U (2.6 GHz) | Passive cooling (fanless) | 8 GB RAM (non ECC) | No Storage | No OS | 1 x PCIe slot (X2 lanes) | RS-232 | DVI-D | 16:10 | 1280 | 800 | Industrial Panel PC with Intel® Core™ i5-7300U, 8 GB DDR4 RAM (non-ECC), No storage, No OS, PCIe slot, RS-232, 15.4" display with capacitive touchscreen |
| | 12.1 in | Intel® Core™ i5 | 7300U (2.6 GHz) | Passive cooling (fanless) | 8 GB RAM (non ECC) | No Storage | No OS | 1 x PCIe slot (X2 lanes) | DVI-D | DVI-D | 16:10 | 1280 | 800 | Industrial Panel PC with Intel® Core™ i5-7300U, 8 GB DDR4 RAM (non-ECC), No storage, No OS, PCIe slot, extra DVI-D, 12.1" display with capacitive touchscreen |
| | 15.4 in | Intel® Core™ i5 | 7300U (2.6 GHz) | Passive cooling (fanless) | 8 GB RAM (non ECC) | No Storage | No OS | 1 x PCIe slot (X2 lanes) | DVI-D | DVI-D | 16:10 | 1280 | 800 | Industrial Panel PC with Intel® Core™ i5-7300U, 8 GB DDR4 RAM (non-ECC), No storage, No OS, PCIe slot, extra DVI-D, 15.4" display with capacitive touchscreen |
| | 12.1 in | Intel® Core™ i5 | 7300U (2.6 GHz) | Passive cooling (fanless) | 8 GB RAM (non ECC) | No Storage | No OS | 1 x PCIe slot (X2 lanes) | NYML | DVI-D | 16:10 | 1280 | 800 | Industrial Panel PC with Intel® Core™ i5-7300U, 8 GB DDR4 RAM (non-ECC), No storage, No OS, PCIe slot, NYML port, 12.1" display with capacitive touchscreen |
| | 15.4 in | Intel® Core™ i5 | 7300U (2.6 GHz) | Passive cooling (fanless) | 8 GB RAM (non ECC) | No Storage | No OS | 1 x PCIe slot (X2 lanes) | NYML | DVI-D | 16:10 | 1280 | 800 | Industrial Panel PC with Intel® Core™ i5-7300U, 8 GB DDR4 RAM (non-ECC), No storage, No OS, PCIe slot, NYML port, 15.4" display with capacitive touchscreen |
| | 12.1 in | Intel® Core™ i5 | 7300U (2.6 GHz) | Passive cooling (fanless) | 8 GB RAM (non ECC) | 64 GB SSD | Windows 10 (64 bits) | 1 x PCIe slot (X2 lanes) | RS-232 | DVI-D | 16:10 | 1280 | 800 | Industrial Panel PC with Intel® Core™ i5-7300U, 8 GB DDR4 RAM (non-ECC), 64 GB SSD-SLC, WIN 10 IoT Ent. (64-bit), PCIe slot, RS-232, 12.1" display with capacitive touchscreen |
| | 15.4 in | Intel® Core™ i5 | 7300U (2.6 GHz) | Passive cooling (fanless) | 8 GB RAM (non ECC) | 64 GB SSD | Windows 10 (64 bits) | 1 x PCIe slot (X2 lanes) | RS-232 | DVI-D | 16:10 | 1280 | 800 | Industrial Panel PC with Intel® Core™ i5-7300U, 8 GB DDR4 RAM (non-ECC), 64 GB SSD-SLC, WIN 10 IoT Ent. (64-bit), PCIe slot, RS-232, 15.4" display with capacitive touchscreen |
| | 12.1 in | Intel® Core™ i5 | 7300U (2.6 GHz) | Passive cooling (fanless) | 8 GB RAM (non ECC) | 64 GB SSD | Windows 10 (64 bits) | 1 x PCIe slot (X2 lanes) | DVI-D | DVI-D | 16:10 | 1280 | 800 | Industrial Panel PC with Intel® Core™ i5-7300U, 8 GB DDR4 RAM (non-ECC), 64 GB SSD-SLC, WIN 10 IoT Ent. (64-bit), PCIe slot, extra DVI-D, 12.1" display with capacitive touchscreen |
| | 15.4 in | Intel® Core™ i5 | 7300U (2.6 GHz) | Passive cooling (fanless) | 8 GB RAM (non ECC) | 64 GB SSD | Windows 10 (64 bits) | 1 x PCIe slot (X2 lanes) | DVI-D | DVI-D | 16:10 | 1280 | 800 | Industrial Panel PC with Intel® Core™ i5-7300U, 8 GB DDR4 RAM (non-ECC), 64 GB SSD-SLC, WIN 10 IoT Ent. (64-bit), PCIe slot, extra DVI-D, 15.4" display with capacitive touchscreen |
| | 12.1 in | Intel® Core™ i5 | 7300U (2.6 GHz) | Passive cooling (fanless) | 8 GB RAM (non ECC) | 64 GB SSD | Windows 10 (64 bits) | 1 x PCIe slot (X2 lanes) | NYML | DVI-D | 16:10 | 1280 | 800 | Industrial Panel PC with Intel® Core™ i5-7300U, 8 GB DDR4 RAM (non-ECC), 64 GB SSD-SLC, WIN 10 IoT Ent. (64-bit), PCIe slot, NYML port, 12.1" display with capacitive touchscreen |
| | 15.4 in | Intel® Core™ i5 | 7300U (2.6 GHz) | Passive cooling (fanless) | 8 GB RAM (non ECC) | 64 GB SSD | Windows 10 (64 bits) | 1 x PCIe slot (X2 lanes) | NYML | DVI-D | 16:10 | 1280 | 800 | Industrial Panel PC with Intel® Core™ i5-7300U, 8 GB DDR4 RAM (non-ECC), 64 GB SSD-SLC, WIN 10 IoT Ent. (64-bit), PCIe slot, NYML port, 15.4" display with capacitive touchscreen |
| | 12.1 in | Intel® Core™ i5 | 7300U (2.6 GHz) | Passive cooling (fanless) | 8 GB RAM (non ECC) | 320 GB HDD | Windows 10 (64 bits) | 1 x PCIe slot (X2 lanes) | RS-232 | DVI-D | 16:10 | 1280 | 800 | Industrial Panel PC with Intel® Core™ i5-7300U, 8 GB DDR4 RAM (non-ECC), 320 GB HDD, WIN 10 IoT Ent. (64-bit), PCIe slot, RS-232, 12.1" display with capacitive touchscreen |
| | 15.4 in | Intel® Core™ i5 | 7300U (2.6 GHz) | Passive cooling (fanless) | 8 GB RAM (non ECC) | 320 GB HDD | Windows 10 (64 bits) | 1 x PCIe slot (X2 lanes) | RS-232 | DVI-D | 16:10 | 1280 | 800 | Industrial Panel PC with Intel® Core™ i5-7300U, 8 GB DDR4 RAM (non-ECC), 320 GB HDD, WIN 10 IoT Ent. (64-bit), PCIe slot, RS-232, 15.4" display with capacitive touchscreen |
| | 12.1 in | Intel® Core™ i5 | 7300U (2.6 GHz) | Passive cooling (fanless) | 8 GB RAM (non ECC) | 320 GB HDD | Windows 10 (64 bits) | 1 x PCIe slot (X2 lanes) | DVI-D | DVI-D | 16:10 | 1280 | 800 | Industrial Panel PC with Intel® Core™ i5-7300U, 8 GB DDR4 RAM (non-ECC), 320 GB HDD, WIN 10 IoT Ent. (64-bit), PCIe slot, extra DVI-D, 12.1" display with capacitive touchscreen |
| | 15.4 in | Intel® Core™ i5 | 7300U (2.6 GHz) | Passive cooling (fanless) | 8 GB RAM (non ECC) | 320 GB HDD | Windows 10 (64 bits) | 1 x PCIe slot (X2 lanes) | DVI-D | DVI-D | 16:10 | 1280 | 800 | Industrial Panel PC with Intel® Core™ i5-7300U, 8 GB DDR4 RAM (non-ECC), 320 GB HDD, WIN 10 IoT Ent. (64-bit), PCIe slot, extra DVI-D, 15.4" display with capacitive touchscreen |
| | 12.1 in | Intel® Core™ i5 | 7300U (2.6 GHz) | Passive cooling (fanless) | 8 GB RAM (non ECC) | 320 GB HDD | Windows 10 (64 bits) | 1 x PCIe slot (X2 lanes) | NYML | DVI-D | 16:10 | 1280 | 800 | Industrial Panel PC with Intel® Core™ i5-7300U, 8 GB DDR4 RAM (non-ECC), 320 GB HDD, WIN 10 IoT Ent. (64-bit), PCIe slot, NYML port, 12.1" display with capacitive touchscreen |
| | 15.4 in | Intel® Core™ i5 | 7300U (2.6 GHz) | Passive cooling (fanless) | 8 GB RAM (non ECC) | 320 GB HDD | Windows 10 (64 bits) | 1 x PCIe slot (X2 lanes) | NYML | DVI-D | 16:10 | 1280 | 800 | Industrial Panel PC with Intel® Core™ i5-7300U, 8 GB DDR4 RAM (non-ECC), 320 GB HDD, WIN 10 IoT Ent. (64-bit), PCIe slot, NYML port, 15.4" display with capacitive touchscreen |
| | 12.1 in | Intel® Core™ i5 | 7300U (2.6 GHz) | Passive cooling (fanless) | 8 GB RAM (non ECC) | 128 GB SSD | Windows 10 (64 bits) | 1 x PCIe slot (X2 lanes) | RS-232 | DVI-D | 16:10 | 1280 | 800 | Industrial Panel PC with Intel® Core™ i5-7300U, 8 GB DDR4 RAM (non-ECC), 128 GB SSD-iMLC, WIN 10 IoT Ent. (64-bit), PCIe slot, RS-232, 12.1" display with capacitive touchscreen |
| | 15.4 in | Intel® Core™ i5 | 7300U (2.6 GHz) | Passive cooling (fanless) | 8 GB RAM (non ECC) | 128 GB SSD | Windows 10 (64 bits) | 1 x PCIe slot (X2 lanes) | RS-232 | DVI-D | 16:10 | 1280 | 800 | Industrial Panel PC with Intel® Core™ i5-7300U, 8 GB DDR4 RAM (non-ECC), 128 GB SSD-iMLC, WIN 10 IoT Ent. (64-bit), PCIe slot, RS-232, 15.4" display with capacitive touchscreen |
| | 12.1 in | Intel® Core™ i5 | 7300U (2.6 GHz) | Passive cooling (fanless) | 8 GB RAM (non ECC) | 128 GB SSD | Windows 10 (64 bits) | 1 x PCIe slot (X2 lanes) | DVI-D | DVI-D | 16:10 | 1280 | 800 | Industrial Panel PC with Intel® Core™ i5-7300U, 8 GB DDR4 RAM (non-ECC), 128 GB SSD-iMLC, WIN 10 IoT Ent. (64-bit), PCIe slot, extra DVI-D, 12.1" display with capacitive touchscreen |
| | 15.4 in | Intel® Core™ i5 | 7300U (2.6 GHz) | Passive cooling (fanless) | 8 GB RAM (non ECC) | 128 GB SSD | Windows 10 (64 bits) | 1 x PCIe slot (X2 lanes) | DVI-D | DVI-D | 16:10 | 1280 | 800 | Industrial Panel PC with Intel® Core™ i5-7300U, 8 GB DDR4 RAM (non-ECC), 128 GB SSD-iMLC, WIN 10 IoT Ent. (64-bit), PCIe slot, extra DVI-D, 15.4" display with capacitive touchscreen |
| | 12.1 in | Intel® Core™ i5 | 7300U (2.6 GHz) | Passive cooling (fanless) | 8 GB RAM (non ECC) | 128 GB SSD | Windows 10 (64 bits) | 1 x PCIe slot (X2 lanes) | NYML | DVI-D | 16:10 | 1280 | 800 | Industrial Panel PC with Intel® Core™ i5-7300U, 8 GB DDR4 RAM (non-ECC), 128 GB SSD-iMLC, WIN 10 IoT Ent. (64-bit), PCIe slot, NYML port, 12.1" display with capacitive touchscreen |
| | 15.4 in | Intel® Core™ i5 | 7300U (2.6 GHz) | Passive cooling (fanless) | 8 GB RAM (non ECC) | 128 GB SSD | Windows 10 (64 bits) | 1 x PCIe slot (X2 lanes) | NYML | DVI-D | 16:10 | 1280 | 800 | Industrial Panel PC with Intel® Core™ i5-7300U, 8 GB DDR4 RAM (non-ECC), 128 GB SSD-iMLC, WIN 10 IoT Ent. (64-bit), PCIe slot, NYML port, 15.4" display with capacitive touchscreen |
| | 12.1 in | Intel® Core™ i5 | 7300U (2.6 GHz) | Passive cooling (fanless) | 16 GB RAM (non ECC) | No Storage | No OS | No Expansion | No Port | DVI-D | 16:10 | 1280 | 800 | Industrial Panel PC with Intel® Core™ i5-7300U, 16 GB DDR4 RAM (non-ECC), No storage, No OS, no PCIe slot, no option port, 12.1" display with capacitive touchscreen |
| | 15.4 in | Intel® Core™ i5 | 7300U (2.6 GHz) | Passive cooling (fanless) | 16 GB RAM (non ECC) | No Storage | No OS | No Expansion | No Port | DVI-D | 16:10 | 1280 | 800 | Industrial Panel PC with Intel® Core™ i5-7300U, 16 GB DDR4 RAM (non-ECC), No storage, No OS, no PCIe slot, no option port, 15.4" display with capacitive touchscreen |
| | 18.5 in | Intel® Core™ i5 | 7300U (2.6 GHz) | Passive cooling (fanless) | 16 GB RAM (non ECC) | No Storage | No OS | No Expansion | No Port | DVI-D | 16:9 | 1920 | 1080 | Industrial Panel PC with Intel® Core™ i5-7300U, 16 GB DRAM (non-ECC), No Storage, No OS, No exp. slots, No I/F option, 18.5" (1920x1080) display with capacitive touchscreen, build-in type |
| | 12.1 in | Intel® Core™ i5 | 7300U (2.6 GHz) | Passive cooling (fanless) | 16 GB RAM (non ECC) | 64 GB CFast | Windows 10 (64 bits) | No Expansion | No Port | DVI-D | 16:10 | 1280 | 800 | Industrial Panel PC with Intel® Core™ i5-7300U, 16 GB DDR4 RAM (non-ECC), 64 GB CFast iMLC, WIN 10 IoT Ent. (64-bit), no PCIe slot, no option port, 12.1" display with capacitive touchscreen |
| | 15.4 in | Intel® Core™ i5 | 7300U (2.6 GHz) | Passive cooling (fanless) | 16 GB RAM (non ECC) | 64 GB CFast | Windows 10 (64 bits) | No Expansion | No Port | DVI-D | 16:10 | 1280 | 800 | Industrial Panel PC with Intel® Core™ i5-7300U, 16 GB DDR4 RAM (non-ECC), 64 GB CFast iMLC, WIN 10 IoT Ent. (64-bit), no PCIe slot, no option port, 15.4" display with capacitive touchscreen |
| | 18.5 in | Intel® Core™ i5 | 7300U (2.6 GHz) | Passive cooling (fanless) | 16 GB RAM (non ECC) | 64 GB CFast | Windows 10 (64 bits) | No Expansion | No Port | DVI-D | 16:9 | 1920 | 1080 | Industrial Panel PC with Intel® Core™ i5-7300U, 16 GB DRAM (non-ECC), 64 GB CFast iMLC, WIN 10 IoT Ent. (64-bit), No exp. slots, No I/F option, 18.5" (1920x1080) display with capacitive touchscreen, build-in type |
| | 12.1 in | Intel® Core™ i5 | 7300U (2.6 GHz) | Passive cooling (fanless) | 16 GB RAM (non ECC) | 128 GB CFast | Windows 10 (64 bits) | No Expansion | No Port | DVI-D | 16:10 | 1280 | 800 | Industrial Panel PC with Intel® Core™ i5-7300U, 16 GB DDR4 RAM (non-ECC), 128 GB CFast iMLC, WIN 10 IoT Ent. (64-bit), no PCIe slot, no option port, 12.1" display with capacitive touchscreen |
| | 15.4 in | Intel® Core™ i5 | 7300U (2.6 GHz) | Passive cooling (fanless) | 16 GB RAM (non ECC) | 128 GB CFast | Windows 10 (64 bits) | No Expansion | No Port | DVI-D | 16:10 | 1280 | 800 | Industrial Panel PC with Intel® Core™ i5-7300U, 16 GB DDR4 RAM (non-ECC), 128 GB CFast iMLC, WIN 10 IoT Ent. (64-bit), no PCIe slot, no option port, 15.4" display with capacitive touchscreen |
| | 18.5 in | Intel® Core™ i5 | 7300U (2.6 GHz) | Passive cooling (fanless) | 16 GB RAM (non ECC) | 128 GB CFast | Windows 10 (64 bits) | No Expansion | No Port | DVI-D | 16:9 | 1920 | 1080 | Industrial Panel PC with Intel® Core™ i5-7300U, 16 GB DRAM (non-ECC), 128 GB CFast iMLC, WIN 10 IoT Ent. (64-bit), No exp. slots, No I/F option, 18.5" (1920x1080) display with capacitive touchscreen, build-in type |
| | 12.1 in | Intel® Core™ i5 | 7300U (2.6 GHz) | Passive cooling (fanless) | 16 GB RAM (non ECC) | 256 GB CFast | Windows 10 (64 bits) | No Expansion | No Port | DVI-D | 16:10 | 1280 | 800 | Industrial Panel PC with Intel® Core™ i5-7300U, 16 GB DDR4 RAM (non-ECC), 256 GB CFast iMLC, WIN 10 IoT Ent. (64-bit), no PCIe slot, no option port, 12.1" display with capacitive touchscreen |
| | 15.4 in | Intel® Core™ i5 | 7300U (2.6 GHz) | Passive cooling (fanless) | 16 GB RAM (non ECC) | 256 GB CFast | Windows 10 (64 bits) | No Expansion | No Port | DVI-D | 16:10 | 1280 | 800 | Industrial Panel PC with Intel® Core™ i5-7300U, 16 GB DDR4 RAM (non-ECC), 256 GB CFast iMLC, WIN 10 IoT Ent. (64-bit), no PCIe slot, no option port, 15.4" display with capacitive touchscreen |
| | 18.5 in | Intel® Core™ i5 | 7300U (2.6 GHz) | Passive cooling (fanless) | 16 GB RAM (non ECC) | 256 GB CFast | Windows 10 (64 bits) | No Expansion | No Port | DVI-D | 16:9 | 1920 | 1080 | Industrial Panel PC with Intel® Core™ i5-7300U, 16 GB DRAM (non-ECC), 256 GB CFast iMLC, WIN 10 IoT Ent. (64-bit), No exp. slots, No I/F option, 18.5" (1920x1080) display with capacitive touchscreen, build-in type |
Réinitialiser tous les filtres
Comparer les produits
Afficher produits supplémentaires
En quoi pouvons-nous vous aider ?
Pour toute question ou demande de devis, veuillez nous contacter ou envoyer une demande.
Fonctions
NY Monitor Link
Jusqu'à 100 m de liaison entre l'IPC et l'écran
Câble Ethernet standard
Temps de réponse optimal de l'affichage
Compatible 4K
A few details...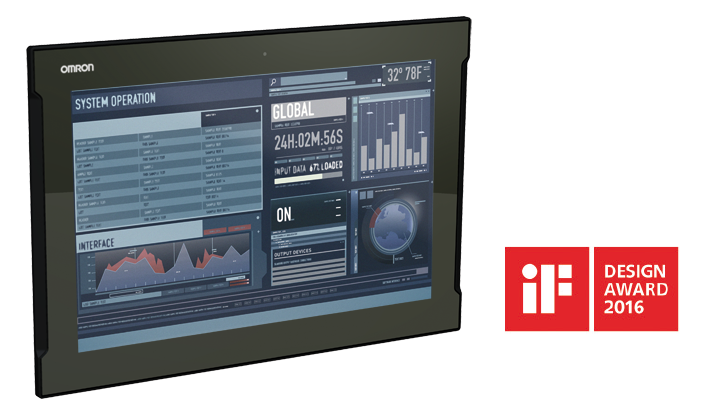 Écran industriel de 12,1, 15,4 et 18,5 pouces
Tactile multipoint grâce à la dernière technologie capacitive projetée
Détection des faux contacts
Port de gants autorisé
Support intégré, facile à monter
Connections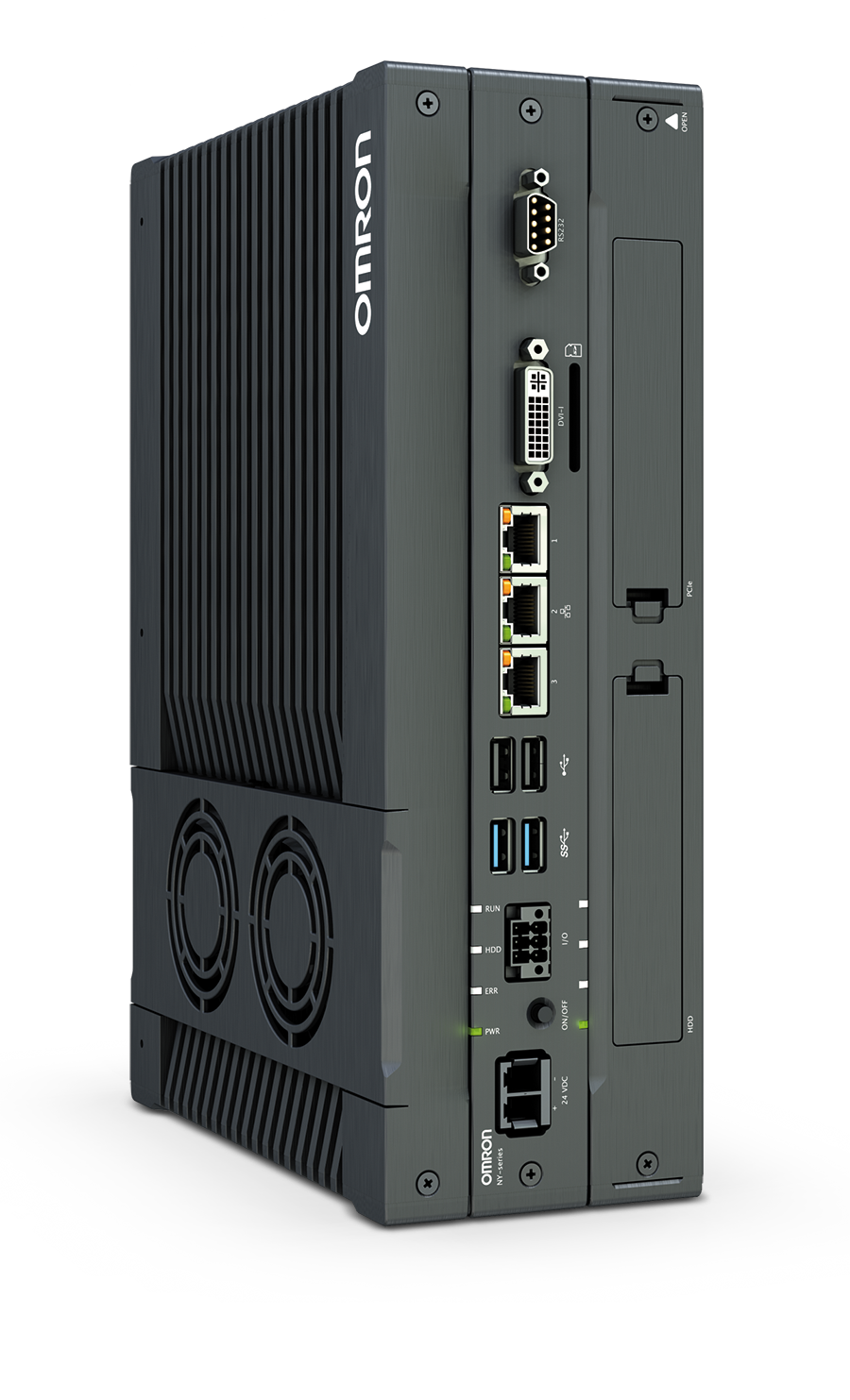 Options : port RS-232C ou DVI-D supplémentaire pour un double affichage
DVI -3 ports Ethernet Gigabit RJ45 -2 ports USB 2.0, 2 ports USB 3.0
Périphériques de stockage : disque dur ou SSD (type MLC ou SLC à longue durée de vie) Second lecteur possible
Connexion E/S compatible avec UPS -Alimentation : 24 V c.c. non isolée
Technologie
Performance
Processeurs Intel® (depuis le Atom® jusqu'au processeur Intel® Xeon®) 
Mémoire prenant en charge jusqu'à 32 Go ECC (DDR4-SDRAM)
Graphiques Intel® Iris™ Pro ou Intel® HD
Efficacité unique du radiateur
Directive RoHS (2002/95/CE), directives européennes, normes KC, RCM, cULus, EAC
Simplicity improves reliability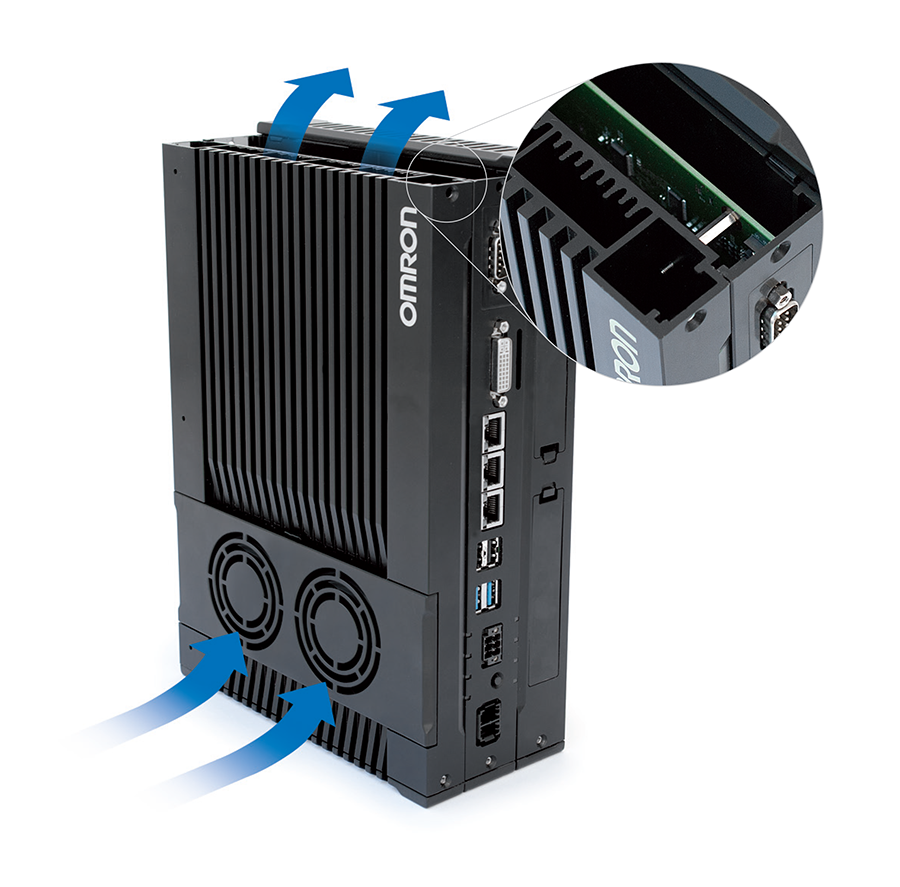 La complexité entraîne des problèmes. Par conséquent, nous nous en sommes complètement affranchis afin d'améliorer la fiabilité et de maximiser les performances.
Absence de câbles internes
Ventilation simplifiée
Uniformité de la structure mécanique pour permettre une extension future
Réduction des coûts d'assemblage, d'entretien et de main d'œuvre
Architecture ultra-solide, avec un boîtier en aluminium moulé
Refroidissement actif et flux d'air isolé des éléments électroniques
Vidéos
Engineering video - How Omron keeps Industrial PC's cool
Omron engineers explain what choices they made during the development of the NY Industrial PC platform. In this episode R&D engineer Santiago Figueira talks about the challenge of making heat transfer more efficient. He describes how he worked with colleagues to create an entirely new concept, which was tested using simulations and prototypes until the ideal solution was developed.
Engineering video: "How Omron makes multi-touch industry-proof"
Is it possible to operate capacitive touchscreens with gloves or to detect abnormal touch behavior, like water? In this episode R&D engineer Tom Derks explains which choices they made during the development of the NY Industrial PC platform to make it industry proof.